Boeing Lands Massive Air Force Contract for New T-X Trainer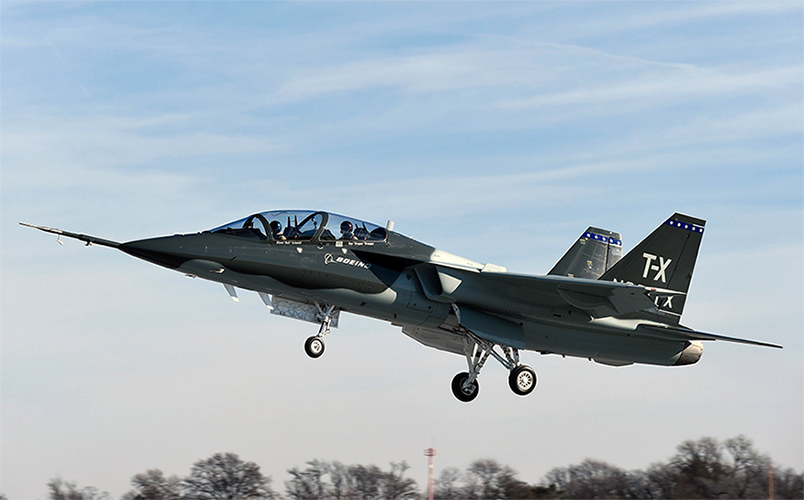 Photo: Boeing
The Boeing Co. has been awarded a contract worth up to $9.2 billion to build the Air Force's next-generation jet pilot trainer aircraft, the service announced Sept. 27.
A Boeing-Saab team beat out Leonardo DRS and a Lockheed Martin-Korea Aerospace Industries team for one of the Defense Department's most valuable acquisition programs, known as T-X.
The Air Force is seeking to replace its aging fleet of T-38 trainers with next-generation platforms and associated ground-based systems. They will be expected to prepare pilots to operate fifth-generation aircraft such as the F-35 joint strike fighter and the future B-21 long-range strike bomber, as well as other planes.
"This new aircraft will provide the advanced training capabilities we need to increase the lethality and effectiveness of future Air Force pilots," Secretary of the Air Force Heather Wilson said in a press release.
The service currently plans to purchase 351 next-generation trainer aircraft, 46 simulators and related ground equipment. However, the indefinite-delivery/indefinite-quantity contract awarded to Boeing allows the Air Force to purchase up to 475 aircraft and 120 simulators, at a cost of up to $9.2 billion if all options are exercised, officials said.
"If we want to buy these planes faster we have the option to do that," Assistant Secretary of the Air Force for Acquisition, Technology and Logistics Will Roper told reporters at the Pentagon. "We also would have the option to buy more [than 351] but currently we have no plans to do that."
Service leaders have recently said that the Air Force needs to beef up to 386 squadrons to meet future operating requirements. Lt. Gen. Arnold Bunch, Roper's military deputy, said the new force structure proposal did not factor into the decision to give the service the option of buying up to 475 trainers instead of 351.
"I won't try to speculate on what we're going to do" with T-X if there are large force structure increases, Bunch told reporters.
During the industry competition, Leonardo DRS was offering its T-100 system which was based on parent company Leonardo S.p.A's M-346 trainer. The Lockheed-KAI team was offering the T-50A, which was based on KAI's T-50 trainer. However, Boeing-Saab had a clean sheet design for the program that ultimately won out.
"We have a very deliberate process to evaluate risk, cost and technical factors in the program," Roper said. "Our assessment was Boeing had the proposal that was best value."
Bunch said the health of the industrial base did not factor into the award decision.
"Today's announcement is the culmination of years of unwavering focus by the Boeing and Saab team," Leanne Caret, president and CEO of Boeing Defense, Space and Security, said in a statement. "It is a direct result of our joint investment in developing a system centered on the unique requirements of the U.S. Air Force. We expect T-X to be a franchise program for much of this century."
The first T-X aircraft and simulators are scheduled to be delivered in 2023. The Air Force aims for them to achieve initial operational capability by 2024.
Boeing has received an initial $813 million delivery order for the engineering and manufacturing development of five aircraft and seven simulators.
"We will be working closely with Boeing to make sure that we do EMD well, that we're tackling risk up front so that when we move into production we do that with high confidence," Roper said.
The company can now begin placing orders with its suppliers, including Saab. More than 90 percent of the T-X system will be made in the United States, supporting more than 17,000 jobs in 34 states, according to Boeing.
"We were disappointed to learn that the U.S. Air Force did not select our offering," Lockheed said in a statement. "We believe we presented a very strong solution and await the customer's debrief to hear more details regarding the decision."
A Leonardo DRS spokesman said: "The Department of Defense will brief our T-100 team on the T-X competition outcome. Until that is complete we cannot discuss the department's decision."
The T-X contract award is the latest in a string of recent victories for Boeing over the past month.
On Sept. 24, the Air Force announced that it had chosen Boeing-Leonardo's MH-139 to replace its fleet of UH-1N Huey helicopters under a $2.38 billion firm-fixed price contract.
On Aug. 30, the Navy announced that it had tapped Boeing to build prototypes for its MQ-25 Stingray unmanned carrier-based aerial refueling tanker program. That contract has a value of $805 million, part of a project that is estimated to cost about $13 billion.
-Additional reporting by Yasmin Tadjdeh.
Topics: Air Force News, Air Power, Defense Department