Air Force Must Modernize Faster, Smarter as it Faces Bow Wave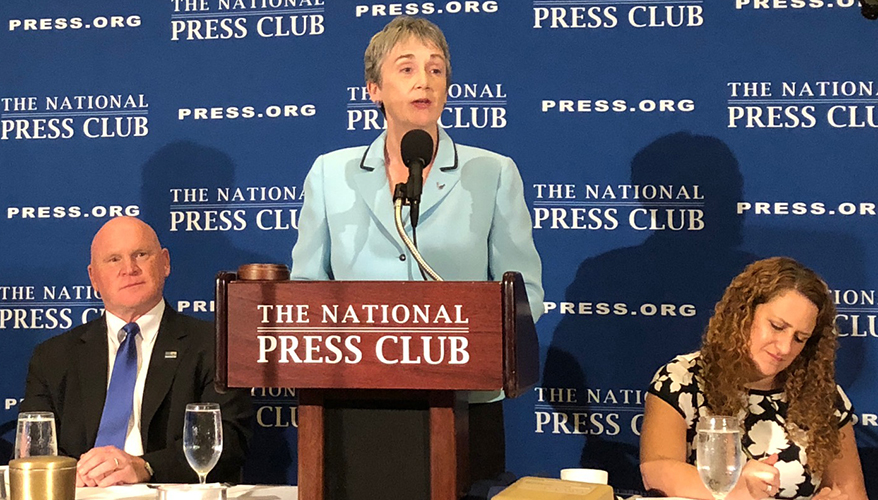 Photo: Yasmin Tadjdeh
The Air Force will have to modernize "faster and smarter" as it faces a "bow wave" of modernization efforts in the coming years, said the service's secretary Sept. 26.
"There's really a bow wave of modernization that the Air Force will be working through over the next decade and our responsibility is to try and do that as cost effectively as we can," said Heather Wilson.
Some of those platforms include the KC-46 aerial refueling tanker, the F-35A joint strike fighter, new space assets and the UH-1N Huey helicopter replacement program, she said during remarks at the National Press Club in Washington, D.C.
The bow wave comes at a time when the nation faces great power competition, she noted. Advanced adversaries are innovating quickly and adopting new technologies at a rapid pace, she said.
"We need to buy things faster and smarter in order to maintain the advantage that the U.S. Air Force has enjoyed for many decades," she said.
To do that, the service is converging several lines of effort. The first is to drive competition among industry, she said.
"If we are able to encourage more companies to participate in competition for procurement that helps to not only drive innovation to get the best out of American industry, but also drives competitive pricing," she said.
Wilson pointed to a recent contract award to a Boeing-Leonardo team to replace the service's aging fleet of UH-1N Huey helicopters as an example of competition driving affordability. The team will provide the service with up to 84 MH-139 aircraft under the $2.38 billion firm-fixed price contract.
"Because of intense competition we were able to get them at a much better price, saving … about $1.7 billion over what we expected to pay," she said.
Wilson noted that at one time the service had planned to issue a sole-source contract for Black Hawks to replace the aircraft, but eventually a full competition was decided upon.
"As it turns out, I think that probably was the right decision," she said. "Because of that competition Boeing won the competition at a significantly lower price point and so I think the taxpayer is going to get a good deal out of that and the Air Force will get a replacement for the aging Hueys."
Over the long term, the service knows that it needs a robust defense industrial base in order to have meaningful competition, she said. Additionally, it must open itself up to companies that have historically not worked with the Air Force, she said.
Wilson noted that the service is taking advantage of new authorities granted to it through Congress to innovate faster. That includes using other transaction authority agreements
and working with OTA consortiums, she said.
For example, in January the Air Force set up a consortium out of its Space and Missile Systems Center with the intention of engaging companies working in the commercial space industry, she said.
"That consortium now has over 180 companies," she said. "Of those 180 or so, 124 have never done business with the Defense Department before."
The Air Force has pledged up to $500 million in projects that might be facilitated through that consortium, she said. So far, the effort has helped the Air Force move quickly and the average time between solicitation and contract award is 93 days.
Wilson also noted that the service is taking advantage of rapid prototyping.
"Prototyping we think in many circumstances is actually a much better way to do procurement because you understand the limitations and the realm of the possible from the beginning," she said. "The Air Force is using prototyping and experimentation extensively where it makes sense to do and will continue to do so."
The service is also tapping into work being done by nontraditional companies by courting startups, she noted.
During the Air Force Association's Air, Space & Cyber Conference a week prior, Will Roper, assistant secretary of the Air Force for acquisition, technology and logistics, laid out the service's plan for the effort.
The Air Force wants innovative startups to see the service as an "angel investor," able to readily hand out money to anyone who has a good idea, he noted during a media roundtable. Under the plan, the service would be able to award contracts to a small business or startup in one day by using a government purchase card.
As the Air Force proceeds with these efforts, it is mindful that it must be transparent about its process, Wilson said.
"[We] decided as a service … that if we were going to take advantage of these new authorities we had to be very transparent about it and actually increase the amount of information that we are sharing with both the office of the secretary of defense overseers and with the U.S. Congress," she said. "We think by doing that we can enhance the security of the country and hopefully get a better value for what the Air Force spends."
Wilson's remarks came on the heels of an announcement during the AFA conference where she said the service had become too small to meet the many missions it is tasked with.
After extensive research, the service determined that it would need to grow from 312 squadrons to 386 in order to meet the demand posed by advanced adversaries around the world, she said. Wilson noted that the exact composition of those squadrons is still being determined. A final report to Congress detailing which platforms to purchase will be released in March, she said.
Topics: Air Force News, Air Power, Defense Innovation