Analysts Surprised by Boeing-Leonardo's UH-1N Helicopter Win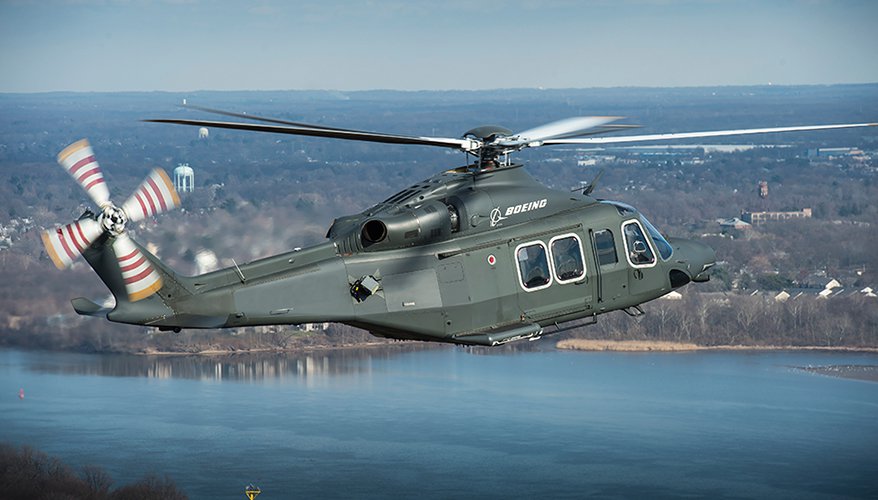 MH-139
Photo: Boeing
Surprising analysts and industry alike, a Boeing-Leonardo team was awarded a major contract to replace the Air Force's aging fleet of UH-1N helicopters, beating competition that included powerhouse Sikorsky and underdog Sierra Nevada Corp.
The Air Force announced late Sept. 24 that it had chosen Boeing-Leonardo's MH-139 to replace its UH-1N Hueys. The $2.38 billion firm-fixed price contract award was worth less than the service originally estimated.
"Strong competition drove down costs for the program, resulting in $1.7 billion in savings to the taxpayer," Secretary of the Air Force Heather Wilson said in a statement sent to reporters.
The award includes the acquisition and sustainment of up to 84 MH-139 helicopters, training devices and associated support equipment, according to the service.
The safety of the United States' nuclear missile silos — which make up one third of the nuclear triad — will be ensured by the Hueys, said Air Force Chief of Staff Gen. David L. Goldfein in a statement.
"A safe, secure and effective nuclear enterprise is job one," he said.
The first operational helicopter delivery is expected in fiscal year 2021, according to the Air Force.
Boeing-Leonardo offered a system based on Leonardo's AW139 helicopter, which is used by more than 270 governments, according to the team. Sikorsky and Sierra Nevada offered helicopters based off the Black Hawk helicopter.
"We're grateful for the Air Force's confidence in our MH-139 team," said David Koopersmith, vice president and general manager of Boeing Vertical Lift in a statement. "The MH-139 exceeds mission requirements, it's also ideal for VIP transport and it offers the Air Force up to $1 billion in acquisition and lifecycle cost savings."
Leonardo will assemble the helicopters in Philadelphia and Boeing will integrate military-specific components in the same city.
In a statement sent to National Defense, Steve Callaghan, Sikorsky's vice president for strategy and business development, said the company was disappointed by the award.
"We are disappointed in the U.S. Air Force's decision but remain confident the HH-60U Black Hawk is the strongest, most capable solution for the UH-1N Huey replacement program's critical no-fail mission of protecting our nation's nuclear missile silos and supporting the continuity-of-government mission," he said. "Adding Black Hawks to the Air Force's existing fleet makes sense from both a sustainability and cost savings perspective by leveraging the commonality of the Air Force H-60 fleets."
In a statement provided by Sierra Nevada, the organization said it was reviewing the notification letter provided by the Air Force.
"While we are disappointed by the announcement, SNC and the Sierra Force helicopter team will review the notification letter and we will elaborate further on future options for rotary-wing aircraft capabilities once complete," the company statement said. "SNC remains committed to providing an affordable and high-performance platform; however, due to this pending activity SNC will have no further public statement at this time."
Mark Cancian, a senior adviser at the Center for Strategic and International Studies' international security program, said the award to the Boeing-Leonardo team was a major surprise to him and to many others.
"I figured Sikorsky and the H-60 would have the inside track because of the large logistics … infrastructure that exists in the U.S. military for H-60 helicopters," he said. "When I tried to figure out how it was that Leonardo-Boeing won, the only thing I can come up with is that they must have bid low."
Sikorsky's HH-60U and the MH-139 are fairly similar aircraft, so it's possible the Boeing-Leonardo team were able to get the upper hand with a more economical offering, Cancian said.
"It's valid to focus on cost," he said. "We're moving into a cost-conscious environment."
Richard Aboulafia, vice president of analysis at the Teal Group, a Virginia-based defense and aerospace market analysis firm, agreed that the contract award was a major surprise.
"The broader direction of the U.S. military seems to be all Black Hawks all the time, common training, common logistics," he said. To divert from that was unexpected, he noted.
Additionally, Leonardo has historically had a difficult time entering the U.S. military market including failed attempts to win contracts such as the presidential helicopter program, he noted.
There were "lots of efforts over the years and [it was] rewarded with a goose egg," he said. "This is their breakthrough and good for them. The 139 is a very good machine. You look around the civil world and it's … the model of reference in its class."
Ray Jaworowski, a senior aerospace analyst at Forecast International, a Newtown, Connecticut-based market consulting firm, said the contract award was being considered an upset among members of industry.
He noted that the Air Force originally sought to award Sikorsky a sole-source contract to replace the Hueys but faced push back from Congress after Leonardo — then AgustaWestland — took out ads against that approach.
With the win, Boeing is "having a nice come back," Aboulafia said.
"They sort of had this heart attack moment after losing the [long-range strike bomber] to Northrop Grumman," he said. "But then you've got MQ-25 and this, plus renewed production of Super Hornets. … I think it clearly points to a nice resurgence for Boeing military aviation."
Boeing is also sending a message that it is willing to work with partners around the globe, he added. "That's a message they've wanted to send, that they've been sending for years: 'We don't just sell planes to the world, we sell other people's planes, too.' It's a great message to send."
Jaworowski noted that the award could portend more Pentagon contracts going to foreign companies that team with U.S.-based firms on their offerings.
"This is another indication that the U.S. military market is no longer a captive market for U.S. manufacturers," he said. "This is yet another example that the Pentagon is now willing to look outside the U.S. at other designs."
Going forward, the Boeing-Leonardo team will need to be mindful about watching cost overruns as the nature of the fixed-firm price contract will force the team to eat additional costs, Cancian noted.
Boeing is currently "losing their shirt on the KC-46 on a fixed-price contract and they've signed up for it again," he said. "There still is some development [work] that needs to be done, so I think that there's a considerable amount of risk to Boeing and Leonardo."
Additionally, it is likely that there will be a protest from Sikorsky or Sierra Nevada, Aboulafia said.
"Would it be a program without a protest?" he asked. "Helicopters seem to attract their share of protests. But assuming the Air Force has done its job in terms of transparency, it might be tough."
Jaworowski noted that Sikorsky already launched an "unusual" protest of the program back in February over the sharing of technical data that was eventually declined by the Government Accountability Office in May.
"I don't think the fact that they did that already rules out … an after-award protest if they can find some grounds on which to base a protest," he said.
Aboulafia said that while Sikorsky — which is owned by Lockheed Martin — may be upset about the loss, ultimately the contract wasn't too big of a deal.
"This is basically a year's production of Black Hawks stretched over" several years, he said. "It falls under the heading of, 'Yeah, it would have been nice,' … but [it is] not a mortal blow."
Topics: Air Force News, Air Power, Defense Department