Air Force Wrestles With Command, Control in Multi-Domain Ops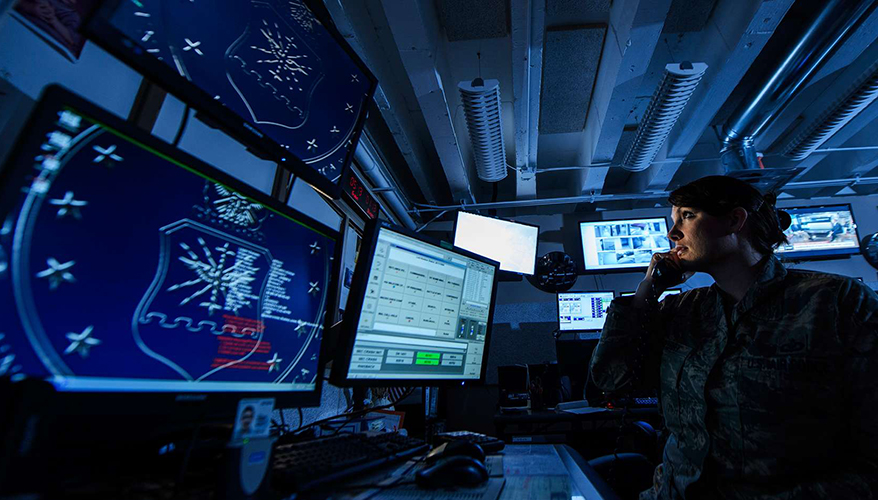 Photo: Air Force
NATIONAL HARBOR, Md. — The Air Force is taking steps to help its leaders wrap their heads around the new complex world of multi-domain operations, where war takes place in not only land, sea and air, but space and cyber space, and against peer competitors determined to degrade or disrupt their communications.

The Air Force convened a multi-domain command-and-control enterprise capabilities cooperation team about a year ago under the auspices of Brig. Gen. Chance Saltzman, Air Force director of current operations and deputy chief of staff for operations. Command and control in today's battlefield is complex, but now that space and cyber have been added into the mix, it's even more so, he told reporters Sept. 19 at the Air Force Association's Air, Space and Cyber Conference in National Harbor, Maryland.

"Multi-domain command and control is very complicated and very nuanced," he said. The team's purpose is to " implement institutional change across the broader Air Force."

He defined multi-domain operations as the convergence of effects in air, sea, land, space and cyber at a tempo that a peer competitor can't respond to. Multi-domain command and control enables the military to carry out these operations, he added.

Adding two new warfighting domains to the construct — space and cyber — is a complicated proposition, he said.

The Air Force, of course, has carried out operations in air, space and cyber space for decades, he said. However, it hasn't converged the three to make fighting a war harder for adversaries.

"That is just an order of magnitude different from what we have had to do in the past," Saltzman said.

The team was tasked with organizing the thinking and understanding on how to best improve command and control in the new world of multi-domain operations. It now has an implementation plan with 10 tasks for commanders to work on.

The team identified three main categories to consider: operational concepts, advanced technologies, and training and education.

Operational concepts focus on how forces are presented and organized to accomplish complex mission sets. For example, there is currently a single director of space forces that orchestrates space support to the air components.

"The question is: as we increase the size, scope, weight of the space superiority fight, is a single director of space forces going to be sufficient to integrate those capabilities into the overall joint force community?" Saltzman asked. The answer is: "We don't know yet," he said.

The Air Force is organizing a series of tabletop "assessments" to help answer some of the major questions. These assessments — which are not war games or exercises, he stressed — will seek the right command-and-control structures that allow the Air Force to effectively prosecute multi-domain operations. They are slated to take place the first week of November.

"We have many mechanisms for how we can test the air. Now we need to start maturing the space and cyber components so we can start to talk about them more," he said.

As far as advanced technologies, he warned that there may not be many new contracts forthcoming for vendors. "What we are talking about here is going to be far more process oriented than it is product oriented," Saltzman said.

There isn't going to be any single product that solves all of the service's command-and-control issues, he warned. It will be a long learning curve where capabilities such as artificial intelligence and machine learning can be integrated into operations as needed.

There is never going to be a great big multi-domain battle command-and-control magic box built using a set of requirements. There is no endpoint, because peer competitors will learn how to challenge any system, he said. "We have to build a process that continually updates things," he added.

"They are going to continually try to stop us," Saltzman said. "They are going to try to break our data links. They are going to try to corrupt our data and we have to try to stay one step ahead of them."

When technology needs come along, they are likely going to be software focused, he added. One example would be the cloud, he said. Securing data will be essential in this kind of war. More bandwidth, network resiliency and common information technology standards are all future needs, he added.

"If we are going to a cloud-based infrastructure, what is the best way to have information assurance? There are lots of options, plans and techniques, so we are going to evaluate them," he said. A team at Hanscom Air Force Base in Massachusetts is currently working through these issues, he said.

The Air Force must build a structure that is flexible and agile, Saltzman added.

"When you're talking about operational C2, this is an art form. I don't know what data I'm going to need. I don't know exactly what platforms and sensors that are going to be integrated in, or I'm going to need, in 2040 or 2050," he said.

"Everybody wants a requirement. 'Just tell me a requirement and I can build to it.' And that's comfortable," but requirements are a trap, he said.

"The minute you think you can define those requirements, it's the minute you will become stagnant in pursuit of those requirements and miss out on other opportunities," Saltzman said.

Training and education is vital, he noted. Airmen now focus on one platform, and they have deep technical knowledge of what they operate, but multi-domain warfighting will require a different kind of expertise. They are calling this new career field the "C2 cadre." They will be trained and educated in command and control in all the operational domains.

"That kind of expert would be a great asset for the joint force commander," he said.

Multi-domain battles are also envisioned as being more joint and Saltzman said the team is in constant contact with the other services as well as the office of the secretary of defense.
Topics: Air Force News, Aviation, Air Power