Air Force Shares Details on Scrapped Light Attack Demo Day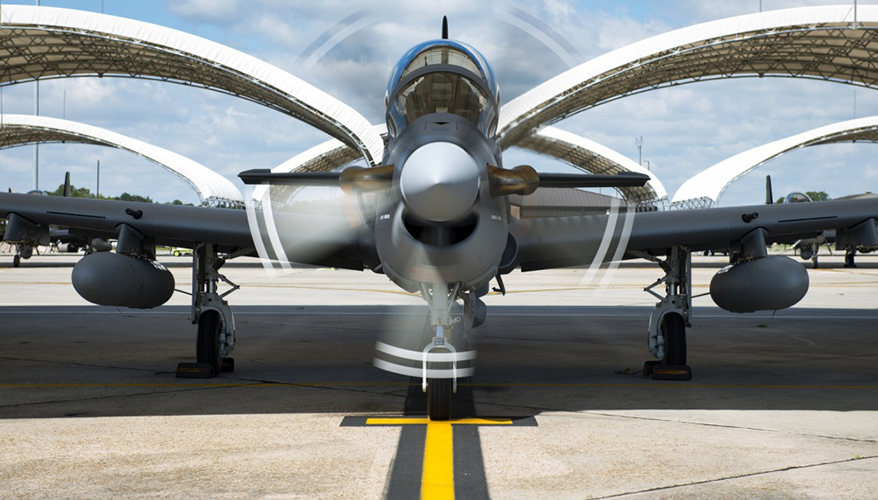 A-29 Super Tucano
Photo: Air Force
NATIONAL HARBOR, Md. — Before Hurricane Florence barreled toward the East Coast last week, the Air Force had planned to host reporters and foreign partners at Andrews Air Force Base, Maryland, for briefings and displays showcasing the work it had done with its light attack experiment. While weather complications forced the event's cancelation, service leaders are now sharing details about what they had wanted to unveil.
The Air Force's light attack program is an effort to potentially procure hundreds of commercial-off-the-shelf aircraft that could be used in permissive environments and free up fourth- and fifth-generation fighters for higher-end conflicts.
Following a series of experiments and the release of a draft request for proposals earlier this summer, the service has whittled the effort down to two participants — a Sierra Nevada Corp.-Embraer team's A-29 Super Tucano and Textron Aviation's AT-6 Wolverine turboprop.
Lt. Gen. Arnold W. Bunch, Jr., military deputy in the office of the assistant secretary of the Air Force for acquisition, told reporters at the Air Force Association's annual Air, Space and Cyber conference in National Harbor, Maryland, that the service wanted to demonstrate a new network that could connect light attack aircraft with ground and air assets using commercial-off-the-shelf technology.
"We would be able to link ground and air in together to give [a] more complete site picture and an operational perspective to the people that were operating" aerial platforms, he said Sept. 18 during a media roundtable. "Our goal is to be able to develop that so that even if someone doesn't buy necessarily a light attack aircraft, they can buy the network," he said.
The Air Force had around 25 confirmed international partners for the demo day, Bunch noted.
A key aspect of light attack is "to have something that our partners and allies could utilize … to do some missions that we wouldn't need to contribute to," he said. "Not everybody needs F-35s to do the missions they've got."
Since those partners were unable to see the aircraft, Bunch said he had told the service's international affairs department to facilitate one-on-one meetings.
"If somebody wants to talk to us about the capability we got, what we're trying to do, [then] we're happy to entertain them," he said.
The canceled media day at Andrews was the second time the service had tried to host such an event. An earlier media day at Holloman Air Force Base, New Mexico, was canceled after a Super Tucano pilot, Lt. Christopher Carey Short, was killed in a crash in late June. Another pilot flying with Short suffered minor injuries.
Gen. James M. "Mike" Holmes, commander of Air Combat Command, said procuring a light attack aircraft could help alleviate the Air Force's pilot shortage, which could grow as the service considers increasing its force structure to 386 squadrons.
"One of the kind of second-order effects of the light attack airplane is because it's cost effective to operate, you can fly a lot of sorties rapidly on your young people," he said Sept. 19.
There is a shortage of experienced aviators, Holmes noted.
"If you only have a few [light attack aircraft] … then it's a drain on your pilot force," he said. However, "if you get to a large number, then you're actually producing more than you consume by making experienced pilots … [that can then enter] a transition course and move into your other aircraft."
The service has indicated that it could purchase more than 300 light attack aircraft, but that's "probably the upper end of what the U.S. would pursue," Holmes said. The service is still considering what the right number of aircraft is, he added.
"Do you pursue it from a goal of what is the maximum number of fourth- and fifth-generation airplanes I can offset so that they can focus their training on getting ready for peer adversaries? Or will it be more focused on how can I take this airplane, teach coalition partners how to operate it, and eventually hand it off to them so that they can do their own air support for their coalition force?" he asked.
"We'll end up somewhere in between and we'll have to work with the Department of Defense and with the Congress to decide exactly where that number is," he added.
The Air Force is planning to release a final request for proposals by the end of the year, Holmes noted. A presolicitation released in August on FedBizOpps indicated that the service would invite Textron and Sierra Nevada Corp. to participate in the effort. A production contract is expected to be awarded in the fourth quarter of fiscal year 2019.
The service is also planning to take advantage of Section 804 acquisition authorities that will allow it to move forward more rapidly, Holmes added.
Topics: Air Force News, Air Power, Aviation, Defense Department