ROBOTICS AND AUTONOMOUS SYSTEMS
Insitu Unveils New Extended-Range Drone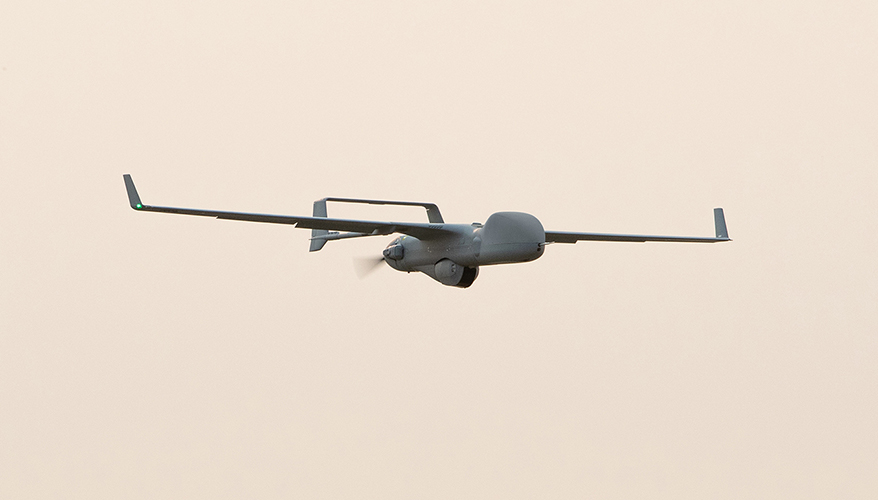 Integrator Extended Range in flight
Photo: Insitu
NATIONAL HARBOR, Md. — Insitu, a subsidiary of the Boeing Co., unveiled its latest unmanned aerial system Sept. 17 at a gathering of Air Force and industry leaders.

The Integrator Extended Range is a new drone that is "acoustically and visually undetectable at tactical altitudes," Esina Alic, Insitu's president and CEO, said at the Air Force Association's annual Air, Space and Cyber Conference.
The "theater-range platform" weights 145 pounds, she said. The system can fly 200 nautical miles and stay on station for 10 hours, or travel 300 nautical miles and remain on station for six hours, she noted.

The aircraft, which is currently being test flown on the West Coast, is eight-feet long with a 16-foot wingspan.

Don Williamson, vice president of Insitu Defense, highlighted the Integrator's range. Medium-altitude drones have traditionally been limited to 50 to 70 nautical miles, he said.

"Last September, we demonstrated our prototype system to about 70 Pentagon decision-makers right here in the Washington, D.C., area," Williamson said during a press conference at the AFA show. "What we were able to prove on that flight, and on the many subsequent flights in the past year is that Integrator ER shatters previous small UAS limits."
The aircraft also comes at a significantly reduced cost compared to current unmanned systems that are in operation, he said.

The drone has yet to be purchased by the Defense Department.

"No one in the Air Force has specifically reviewed this type of capability," Williamson said.

When asked what role the aircraft could play for the U.S. military, Williamson touted the Integrator's vertical take-off capabilities.

"We think with its runway independence… you can move out to that forward operating base in the environment and now be much closer to the fight," he said.

Boeing Insitu previously developed the RQ-21 Blackjack unmanned aerial system for the Navy and Marine Corps. The new Integrator Extended Range is derived from the RQ-21 and shares "tremendous commonality," Williamson said.
Topics: Robotics, Robotics and Autonomous Systems, Air Power