Engine Upgrades, Digitization to Keep B-52s Flying Into 2050s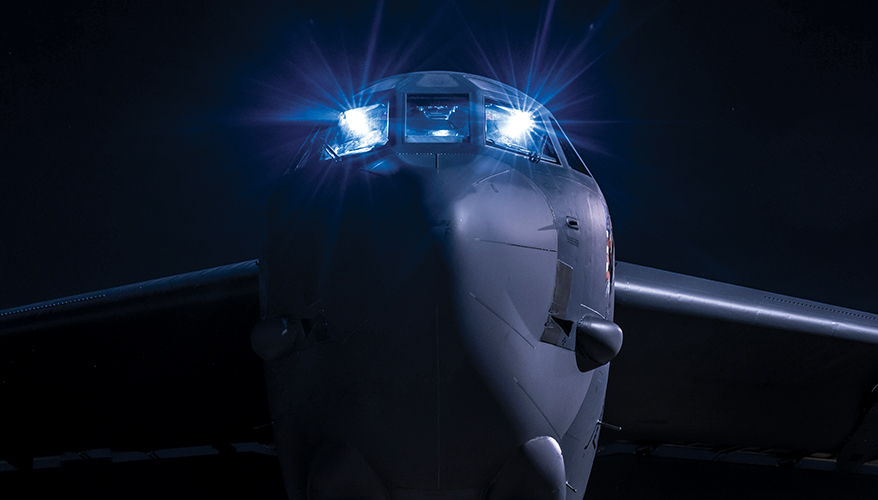 Photo: Air Force
The Air Force has begun a series of major upgrades to its oldest aircraft — the B-52H Stratofortress — to keep the fleet viable until about 2050.
The iconic B-52 airframes first came off the production line more than six decades ago.
The service currently possesses 76 of the long-range subsonic strategic bombers, split between Barksdale Air Force Base, Louisiana, and Minot Air Force Base, North Dakota, and operated by the service's Global Strike Command as well as Air Force Reserve Command.
The B-52H has a robust airframe and flexible mission capabilities for both conventional and nuclear warfare, which has allowed it to keep flying as much younger aircraft are retired, said Maj. Jacob Davis, chief B-52 requirements officer at Global Strike Command.
"It was built a long time ago, [and] it was built to a very good specification — over-engineered, some may say," he told National Defense. "It can carry a wide variety of munitions … anything from a nuclear weapon all the way down to leaflet 'bombs' that just dispense messages out."
The aircraft's mission has evolved since it was first fielded in the 1950s, when it initially served as a nuclear delivery platform. With the advent of conventional cruise missiles beginning in the 1980s and GPS-guided weapons in the 1990s, the platform moved into the close-in fight, dropping joint direct attack munitions, or JDAMs, and laser-guided bombs, Davis noted.
"We have got 76 of them, which is the most of any of the bombers that we have, and we are able to go out there and be in all theaters almost at the same time," he added.
As the service has begun a series of improvements, one of the most costly efforts will be to replace all of the B-52 fleet's engines to keep the aircraft flying for at least another 30 years.
Air Force budget documents state that the current engine, Pratt & Whitney's TF33-PW-103, "is increasingly difficult to sustain due to diminished manufacturing sources and obsolescent technologies." The Air Force Propulsion Directorate projects the engine will become unsustainable by 2030, it added.
Global Strike Command is currently working with acquisition leaders as well as the service's system program office to develop a strategy to buy the new engines, Davis noted. "It affects more than just the engines," he said, adding that the aircraft's wiring and electrical systems will be impacted. "It's not as simple as pulling one engine and putting a new one in."
The current engines are original to the H models, the last of which came off the manufacturing line in 1962, Davis said. Discussions have been ongoing over several decades about buying new engines, but have until now been tamped down based on budget constraints and the Air Force's indecision about retiring the aircraft, he added.
The service requested over $65 million in its fiscal year 2019 presidential budget document to complete the technology maturation and risk reduction phase, and potentially reach a Milestone B decision and begin the engineering and manufacturing development phase by the end of the fiscal year. An additional $943 million was requested through 2023.
The Air Force hopes to release a request for proposals within the next fiscal year, Davis said. Initial operating capability is currently slated for the mid-2020s, with full operating capability in the 2030 timeframe, he added.
Davis would not comment on how much the re-engine program might cost, but said the service expects to save money in the long run by replacing the engines instead of building a new aircraft.
He noted that the Air Force completes about 30 to 40 engine refurbishments per year, costing about $1.9 million apiece.
"When you have a fleet of 76 aircraft with eight engines per aircraft, that's a lot of money to refurbish once you start crunching the numbers," he said.
Richard Aboulafia, vice president of analysis at the Teal Group, said the cost of the re-engine program will depend on the amount of necessary integration work, flight testing, non-recurring costs, and what kind of bargain the Air Force can strike with the contractor.
Engine manufacturers Rolls-Royce, Pratt & Whitney and GE Aviation have expressed interest in competing for the program. Thus far, only Pratt & Whitney has revealed its chosen replacement engine.
"If the USAF chooses to re-engine, we believe the PW815 is the best [commercial-off-the-shelf] offering to meet the USAF's requirements," said a company spokesperson via email, who added that the company is committed to helping the Air Force reach lower sustainment costs and ensure the aircraft is viable "for as long as TF33 engines remain on wing."
A Rolls-Royce spokesperson said via email that the company plans to establish a new U.S.-based assembly line to build and test the engines, should it win the contract. The engine itself was not disclosed. GE Aviation did not respond to a request for comment.
Any of these contenders' viable engine systems could cost up to $3 million apiece, Aboulafia noted. A full retrofit to include eight new engines, additional support and testing could cost around $25 million per aircraft, he added.
The Air Force has long considered putting new engines on the B-52, said Andrew Hunter, director of the defense-industrial initiatives group at the Washington, D.C.-based Center for Strategic and International Studies.
"One of the issues is that there was never a clear plan for how long the Air Force was going to continue flying them," he said. "There was no plan to get rid of them, but I don't think they had nearly as definitive a statement that said, 'We will fly this aircraft into the 2050s.'
"The more years of operation you assume, the much easier it is to show a positive rate of return on something like a re-engining investment," he added. "A 30-plus year timeframe is a case where the business case is pretty easy to close."
The Air Force is also planning to replace the Northrop Grumman-developed APQ-166 terrain-following and mapping radars on the aircraft. The systems' capabilities are becoming obsolete and sustainment issues are a problem, Davis said.
A request for proposals is expected by the end of this year, with source selection planned for calendar year 2019, he added. The Air Force requested nearly $59 million in the fiscal year 2019 presidential budget to continue requirements development and refinement, acquisition planning and preparations for radar vendor competition and award, as well as to complete the system's preliminary design review.
The Air Force is in the second phase of the 1760 internal weapons bay upgrade program, which will allow B-52s to carry smart weapons — such as JDAMS and joint air-to-surface standoff missiles — and miniature air-launched decoys from the bomb bay, Davis said. The aircraft could previously carry unguided bombs, conventional air-launched cruise missiles or their nuclear counterparts on a rotary launcher in the bay, "but no 'smart weapons' that are really being used in today's wars," he added.
Testing for the new system should be completed by the end of this year, while installations will be finished within the next couple of years, he noted.
The service has also begun the combat network communications technology, or CONECT, program, which will provide upgraded data and voice communications capabilities, improved threat awareness and situational awareness in network-centric operations, Davis said.
"What that program really did was essentially bring the B-52 into the digital age," he said. "It gave us a digital backbone in the aircraft. … Before that, our avionics was 1980s, 1990s technology."
The CONECT system will provide beyond-line-of-sight retargeting capability, improve situational awareness with a moving map display in the cockpit, and include new displays at all of the crew stations, he added.
The Air Force is currently installing the system on the B-52 fleet, and should complete the process around fiscal year 2021, Davis said. The service requested about $11 million in the fiscal year 2019 presidential budget for the upgrade.
The B-52H fleet is expected to receive additional improvements to a variety of subsystems, including: a new low-frequency receiver and antenna system that will provide secure and survivable strategic nuclear communications; upgraded GPS interface units for the aircraft's computers; and a Link 16 line-of-sight tactical data link capability that is now possible since the CONECT program occurred.
"The highlight for Link 16 is we're the only [combat Air Force] platform that doesn't have" the technology already installed, Davis said.
Additional improvements include new mobile user objective system-capable ARC-210 radios built by Rockwell Collins, and an advanced-extremely high frequency integration satellite communication system to provide assured connectivity for nuclear command and control, and also provide beyond-line-of-sight capabilities.
The B-52H fleet recently received new targeting pod displays that allow the Air Force to have an electro-optical view of the environment outside of the aircraft, Davis said.
"Since the early 2000s, we have kind of brought that on as a capability to the aircraft, which has really helped us in supporting [close-air support] and really any situation involving troops on the ground," he said.
All of these upgrades should better equip the B-52 for a high-end, network-centric fight, Davis said.
"Now we know we're keeping this aircraft around for another 30 to 35 years. … There's a lot of modernization that we have to do to allow the airframe to be relevant and effective in the fight," he said.
The improvements come as Global Strike Command plans to retire its fleet of B-1 supersonic heavy bombers by 2036 and its B-2 stealth strategic bombers by 2032. The command's new B-21 stealth bomber, currently in development by Northrop Grumman, is expected to enter service by 2025.
The B-52 is a simpler, less costly aircraft to operate, which may have contributed to the service's decision to retire its B-1s and B-2s as the B-21 comes online, which will fill some of those gaps left by the older bombers, Aboulafia said.
"The B-21 is just one component of a larger system of systems … that will make it more capable from a strategic reconnaissance standpoint," he said, noting that advancements in stealth technology should enable it to better penetrate enemy airspace than previous bombers like the B-2.
Hunter said the B-52 does not present the same maintenance challenges as the B-1 with its swept-wing design or the B-2's low-visibility features. "If you're not worried about stealth, if you're not trying to achieve supersonic flight at low altitudes, like a B-2 or a B-1 would do, then it's pretty hard … to beat the B-52's performance," he said. "It's very good at picking up a large payload, carrying it a long way, dropping it and flying home."
Analysts predicted little pushback from lawmakers on the Air Force's re-engining program or other upgrade plans.
Aboulafia noted that there could be some conflict between retrofitting all of the B-52s and simply buying more B-21s, but added that even a potential $25 million to $30 million re-engine program "is really very different from a $550 million [per aircraft new-build]."
Still, at some point the 1960s-era aircraft will age past the point of upgrades, Hunter noted.
"Nothing lasts forever, even the B-52 won't last forever, and the 2050s certainly seem like a timeframe where you're going to want to look to a replacement," he said.
If the B-21 production line is still open, buying additional aircraft could be an option, he noted. "Another possibility is they'll look to a new design, maybe something that is in a different performance category than either the B-21 or the B-52," he said.
Topics: Air Force News, Air Power, Aviation, Strategic Weapons