British Defense Chief: Brexit Won't Harm U.S.-U.K. Military Partnership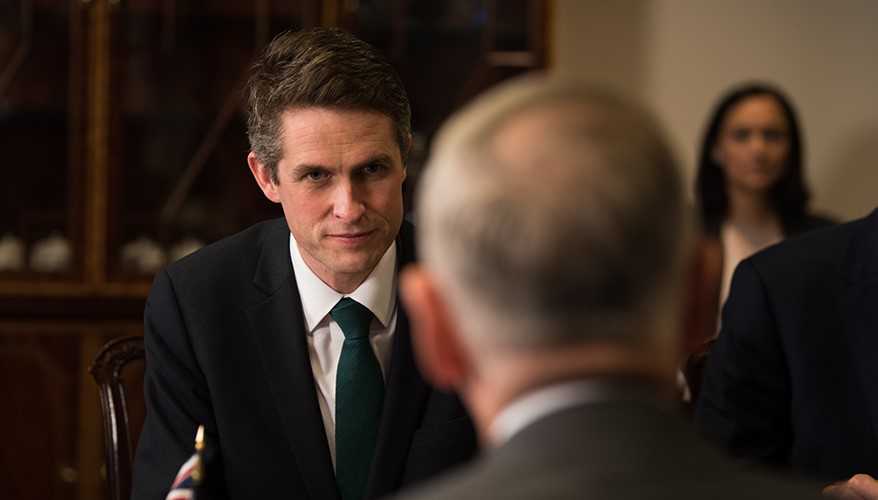 United Kingdom's Secretary of State for Defence Gavin Williamson
Photo: Defense Dept.
Despite political sparring in London as the United Kingdom prepares to withdraw from the European Union, the nation's secretary of defence said Aug. 7 that allies such as the United States have no reason to fear the country will backtrack on its defense commitments.
"People still worry about Brexit and what role Britain will play in the world," said Gavin Williamson. "No one should worry. For while Britain is leaving the European Union, we are clear about our role and place in the world."
The island nation voted by referendum in 2016 to leave the E.U., an international political organization made up of 28 countries. However, the United Kingdom will remain a global force committed to strengthening international security, he said during remarks at the Atlantic Council, a Washington, D.C.-based think tank.
"We have always been a tier one military power and we will always will be a tier one military power," he said.
Maintaining and strengthening partnerships around the globe will be key to the United Kingdom's military success as it moves forward, he said. "We … agree with the United States' national defense strategy that by working together with allies and partners we amass the greatest possible strength for the long-term advancement of our interest," he added.
Britain's defense industrial base produces cutting-edge technology and supplies the United States with a variety of defense equipment, he noted.
"The U.K. is the biggest offshore supplier to the U.S. military with the skills to meet a host of your requirements, from avionics and vehicle communications to military bridging and" chemical, biological, radiological and nuclear protection capabilities, he said.
Williamson noted that partnership is a two-way street, with the United Kingdom purchasing more than 50 types of defense equipment from the United States including P-8 Poseidon maritime patrol aircraft, Apache attack helicopters and Reaper unmanned aircraft.
Partnerships between the United Kingdom and the United States, along with other European nations, will be critical as the West faces increased threats from terrorist organizations, a rising China and a resurgent Russia, he said.
"It's clear that we're in a new age of intertwined dangers and it is getting ever more complex," he said. Nation-states are adopting the tactics of terrorists, and terrorists are increasingly armed with more sophisticated weapons including cyber capabilities, he added.
With that that in mind, the U.K. — like the United States — is calling for NATO members to invest more funding into defense, Williamson said.
"Last year saw NATO's biggest spending increase in 25 years," he said. "Since making the defense investment pledge of the 2014 Wales Summit, allies have spent $87 billion more on defense. In just two years' time, that number will increase to at least $150 billion."
Four years ago, only three NATO nations spent 2 percent of their GDP on defense, an alliance benchmark. By the end of this year, that number will increase to eight, he added.
"Increasingly, we're seeing more partners pull their weight, realizing that they've got to spend more because of the increasing threats that the world faces," he said. "They're investing in capabilities essential and relevant to modern warfare, making sure that they have the best equipment and the very best technology."
President Donald Trump has criticized NATO for what he deems to be insufficient military spending. Williamson said it's worth remembering that Europe is not the sole beneficiary of NATO.
"The only time that Article Five [of the alliance treaty which calls for collective self-defense action] has ever been invoked was after 9/11 when Great Britain and other NATO nations stood side by side with you after the atrocities that we saw," he said to a U.S. audience. "Just as the United Kingdom helps the United States shoulder the burden of international security, so does NATO."
Topics: Defense Department, International