Air Force to Procure New Light Attack Aircraft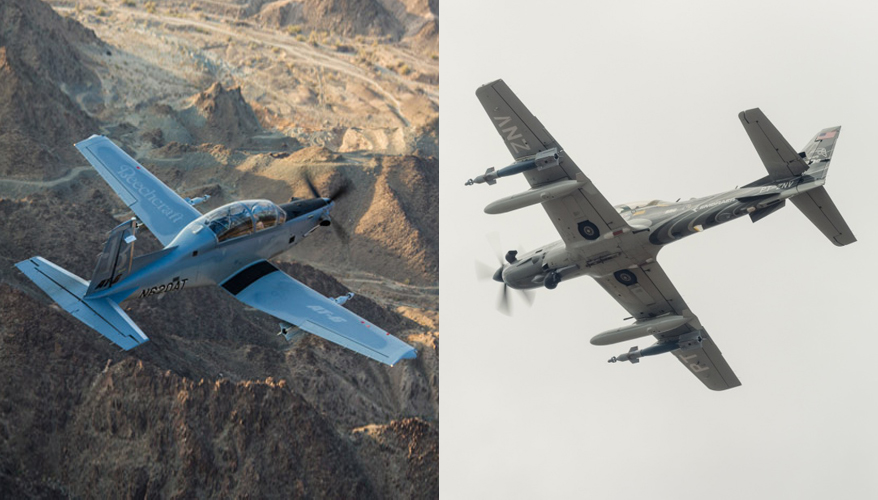 AT-6 Wolverine, A-29 Super Tucano
Photos: Textron, Defense Dept.
The Air Force has decided to buy a new light attack aircraft to support troops engaged in counterinsurgency operations, the service announced in a presolicitation dated Aug. 3.
A formal solicitation is expected to be released in December, and a production contract will be awarded in the fourth quarter of fiscal year 2019, the document said.
The Air Force plans to request proposals from a limited number of companies including Textron and Sierra Nevada Corp., the service said in the notice that was released on FedBizOpps.
"Sierra Nevada Corp. and Textron Aviation are the only firms that appear to possess the capability necessary to meet the requirement within the Air Force's timeframe without causing an unacceptable delay in meeting the needs of the warfighter," the presolicitation said.
The chosen platform "will provide an affordable, non-developmental aircraft intended to operate globally in the types of irregular warfare environments that have characterized combat operations over the past 25 years," it added.
The move follows a U.S. military experiment known as OA-X, which kicked off last year to study the feasibility of using an off-the-shelf platform as a low-cost solution for light attack and close-air support missions. Originally, the experiment involved four aircraft including a Sierra Nevada Corp.-Embraer team's A-29 Super Tucano; Textron Aviation's Scorpion jet and AT-6 Wolverine turboprop; and Air Tractor Inc.'s AT-802L Longsword turboprop supported by L3's Platform Integration Division.
Earlier this year, Textron and Sierra Nevada Corp.-Embraer had been testing their turboprop aircraft — the AT-6 and the A-29, respectively — during the second phase of the experiment. However, that phase was cut short after a Super Tucano participating in the effort crashed near Holloman Air Force Base, New Mexico, in late June. One pilot, Navy Lt. Christopher Carey Short, was killed, and another suffered minor injuries.
Many observers assumed that the incident spelled doom for OA-X, said Richard Aboulafia, vice president of analysis at the Teal Group, a Fairfax, Virginia-based defense and aerospace market analysis firm. Since the crash, it was unclear whether the Air Force would decide to buy light-attack platforms.
However, "the announcement does imply a level of firmness" going forward, Aboulafia told National Defense. The move to continue was both surprising and disappointing, he said.
Aboulafia, a critic of the effort, said the class of aircraft being sought for the light attack mission — which fly low and slow — are not survivable in most airspace.
"I would like a list of countries where these planes could be conceivably operated," he said. "I think it's Afghanistan and Chad. I'm at a loss for anywhere else."
Supporters of the initiative have said the acquisition of light attack aircraft for close-air support operations would free up more advanced platforms for other missions.
Topics: Air Power, Acquisition Programs, Defense Department