Windshield Wiper Fluid a Potential Battlefield Fuel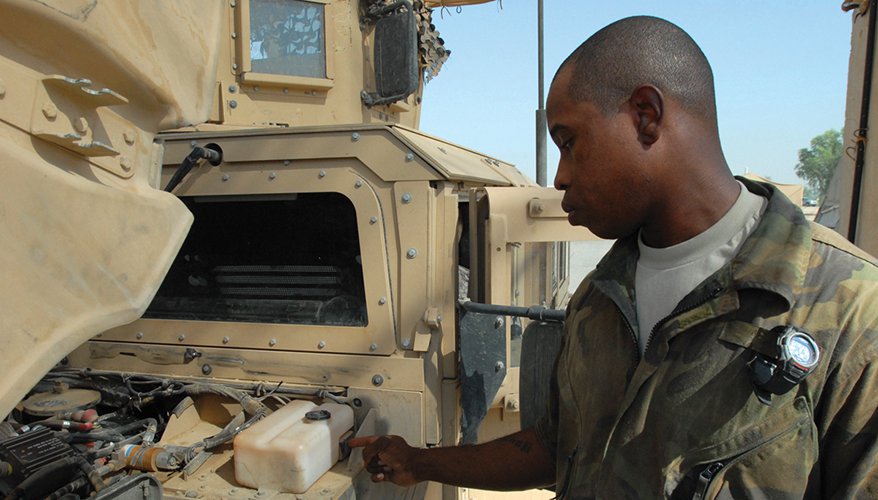 Photo: Defense Dept.
ABERDEEN PROVING GROUND, Md. — Fuel cells using methanol may finally be making inroads with the Army after years of research and development.
Beth Ferry, power division chief at the Army's Communications-Electronics Research, Development and Engineering Center, said resistance to the technology has come in the form of the service's "one fuel forward" policy of sticking with JP-8 to power all its ground vehicles, aircraft and generators.
JP-8, however, has many impurities that make its use as stock for fuel cells inefficient. That, plus the desire to have only one fuel in the logistics tail, has impeded the use of methanol fuel cells in battlefields.
But methanol is already widely distributed in the Army in the form of windshield wiper fluid.
"Look at the ingredients on the back," Ferry told National Defense.
Brad McNeilly-Anta, command post consultant at CERDEC, said there will be a feasibility study to see if the dyes and cleaning agents can be stripped away from windshield wiper fluid. Doing so would make it an efficient stock for methanol fuel cells.
Meanwhile, opposition to methanol-based fuel cells in the Army is breaking down, Ferry said. Special Operations Command is already using it for some niche applications. It has all of its safety certifications and — since it comes in bottles — is nothing more than "packaged energy" just like a regular battery, she said.
CERDEC is using an XX55 fuel cell made by Ultracell LLC of Livermore, California, that supplies energy to the experimental expeditionary joint battle command platform. The backpackable system — which is designed to provide dismounted troops satellite connectivity — once weighed 60 pounds, but is now down to 23 pounds, said McNeilly-Anta.
Part of the solution to reducing the weight was the fuel cell. It took two standard batteries to power the transceiver, pad and encryption device. Now, a 1-liter package of methanol coupled with the fuel cell does all that for more than 24 hours, he said.
Ferry said methanol fuel cells are being looked at more seriously for these niche applications.
There is also some disagreement within the Army on what the "one fuel forward" policy means. "Would we be running a vehicle on a methanol fueled battery? No. But when you look at methanol as a packaged fuel … how is it different from a battery?" she asked.
Topics: Land Forces, Energy, Logistics and Maintenance, Army News