Army Leader Mum on Program Cuts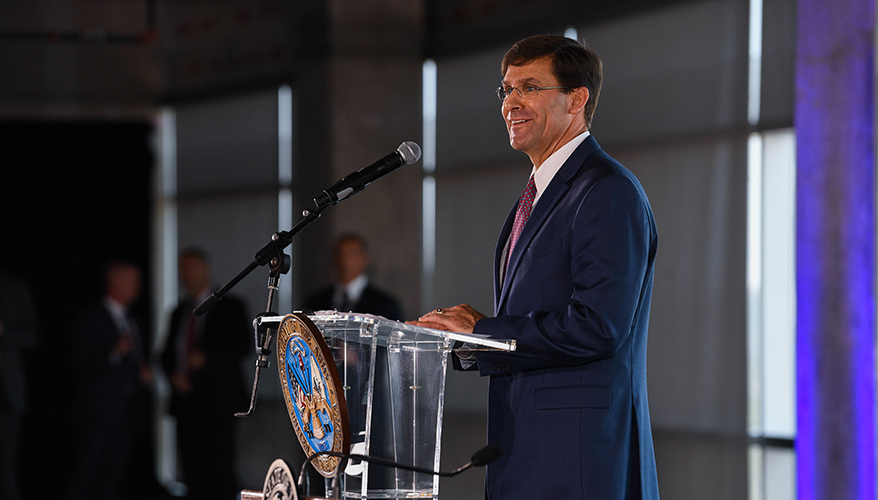 Secretary of the Army Mark T. Esper speaking at the activation of the Army Futures Command.
Photo: Army
The Army plans to trim certain programs to free up money for its top six modernization priorities, but contractors and other observers likely won't find out what's on the chopping block until next year, the service's top official said Aug. 29.
Everything is under the microscope for potential cuts, including smaller projects, Secretary of the Army Mark Esper told reporters during a meeting in Washington, D.C..

"We're looking at every single program, every single activity, every single function," he said. "If I can find $1 million I will go after $1 million. … I've found a lot of money and I will continue to find money" to redirect toward the most pressing modernization and training needs, he added.

To keep pace with peer competitors such as China and Russia, the Army has created cross-functional teams and established a new Futures Command to spearhead the acquisition of new capabilities. Last week, Esper and other service leaders attended the official ribbon-cutting ceremony in Austin, Texas, where the new organization is headquartered.

The top six modernization priorities, ranked in order of importance, are: long-range precision fires; next-generation combat vehicle; future vertical lift family of helicopters; the network; air-and-missile defense; and soldier lethality.

As they put together their fiscal year 2020 budget proposal, Army leaders took a close look at about 800 programs to find money to shift around, Esper said.

"I've been very clear to say we're going to put the CFT priorities first," he said.

"We're going to rank order everything, and we'll start pulling things off the bottom of the list to help fund what's on the top of that list — not because it's not important but because it's of lower priority relevant to what we need to ensure the readiness and lethality of the force," he added.

The service's 2020 fiscal blueprint is currently under review by the office of the secretary of defense. It will later be reviewed by the White House Office of Management and Budget before final decisions are made about what to include in the president's budget request, which is expected to be released in February.

Esper declined to specify which programs the Army proposes to slash in 2020 and beyond.

"It's working its way through the OSD process and OSD has to approve and chomp on all that of course," he said. "Then it goes to OMB. So that process needs to work itself out … [When] it's approved and it becomes the president's budget and it's released is when I would able to" discuss it, he added.

While the Army received a large spending bump in 2018 and is on track to receive more funding in 2019, sequestration is slated to go back into effect in 2020. That makes finding savings to reinvest in high priority projects all the more important, Esper noted.

"I have to go throughout the budget to find that money to do that because I'm not sure we will have money in '20 and beyond, and that's what we're trying to do," he said.



Topics: Army News, Budget, Defense Department