Air Force Light Attack Vision Inches Closer to Reality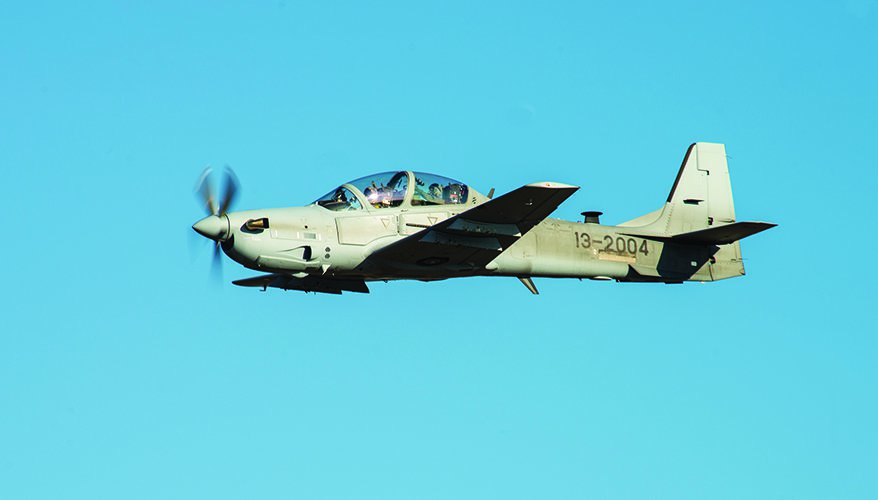 A-29 Super Tucano
Photo: Defense Dept.
The Air Force's light attack aircraft experiment, also known as OA-X, can be viewed as one of the Pentagon's key attempts to try to break the cumbersome acquisition paradigm. Less than two years after the effort was announced, the service is moving toward procuring a new aircraft.
The service has been testing commercial-off-the-shelf platforms that could perform light attack and close-air-support missions in permissive environments at a lower cost than using fourth- and fifth-generation jets. In early 2017, leadership announced a plan to gather test data from existing platforms to gauge their viability in filling a crucial need for key counterinsurgency missions, as well as provide additional cockpits to help close the service's current pilot shortage gap.
That summer, four aircraft — three turboprops including Sierra Nevada Corp. and Embraer's A-29 Super Tucano, Air Tractor Inc.'s AT-802L Longsword and Textron Aviation's AT-6 Wolverine, along with Textron's Scorpion AirLand jet — underwent a variety of tests at Holloman Air Force Base, New Mexico.
In early 2018, the Air Force announced the contenders had been pared down to two participants: The A-29 and the AT-6. Those two aircraft began combat flight demonstrations in early May at Holloman, continuing to do so until a fatal accident involving a Super Tucano prematurely ended the rest of the test sorties in late June.
Lt. Gen. Arnold Bunch, military deputy to the assistant secretary of the Air Force for acquisition, technology and logistics, recently told reporters that the service had gathered an extensive amount of data between the first part of the experiment and the flights that were performed up until the time of the accident.
The 2017 portion of the experiment sought to analyze the aircrafts' ability to: "find, fix, track and target;" perform datalink interoperability; and ensure weapons delivery and accuracy, among other criteria, service officials said at Holloman last year. The second part aimed to gather data related to logistics and maintenance support, as well as demonstrate the feasibility of using a commercial-off-the-shelf network system that could be easily installed and moved across various aircraft, Bunch said during a media event at the Pentagon.
"We had been asked to come up with a network that would be 100 percent exportable, that [we] would be able to install in the aircraft and that we would be able to fly with," he said. "We demonstrated ... [that] we could utilize it on those platforms."
As of press time, an Air Force Safety Inspection Board review of the accident remained underway. An Accident Inspection Board review will likely follow and take an undetermined amount of time to conclude, a service spokesperson said.
Taco Gilbert, senior vice president for Sierra Nevada Corp.'s intelligence, aviation and security business area, said the company was confident the Air Force had collected sufficient data points to make an educated decision about the viability of the Super Tucano for such missions.
"When they terminated the experiment early, they told us they had already collected 90 percent of their test points," he told National Defense. "Knowing that we are performing this mission every single day — and in fact the Air Force flies our airplane every single day at Moody Air Force Base — we felt confident that they had enough data to satisfy their flight evaluation."
Textron Aviation Defense was able to support the beginning of the phase two testing on time, said Thomas "Gumby" Webster, a company pilot who flew F-16s in the Air Force. The company continues to work with the Defense Department to demonstrate the features of the Wolverine, he said in an email.
In August, the service released a presolicitation that stated a formal solicitation for a light attack aircraft was expected to be released in December, and a production contract would be awarded in the fourth quarter of fiscal year 2019.
The Air Force plans to request proposals from a limited number of companies including Textron and Sierra Nevada, the service said in the notice that was released on FedBizOpps.
"Sierra Nevada Corp. and Textron Aviation are the only firms that appear to possess the capability necessary to meet the requirement within the Air Force's timeframe without causing an unacceptable delay in meeting the needs of the warfighter," the presolicitation said.
The chosen platform "will provide an affordable, non-developmental aircraft intended to operate globally in the types of irregular warfare environments that have characterized combat operations over the past 25 years," it added.
The light attack experiment has been one of several initiatives the Air Force has launched to try to field capabilities more quickly and efficiently. The service used other transaction authorities, or OTAs, to fund the effort, along with upfront investment from its industry partners.
The idea of procuring a light attack aircraft has received support from lawmakers, service leaders and other defense-related organizations. Bryan Clark, a senior fellow at the Washington, D.C.-based Center for Strategic and Budgetary Assessments, said it is clear the light attack experiment and other rapid development efforts have been positively received as "you are seeing efforts to try to mainstream some of those ideas" across the department.
But the Pentagon will need to be cautious about trying to push too many projects into a rapid procurement effort, he noted. Acquisition officials and law-makers "are starting to get a little bit concerned about the lack of controls and oversight on some of these programs," he added.
However, "these smaller projects ... where there is not a lot of technical risk — like the light attack aircraft — are perfect examples of using these authorities in a smart way. That's kind of been the consensus," Clark said.
The $716 billion fiscal year 2019 National Defense Authorization Act included $300 million for the experiment.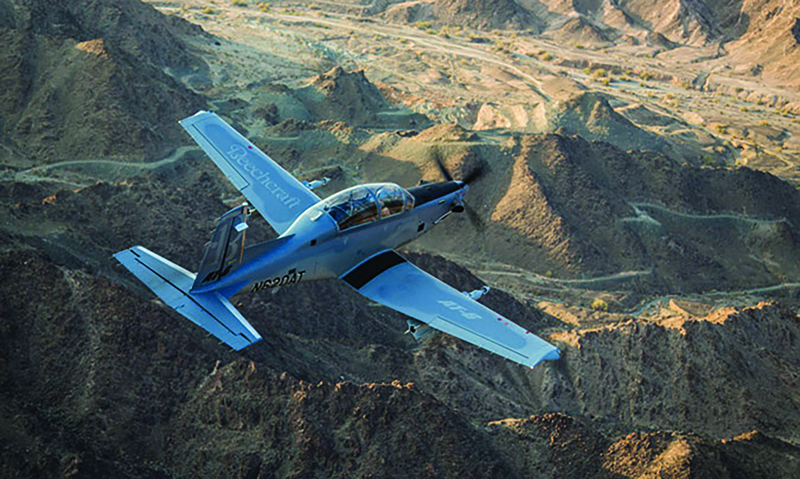 AT-6 Wolverine (Textron)
This past May, the Air Force Association's Mitchell Institute for Aerospace Studies released a policy paper titled, "Light Combat Aircraft: Looking at O/A-X and Beyond," that said the Air Force could use a low-cost light combat aircraft to "rebuild service capability by injecting needed capacity at low acquisition and operating costs."
The report noted that "such a solution will require upfront investment to protect existing priorities, as the Air Force budget is stretched too thin to accommodate both new aircraft and investment in essential high-end modernization efforts."
The experiment has cost the Air Force $18 million so far for both demonstrations, according to a service spokesperson. Gilbert noted that the contractors' investment in the experiments was significant.
"They envisioned using an OTA because they envisioned a non-developmental procurement process. But certainly ... there was a little bit of development that we had to do, just because we've been building airplanes for the export market, so we had to integrate some U.S.-only equipment," he said.
"What we have learned is that it does move much faster this way, but it is not inexpensive for industry," he continued. "While this [process] is very effective at moving fast, there may be a limit on how big a program they can pursue with this approach, given the cost expectations on industry."
The cost notwithstanding, Sierra Nevada would participate in a similar exercise again, he noted.
"We think the effort validated the aircraft and its capabilities as both a trainer and particularly as a combat platform. ... It allowed us to further hone the edge of our aircraft and then insert some new capabilities in," he added.
Light combat aircraft are not new to the Air Force, and were used frequently throughout the Vietnam War. But what most distinguishes today's light combat aircraft from those historic platforms is their ability and necessity to "gather, process, harness and disseminate data," the Mitchell Institute report said. "The combination of advanced sensors, GPS accuracy, and the ability to network with joint force or coalition partners on land, at sea and in the air, will act as a force multiplier, transforming [light combat platforms] from lone aircraft into members of a fully integrated team, with all players sharing a common operating picture via a maturing information network across the battlespace."
The OA-X experiment should serve as a starting point for the Air Force and other services to deliver a "more effective, efficient and prudent set of options," the report added. "While many argue that resources do not exist to pursue this effort, ... it is important to realize the concept expands fast past any single airframe. A successful program would eventually yield multiple paths to a range of solutions."
The report advocated for the Air Force to develop a light reconnaissance/ attack aircraft for affordable tactical intelligence, surveillance and reconnaissance in the same vein as the OA-X experiment. However, an Air Force spokesperson told National Defense that the service is not currently pursuing such an effort.
Meanwhile, the Air Force and Sierra Nevada declined to comment on the circumstances of the accident that killed Navy Lt. Christopher Carey Short as the investigation is still ongoing. While any fatality — whether on the field or during experimental testing — is a tragedy, "the risk is just inherent in a new aircraft program in general," Clark said. "Even today with existing airframes being piloted by experienced pilots, we still have fatal accidents, just because it's a dynamic and environmentally challenging situation."
Bunch, whose background includes various test experience including as commander of the 412th Test Wing at Edwards Air Force Base, California, told reporters that the Air Force had "a good balance" between taking chances and playing it safe.
"You can never take all the risk out of anything you're ever trying to do," he said. "The safest thing I could ever do is not fly. ... The reality of it is that's not going to get us the ability to go out and do the mission. So we try to balance that on a regular day-to-day basis, and I think we're in a pretty good place right now."
Advocates point to the ease of which a light attack aircraft could benefit foreign allies. The A-29 is currently in operation or on order for 13 air forces across the globe, and the U.S. Air Force uses the platform to train international pilots and maintainers out of Moody Air Force Base, Georgia.
The NDAA committee report requires the Air Force to submit an analysis to Congress by Feb. 1, 2019, to include a description of how the OA-X effort could support partner nations' low-cost counterterrorism light attack capability as well as "how Federal Aviation Administration certifications for commercial derivative aircraft are factored into foreign military sales for a partner nation," among other requirements.
The Mitchell Institute report noted that a new light attack aircraft could help the Air Force save money due to lower systems complexity, which would in turn shrink the maintenance and logistics footprint in forward deployments.
The Navy and Marine Corps have also been observing the latest round of OA-X testing this year, Bunch said. A light attack aircraft could help train forward air controllers and joint terminal attack controllers, as well as augment the fleet of "blue air," or friendly force, aircraft in training events, Navy officials told USNI News.
— Additional reporting by Yasmin Tadjdeh
Topics: Air Power, Air Force News, Contracting