Marine Corps to Expand Drone Arsenal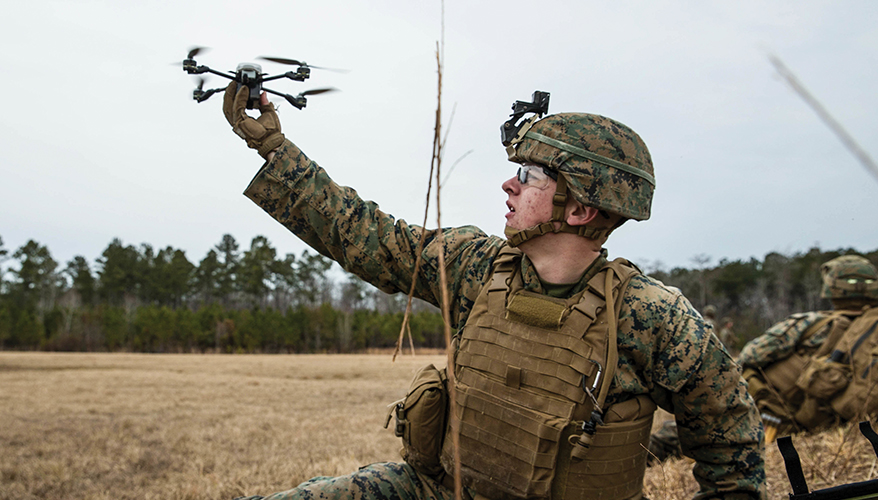 A Marine releases a drone during training.
Photo: Marine Corps
The Marine Corps is investing money into a variety of new unmanned aerial vehicles, ranging from large systems that can be flown off of amphibious vessels to tiny quadcopters that can fit in the pockets of dismounted troops.
One of the service's most high-profile efforts is known as the Marine Air-Ground Task Force UAS Expeditionary — or MUX — maritime drone. The service envisions using the platform in austere conditions on both land and water, said Col. James Frey, branch head of unmanned aerial systems at the Marine Corps' office of aviation, weapons and requirements.
The UAV — which could be the size of a group 5 system, which include large platforms like the Reaper, Global Hawk and Triton — will have a vertical takeoff and landing capability, he told National Defense in an interview.
"This is unique to DoD as far as having a vertical ... takeoff UAS that's of this size," he said. "It's the first time it has been done."
Having a VTOL system will allow Marines to fly the platform from a variety of locations, Frey said.
"It's runway independent, so I do not need to be … someplace with a strip of concrete or asphalt 3,000-feet long," he said. "That's what gives you … independence in the austere locations, … and that's what gives us the flexibility for the expeditionary environment."
The drone will be used for early warning, communications relays, air support, intelligence, surveillance and reconnaissance, he said.
Following a request for information released earlier this year, the Marine Corps is working with 11 different companies that are examining how to develop the airframe and software systems, he said.
The service held an industry day in June and officials from both the Marine Corps and Naval Air Systems Command are now visiting their factories. Frey did not disclose which companies are involved.
"The hardest operational task is landing an unmanned system on a moving ship at sea."
"This is where we can take their 250-page response to the RFI and answer the hard questions and make sure it's a … [two-way] conversation," he said. "We also get to ask them what are their risks in their proposal, [what are the] … technology readiness levels of their design, where they are today, where they're going to be in the future and, probably most importantly, is what do they need help on?"
The government can offer assistance with modeling and simulation and designs, he said.
The communication between the services and industry has been "priceless," he said.
The Marine Corps faces a number of challenges as it pursues the program, Frey said. Much of that has to do with physics.
"This is hard because if you want the long endurance, you want to have a big air wing much like a Reaper or a Global Hawk," he said. "But if you want the vertical takeoff and landing, most of the companies have been offering up a tilt rotor-type" aircraft.
The hardest operational task is landing an unmanned system on a moving ship at sea, he said. The Marine Corps plans to help by investing in recovery systems, he noted.
"This from day one has to be planned to be integrated on a naval vessel, and that's what's difficult because of size," he said. "It has to fit into a DDG or destroyer hangar, and it has got a certain size, so you have to fold your propellers or have your wings stow. ... They add complexity and they add weight to the airframes."
MUX will be equipped with a variety of payloads and weapon systems including Hellfire missiles, laser-guided bombs and rockets and an advanced precision-kill weapon system, he said. The service doesn't envision developing any new weapons for the system.
The Marine Corps also plans to equip the system with payloads that are available today. It is still consulting with industry on what type of radar to use on the platform in conjunction with its early warning mission. "Do I take an F-18 or F-35 radar and have it in the airframe?" Frey asked.
When it comes to ISR, the service wants to have "the latest and greatest technology" that's out there on the market, Frey said.
It is also examining multiple electronic attack payloads and communication relays, he said.
"We're working a lot of programs in Marine aviation to connect the Marine to fires — whether that's aviation or ground," he said. The service wants to use MUX as way to have persistent capability even in denied environments where communication equipment is jammed.
The service doesn't want Marines to be dependent on any one type of technology, whether it be satellite communications or GPS, he said.
"You got to have alternatives to communications as well as what we call PNT — position, navigation and timing," he said. "We're looking at this to plug a hole in that [and] keep a persistent network."
Requirements for the system are still being formulated as the service continues with an analysis of alternatives that will run through fiscal year 2019, Frey said. A request for proposals is slated for the end of fiscal year 2019 or the beginning of 2020, he said. The Marine Corps wants early operational capability no later than 2025, he added.
So far, industry has indicated that they could have aircraft flying by 2023, to be followed by two years of additional development, he said.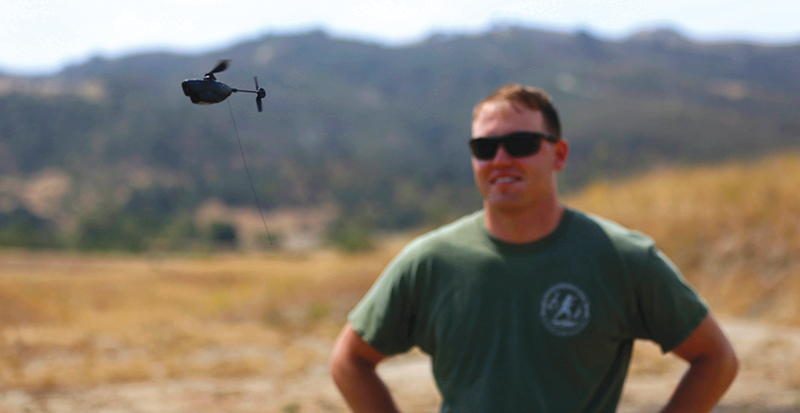 PD-100 Black Hornet (Marine Corps)
For the moment, the service is looking at procuring about 100 systems, but that could change depending on how big the airframe ends up being, Frey said. It is possible that the Marine Corps could take a family-of-systems approach and instead of pursuing a group 5 platform, it could have two smaller systems work in tandem.
"As some things get bigger, they generally get more expensive. So are you better to have two smaller ones or one huge one?" he asked. "Those are things that we will look at, and that factors into the total numbers that we have, because shipboard space is a premium, and we have to balance this with the rest of Marine Corps aviation."
Meanwhile, the service is also making investments in small VTOL systems, said Maj. Chase Thompson, a capabilities officer within Marine Corps Combat Development Command's fires and maneuver integration division.
"We're looking at using those more in the operating forces for … situational awareness," he said. "The more information you can get to the end user, the better they know what's coming around the corner [and can] react to that."
There is rapid technology development going on within industry for VTOL systems and the service is working to push some of that capability out to squads, he said.
The Marine Corps is currently experimenting with InstantEye UAVs that weigh a little more than three pounds.
"We are getting those out to the units to build those tactics and the techniques to provide more feedback of what is useful and what isn't useful," Thompson said.
The service has so far fielded about 800 of those systems, he noted.
Over the summer, those platforms — along with other drones such as the PD-100 Black Hornet and SkyRanger UAS — were briefly grounded following a memo signed by Deputy Secretary of Defense Patrick Shanahan that focused on security concerns regarding small commercial-off-the-shelf systems.
Because these platforms have often been fielded rapidly, "they don't go through the same rigorous testing that we do for a program of record," Thompson said. "There's often an unknown risk when we do that, and so … [Shanahan] has come out, asking us to stop flying them until really we understand what those risks are."
Vulnerabilities could include unknown users accessing information being collected by a UAV, he said. However, after two weeks of being grounded, the Marine Corps was able to obtain waivers for its systems and get them back in the air, he noted.
The waivers are good for 60 days.Another set was needed by late August, he said. Thompson did not envision that the service would run into issues as it continues to seek waivers in the future.
"The board that's reviewing these has gone through several of them now," he said. "They've got a very good idea of what they're looking for and what their concerns are, and I think all of our systems are outside of their concerns."
The Marine Corps has proposed a different approach going forward that would push the waiver process down to the services, he said. "Once we know what the risk is, we can really investigate and waive that risk for ourselves as long as it meets the line of their intent," he added.
The Marine Corps' work with aircraft such as the InstantEye, PD-100 and SkyRanger will eventually inform a future program of record for a small unmanned aerial system, Thompson said.
"We're waiting for the feedback from the fleet to give us direction on what needs to improve and what we can do better," he said. When "we get that information back, we will be able to get a direction and identify" requirements.
So far, reaction from troops has been positive, Thompson said. "Anytime you give someone better awareness of what's going on around them, they'll be very happy with it," he said. But the service is still collecting more specific data on how the systems have been employed and how they benefit individual Marines.
The service is being mindful about not weighing down troops with more gear, he added.
"We don't want to send them out the door with something that's heavy, that they've got to carry around that's going to weigh them down," Thompson said. "We want something light and flexible. But we also need something that's going to last enough to get them through a battle."
Topics: Marine Corps News, Robotics, Robotics and Autonomous Systems