Small Space Launch Companies – Great Promise with a Note of Caution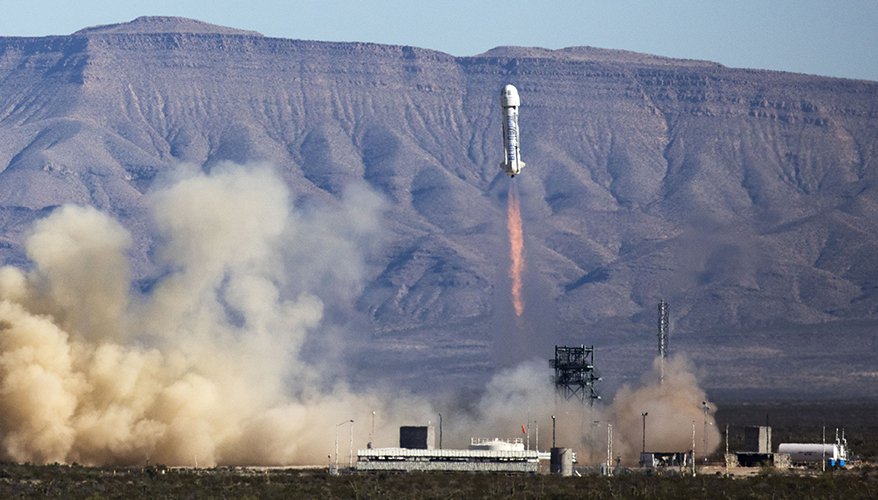 Photo: Blue Origin
When a new economic sector takes off, caution is advisable. When the automobile, commercial air travel, television and the internet arrived, not to mention rockets, Congress and sequential administrations – Republican and Democrat – crafted regulations that guided these new technologies toward growth, public utility and manageable risk. We are here again with private space-launch.
What lies ahead? What should lie ahead? What should policy makers – in Congress, Pentagon, NASA, the Federal Aviation Administration and White House be thinking about? The list is long — and the future extremely promising — but some items drift to the top of the list. Guaranteeing America's national security and economic priority are two of these items.
Here are the arresting facts. As the United States grows more dependent on space — for both military and commercial purposes — commercial space launch is quickly growing. The sector is projected to exceed $5 billion by 2024, reinforced by a rising national security emphasis and insatiable communications needs.
As with other new technologies, regulation is tricky, since the U.S. economy benefits from any new sector's growth, even as legislators and the executive branch consider possible risks.
In this case, most safety regulations tied to space-launch are already in place, having been well-seeded, weeded and nurtured over the past 50 years. Major launch companies pioneered, bore the costs of testing, and eventually reaped benefits from federal contracts. In recent years, however, a new enigma has emerged in the commercial space launch industry.
Small space-launch companies are proliferating and responding to government and commercial needs for different types, sizes, weights, durations and target orbits for space-payloads. The growth of this sector is a good thing. The question for regulators – and for high level policy makers – is this: Where are the risks?
In truth, there are only a few. The biggest may be the national security risk posed by possible foreign dominance of companies entrusted with U.S. national security-related satellite assets, or other sensitive space-bound payloads. That should be one aspect closely examined now by national security officials and legislators.
The centerpiece of that concern — one that could lead to reworking federal regulations in this sector — would likely be the risk posed by allowing a foreign majority, foreign operated, or foreign-sited company to transport, store, possess, or launch a payload that was unique, "one of a kind" or otherwise sensitive for any number of reasons to the US Government.
Again, this concern has surfaced in other military and civilian venues, but recent emphasis on foreign interference in American industry and politics, escalating threats and tensions tied to foreign control in other manufacturing and service sectors, the propensity for things like terrorism, reverse engineering by a foreign-sited launch company, and risks of transport and possession, make protection a special interest.
A second regulatory concern is tied to economic growth aspects surrounding the expanding small company launch sector. Of special note, at a time when economic barriers to entry are low, legal barriers to foreign contracting modest, contracting incentives given freely, and potential for domination by "first movers" high, the administration and Congress might review how to encourage U.S. companies – those which hire exclusively U.S. workers and launch from domestic sites – to lead, and discourage foreign domination in the new market.
All this is more about macro-economics — and keeping the United States' national security protected while the sector grows — than politics. In general, the news is good – and this sector should add new jobs, new security and a breadth of options for America.
The caution is this: Since so much of America's security depends on this one sector – on predictable, reliable transport, control and launch of certain irreplaceable space-bound assets – policy makers should think long term, about who handles and launches these priceless satellites. Economic growth is to be encouraged, but U.S. companies – for both national security and job-creating reasons – should be the beneficiaries of U.S. space-launch.

Retired Air Force Col. Kent Johnson is a former F-15 Strike Eagle and A-10 Warthog fighter pilot, political-military advisor on the staff of the secretary of the Air Force, a fellow of the Royal Aeronautical Society, and senior adviser to the Royal Air Force think tank. Johnson is an adjunct at North Central Texas College in Gainesville, Texas, specializing in defense studies.

Topics: Viewpoint, Space, Air Force News, Air Power