Army Revamping Intellectual Property Policies
Bruce Jette, assistant secretary of the Army for acquisition, logistics and technology speaks at NDIA's Army Science and Technology Symposium Aug. 21.
Photo: Melanie Yu/NDIA
The Army will soon change the way it deals with contractors' intellectual property, a top acquisition official said Aug. 21.

Many in industry have been wary of doing business with the Defense Department due to worries that their IP won't be protected.

The Army is about to implement new policies to address those concerns, said Bruce Jette, assistant secretary for acquisition, logistics and technology.

"Many of you are small" companies, he said at the National Defense Industrial Association's Army Science and Technology Symposium in Washington, D.C. "The No. 1 thing that you own is your intellectual property."

Right now, the government is "leaky," he warned members of industry. "Until we get some more stringent rules in place … you better be prepared for [your IP] to be exposed," he said.

The Army is trying to fix the problem, he said.

"We've got an extensive intellectual property policy that's being written," he said. It is currently being "scrubbed" by Pentagon officials to make sure it complies with the Federal Acquisition Regulation, Defense Federal Acquisition Regulation Supplement and other policies, he noted.

Jette said he expects the reviews to be completed and the new rules to be in place within a month or two.

In the meantime, he advised contractors to protect their IP, or "secret sauce," by not revealing it until formal contract negotiations are underway.

Changes from the new policies could include non-disclosure agreements.

If "you sit down [and] you want to exchange something that might be a little bit more 'secret sauce,' we'll have a non-disclosure agreement we can sign across the table and make sure that we understand what is and is not to be disclosed by the government outside the government," he said.

The Army also wants to protect itself from being too closely tied to a single vendor. Unclear IP policies have led to problems in the past, he noted.

When the service provides funding to further develop a proprietary product that a company has been working on, it can lead to complications, he said.

"The problem the government has with that is maybe your company goes belly up," he said. "Maybe you sell to somebody that I don't want to buy from anymore, you know, a foreign entity, whatever. All of a sudden I've got this stuck together relationship, not to mention the fact that down the road maybe we want to change something" with the system, he added.

The Army is looking to license or buy products in a way that doesn't lock the service into dealing with one supplier indefinitely.

"It means that you have to stay competitive but you get your intellectual property protected," Jette said. "We want interfaces that are exchangeable and modular … [but] we take care of you at that front end."

Jette was asked how industry can avoid clashing with government engineers when trying to avoid disclosing proprietary information.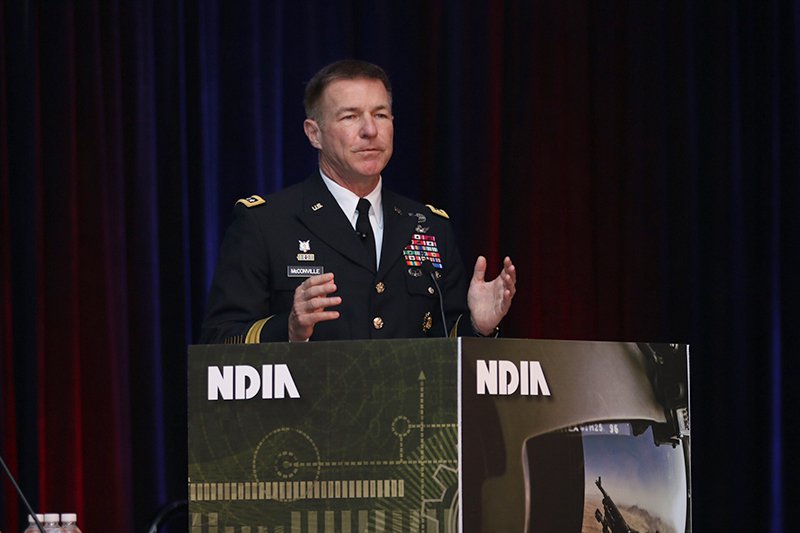 Gen. James McConville, Army vice chief of staff, speaks at NDIA's Army Science and Technology Symposium Aug. 21. (Melanie Yu/NDIA)
"That should get better … when I put the IP policy out," he said. "We will try to get it out in such a way that you all [in industry] can see it as well and that the engineers will see it."

Government officials will receive training, briefings and have other discussions about the new rules intended to protect intellectual property, he noted.

Jette said he doesn't expect much resistance to the new way of doing business.

"When you talk about culture change within the government, I don't think this one is that difficult," he said. "I may be kidding myself but we've got good people [and] I think that they can respond to it."

The move to revamp IP policies comes as the Army is trying to engage more with nontraditional partners to further its modernization goals.

The service is setting up a new Futures Command in Austin, Texas — a commercial innovation hub — to oversee its top six modernization priorities. They include: long-range precision fires; next generation combat vehicle; future vertical lift family of helicopters; the network; air-and-missile defense; and soldier lethality.

The command will be led by Lt. Gen. Mike Murray, whose nomination was confirmed by the Senate Aug. 20. Top brass are expected to attend the official activation ceremony later this week. The new organization is slated to be fully operational next summer.

Futures Command will help spearhead a new approach to technology development and acquisition, Army Vice Chief of Staff Gen. James McConville said at the S&T conference.

"We'll do a lot more experimentation, a lot more demonstrations up front," he said. "In the past we used to produce these very large requirement documents that are huge and they prescribe to industry exactly what we needed and what needed to be done."

Going forward, the Army is looking for industry to bring ideas and innovations to help inform requirements and provide greater insights into what is technologically achievable.

"We're finding we can be quicker by working with industry and being a little less prescriptive in finding what type of technology is available, and opening up to … nontraditional industry partners as we go forward by providing them a problem statement" instead of telling companies what to build, he said.

The establishment of Futures Command could result in a restructuring of the Army's research-and-development laboratories. Over the next six to 12 months, there will be evaluations of how to make them more effective, Jette said.

McConville said there are no immediate plans to change the way that program executive offices are structured. "We're going to see how that plays out."
Topics: Army News, Infotech, Acquisition, Acquisition Programs, Defense Contracting