Air Force Leader Uncertain KC-46 will Meet New Delivery Deadline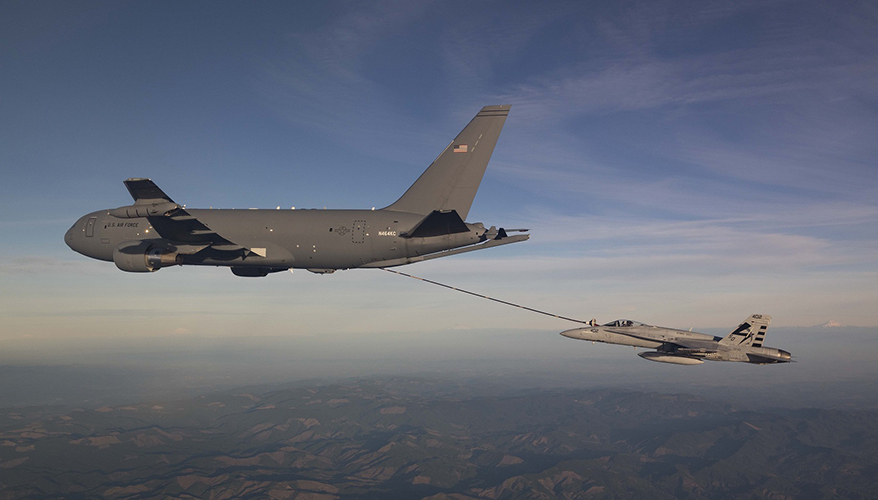 KC-46A
Boeing
The head of Air Mobility Command said he is unsure if the first fully-capable KC-46A aerial refueling tanker will be delivered by the October deadline.
The Pegasus program has already experienced schedule slippage, and missed its original delivery date of August 2017 for the first fully-capable platform. In June, the Air Force announced a new timetable that would have the service receive the first of 18 contractually obligated aircraft in October, with the remainder delivered by April 2019.
"The schedule looks like it's going to be set pretty well, but there's still some hurdles there," Gen. Carlton Everhart II, commander of Air Mobility Command, said Aug. 2 during a meeting with defense reporters in Washington, D.C. "This is an aggressive schedule. So is the October timeframe still going to hold? I don't know."
The KC-46 is one of the Air Force's top acquisition priorities. Plans call for procuring 179 aircraft to replace a large portion of the legacy KC-135 fleet, at an estimated cost of approximately $44 billion. Boeing is the prime contractor on the project.
"What I need is it to hold to the schedule, and let's get the airplane delivered," Everhart said.
There are still some challenges to overcome, including certifications and technical issues, he noted.
"I'd rather have it fixed at the beginning and ready to go at the very beginning [when the aircraft is delivered], and then those moments of discovery are just small little bumps instead of a huge mountain," Everhart said.
Boeing has been developing a software fix for the remote vision system designed to give airmen better visibility for refueling operations.
"Does it meet requirements the way they're stated? That's between the lawyers, the acquisition folks and the program office," Everhart said. "I think there's a better fix out there … and they are studying those," he added.
Additional work remains after the Air Force receives the fully-capable platforms, he noted.
"I got to get that airplane out, … put it through its paces, get it to where it's familiar with the aircrew, get the tactics, techniques and procedures done," he said.
The program is on track for the new delivery date, according to Boeing.
"The plan is still to deliver the first KC-46 in October," a company spokesman said in an email. "We expect the next 17 to follow shortly thereafter, and will continue to work with [the Air Force] on specific dates."
Meanwhile, the Air Force is looking ahead at a potential next-generation tanker, known as KC-Z, which could potentially be stealthy or unmanned.
"We're putting those concepts out and going out to the industry right now, looking at what's in the art of doable, and then we'll just wait for industry to come back to us," Everhart said. He said he hopes the service will have a needs statement ready within the next 12 to 18 months.
Topics: Air Force News, Air Power