R&D Special Report: Army Labs
Photo: Army
National Defense magazine asked research laboratories involved in national security programs: "What is your organization's number one R&D 'big bet,' (in other words: a high-risk, high-reward technology investment) that you believe will have the biggest payoff for those in the military or national security realm? Why? And in what ways do you think it will benefit the end users?"

Today, the responses we received from Army labs.
_______________________________________
Army Research, Development and Engineering Command's Edgewood Chemical Biological Center
The Big Bet: SYNTHETIC BIOLOGY
By Eric L. Moore, director, Edgewood Chemical Biological Center

At the Army Research, Development and Engineering Command's Chemical and Biological Center, we're exploring the enormous potential of synthetic biology in support of the warfighter.
As the nation's premier source for chemical and biological defense solutions, we're extremely excited by the new paradigms offered by synthetic biology in the areas of chemical and biological threat detection and protection.
Synthetic biology offers the potential to unlock new types of materials by harnessing the natural abilities of living systems, such as self-assembly, sense and respond, and molecular-scale control and patterning. For the warfighter, these new materials could produce uniforms or vehicle coatings that automatically detect and respond to chemical and biological threats, new unpowered detection technologies that dramatically shrink logistical burdens, and systems to produce chemical and biological countermeasures on demand in the field.
Today, we are developing paper tickets embedded with cellular machinery that change color in response to a range of threats — from chemical and biological agents to explosives to water contaminants. This technology is one of the most mature applications of synthetic biology in the world, with others having demonstrated detection of Ebola and Zika viruses in this highly fieldable format.
We anticipate that within the next five years, synthetic biology applications in chemical and biological threat detection will become mature enough to start transitioning into the acquisition process.
Looking forward to the 10-year mark, we expect that novel materials derived from synthetic biology will start to be incorporated into deployed systems. And within 20 years, we believe smart materials with life-mimicking properties such as sense and respond and self-healing will start to be incorporated into deployed systems.
We are positioning the center to be a leader in this rapidly developing field through our biological engineering for applied materials solutions program. Within this program, highly interdisciplinary work between biologists, chemists and engineers is being performed with the goal of developing our existing researchers to work in synthetic biology.
Through lectures, laboratory competitions, coursework, visiting scientist opportunities, NRC post-doctorate hires and scientific communication workshops, we seek to develop a team of world-class synthetic biology experts.
A world-class workforce demands world-class infrastructure, so we're planning laboratory infrastructure upgrades to better support advanced research initiatives in the development of synthetic biology materials. Planned research initiatives include novel materials for obscuration, DNA as an adhesive, biosynthetic additive manufacturing and 3D-printed materials with spores.
Even as we focus our synthetic biology research on chemical and biological defense, we recognize the tremendous benefits it can bring to the warfighter in other areas as well. The capability to rapidly grow limbs, the technology to 3D-print organs, the ability to grow ballistic protection — these all have tremendous potential impacts for the warfighter.
And while such capabilities fall outside the center's mission space, our research certainly overlaps with that of our sister laboratories charged with exploring these areas. Our ultimate vision is to make the center a leader and resource for all government laboratories in the area of synthetic biology.
_______________________________________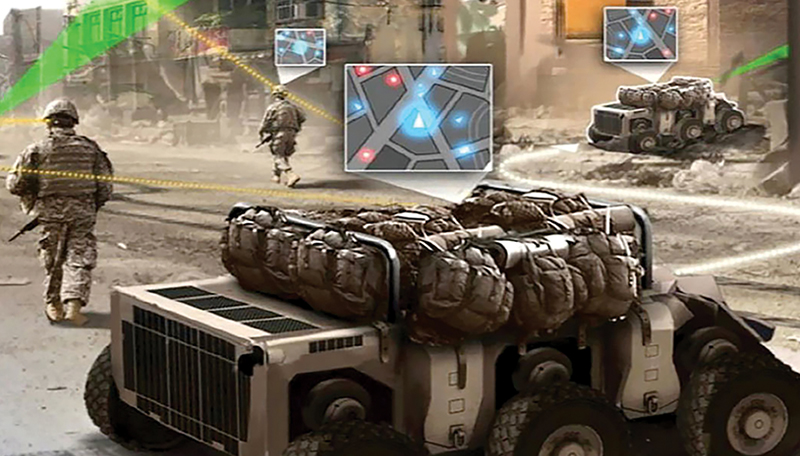 Army Tank Automotive Research Development and Engineering Center
The Big Bet: EFFICIENT AUTONOMY
By Kevin Mills, associate director for ground robotics
Industrialization continues.
Where a half-century ago, automation in our nation's manufacturing revolutionized how things get made, today's iteration of building robots — with all that entails — is the revolution in how things get done.
The Army approaches this revolution, and the technologies that enable it, with an ingrained understanding that slow-rolling adoption or implementation of this concept is akin to standing still while our adversaries grasp an opportunity to dig into our overmatch with vigor.
This understanding is also tempered by multiple cycles of modernization programs cut short and the years and dollars of effort that went with them. With autonomy, how does the Army get onboard in a way that will endure program changes, cancellations and rebirths in a fiscally responsible manner?
The Army's answer is in thinking more modularly about autonomy, at least as applicable technologies, and the Army does so through its Robotic Operating System-Military, or ROS-M. ROS-M is a military-specific implementation of the popular ROS framework for open robotic software development. Although the words "operating system" appear in their names, it is better described as a "middleware" — intended to reduce the complexity in developing robotic software.
ROS-M contains a searchable "app store" of modular autonomy software packages for all types of robotic functions, as well as tools for software development, integration, cybersecurity, simulation, data logging and visualization, and other critical functions.
Developers may be from within the Defense Department, contracted partners, other industry members, or academia, and need not have an already-existing relationship with the Army's robotics integrators in order to develop an autonomous behavior in which the Army may be interested.
ROS-M, like ROS, is necessarily agnostic of platform, applicable from small bomb-sniffing robots to the largest land-crawling combat vehicles, from undersea submersibles to unmanned aerial vehicles.
Given the inherent modularity of ROS-M, upgrading or integrating new software modules becomes much simpler. With a modular code base, the software grows in capability, collaboration between previously disparate entities becomes more natural, and innovation sprouts from established autonomy titans and grassroots programmers alike.
An open concept like ROS-M also establishes an environment in which cybersecurity is easier to maintain. Where proprietary robotics systems from a variety of different vendors can present as many threat surfaces to an adversary as there are code bases, ROS-M reduces this susceptibility. Cybersecurity experts can develop best practices and defenses that need not be modified across different systems and shared within the ROS-M community, eliminating gaps in cyber defense coverage.
Already the Army, through TARDEC, is applying ROS-M, evidenced by its automated ground resupply line-haul efforts and combat vehicle robotics program. The leader-follower behaviors, hazard identification and other autonomous actions may differ by platform's intent, but share universal software modules across them all due to ROS-M.
Where the most successful automakers in the mid-20th century implemented the most efficient automation on the assembly line, so too will the most successful armies in the 21st century implement the best autonomy on the front line.
While efficient autonomy through ROS-M is TARDEC's biggest bet for the future, it's a bet that the center knows it must not lose.
_______________________________________
Natick Soldier Research, Development and Engineering Center
The Big Bet: SOLDIER PERFORMANCE
By Doug Tamilio, director
The Natick Soldier Research, Development and Engineering Center has a very unique mission in that we are not focused on a single category of technologies and systems from a platform perspective. We have a very broad yet elemental focus on the individual soldier and squad, and we're taking a comprehensive approach toward making them better at what they do.
From this perspective, we're contributing to soldiers gaining, maintaining and exploiting overmatch capabilities against well-equipped and determined enemies. Overmatch can be further broken down into the basic functions of shoot, move, communicate, protect and sustain.
Understanding how science and technology can directly or indirectly influence these five critical aspects of warfighting at the soldier and/or squad level is paramount in today's Army and at the heart of all NSRDEC does. But understanding that relationship is only the beginning.
The soldier is fundamental to every capability the Army has today and will have in the future. Soldiers come from all walks of life, are made up of countless different physical and cognitive abilities, and have many individual jobs and roles within the Army. This presents an exceptionally challenging problem space for us, but one that we are committed to solving through innovative science and technology solutions.
We have to apply our deep technical skills to develop and deliver results and that must happen incrementally over time to keep pace with global technology developments and the proliferation of that technology.
We are focusing our attention on the things that will give our soldiers an advantage at the most basic level — the human aspects of warfighting.
As an example, we recently concluded a groundbreaking exercise with the 82nd Airborne Division — a significant science and technology effort — to enhance soldier lethality that will ultimately provide some of the answers about how battlefield conditions specifically impact soldier and squad performance.
Gaining a scientifically sound appreciation of the soldier's physical and cognitive breakdown markers and mechanisms will allow us to work with the broader human performance community to develop effective mitigation strategies.
This is pioneering scientific work and is tremendously complex due to the enormous number of variables that come into play. But we believe that significant gains in soldier performance can be made in the future if the community bands together to focus its collective attention on the game changers, and that starts with unity of purpose and thought.
_______________________________________
Part 1: Federally Funded Research Labs and IARPA
Part 2: Maritime Security Domain
Part 3: Air Force Labs
Read all the responses in the August issue of National Defense magazine and learn more about R&D priorities at NDIA's Army Science and Technology Symposium and Showcase, Aug. 21-23 at the Walter E. Washington Convention Center, Washington, D.C.
Topics: Research and Development, Army News, Land Forces