Army Leaders Made 'Hard Choices' in 2020 Budget Blueprint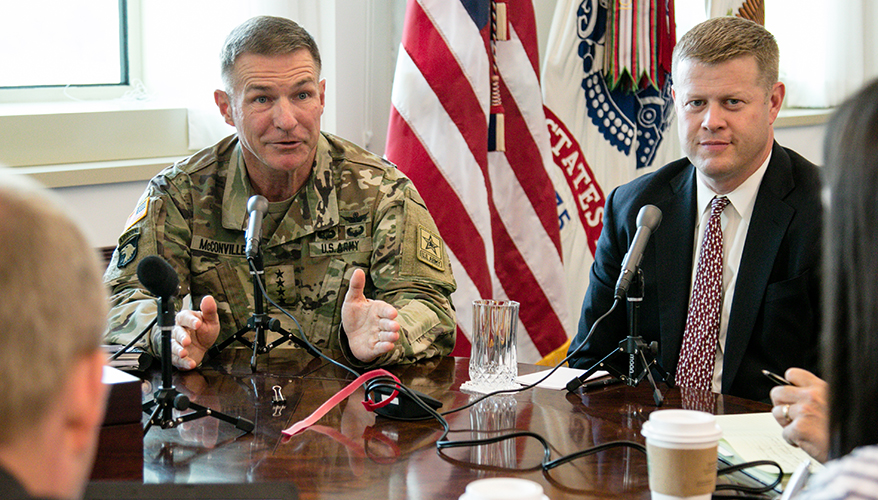 Gen. James C. McConville, vice chief of staff of the Army, left, and Ryan D. McCarthy, undersecretary of the Army, right, speak to reporters at the Pentagon.
Photo: Melanie Yu/NDIA
The Army's fiscal year 2020 budget plans would cut funding for a number of programs to free up money for its top six modernization priorities, service leaders said Aug. 13.
As it prepares for potential conflicts with high-tech adversaries such as China and Russia, the Army is focusing on several technology areas to maintain its military edge. The so-called "Big Six" include: long-range precision fires; next generation combat vehicle; future vertical lift family of helicopters; air-and-missile defense; the network; and soldier lethality.
"With respect to the '20 [budget], we've just gotten through the [program objective memorandum] process and we're sending it down the hall" to the Office of the Secretary of Defense, Army Undersecretary Ryan McCarthy told reporters during a meeting at the Pentagon.
"We made lot of hard choices to ensure that we could finance the six priorities in particular" as well as training, he added.
In numerous public appearances in recent months, Army leaders have been banging the drum about the need to invest in these technology categories.
"We put our money where our mouth is, quite frankly, in the '20 budget," McCarthy said.
The big six received the preponderance of science and technology funding for weapon systems in the budget blueprint, he noted.
Gen. James McConville, vice chief of staff of the Army, said S&T projects that didn't directly relate to one of those areas came under extra scrutiny.
"If you weren't supporting one of the six modernization priorities then you … had to justify what you're doing," he said.
McCarthy said joint service efforts that are expected to see a boost in the Pentagon's budget plans for fiscal years 2020 to 2024 include hypersonics, space and cyber technologies.
McConville noted that service leaders performed a deep dive into the modernization portfolio as they looked for programs to eliminate or trim to free up funding.
"This was first time I've seen where we went through all about 800 programs and actually looked at every single one at the level we did," he said. "Same thing with the science and technology portfolio."
McConville called the review and the resulting budget proposal "a good first step" towards realigning resources.
"We're starting to see where the winners are and the losers are," he said. "It's going to be a continuous iterative process as we go forward" with future budgets, he added.
However, future funding realignments might not be as large as the shifts that emerged from the 2020 budget review, McConville suggested.
"You probably won't see as many big moves because everyone has realized that they want to align to these priorities, and we've pretty much made a pledge that those priorities are not going to change in the near future," he said.
McCarthy and McConville did not provide details about which specific programs were the winners and losers in the service's 2020 program objective memorandum, which outlines funding plans for the next five years. They also did not disclose the funding levels the Army is seeking.
President Donald Trump's 2020 budget request is expected to be released in February. The military services' budget proposals have to go through a review process by the Office of the Secretary of Defense and the White House Office of Management and Budget before they are included in the presidential budget request.
There is "a lot of work left to do this fall" from a budget development perspective, McCarthy noted.
Meanwhile, the Army is busy moving forward with setting up its new Futures Command, which will be based in Austin, Texas. The organization and its cross-functional teams will guide the service's modernization efforts. Service leaders in July announced that it had achieved initial operating capability.
McCarthy said that the new command will have a total footprint of about 75,000 square feet, with roughly 500 personnel spread across three different Austin locations. The locations include: the 19th floor of the University of Texas administration building in downtown Austin; the engineering building on the UT-Austin campus; and an "incubator hub" that will include large and small companies that the Army is interested in working with to further its technology efforts.
Services leaders, members of the Texas congressional delegation and the mayor of Austin are expected to attend ribbon cutting ceremonies at the three locations Aug. 24, he said. Futures Command is slated to be fully operational next summer.
Army officials are expected to provide more details about the service's modernization initiatives at the National Defense Industrial Association's Army Science & Technology Symposium, Aug. 21-23, in Washington, D.C.