Pentagon Looking to Thwart Hypersonic Weapons with Commercial Satellites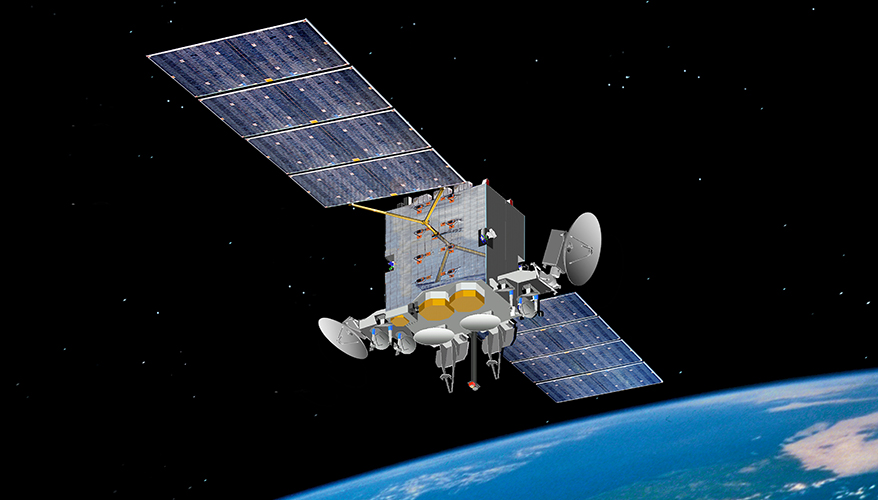 Art: Air Force
The Defense Department could use commercial satellites to help defend against enemy hypersonics, the vice chairman of the Joint Chiefs of Staff said Aug. 10.
Pentagon officials have been sounding the alarm in recent months about China and Russia's pursuit of these cutting-edge capabilities that would pose major challenges for the United States' existing missile defense architecture. Hypersonic missiles can travel at speeds of Mach 5 or faster, and are highly maneuverable.
"If you think missile defense is easy, think again," Air Force Gen. Paul Selva said at an event on Capitol Hill hosted by the Mitchell Institute for Aerospace Studies.
"You're shooting a bullet with a bullet. And it gets worse when a bullet is going 13 times the speed of sound, and can maneuver," he added. "Wouldn't it be interesting if our commercial partners' constellation of satellites actually had some capacity to contribute? And if that's true, why would we build our own?"
The Defense Department needs to better take advantage of the innovation in space technology that is happening in the commercial sector, Selva said.
To mitigate the threat posed by enemy anti-satellite weapons, Pentagon officials are looking at leveraging less expensive, more distributed assets, and piggybacking on commercial space launch platforms.
"It's not enough to just build elegant military constellations anymore," Selva said. "The commercial company can build a satellite for $10 million and launch it for $1.5 million, and proposes to build 500 of them," he said. "We need to figure out how to hitch a ride. We need to figure out how to engineer that data into the systems to help do command and control in warfighting."
Detection and tracking are critical steps for shooting down enemy missiles. The United States needs a more robust space-based sensor layer to help counter the growing threat, especially when it comes to hypersonics, missile defense advocates have said.
"I need sensors that can let me do that, and I need them now," Selva said.
The proliferation of satellites in the coming years could have wide-ranging military consequences, and offer greater visibility into potentially hostile activity, he said.
"Sometime in the very near future there will be nearly ubiquitous sensing of the entire surface of the planet, and they will have implications for nuclear deterrence, for ballistic missile defense, for the actual disposition and employment of our forces across the depth of any battlespace we choose," he said.
However, tapping into commercial space-based sensing technology and integrating it into military operations will not be easy, Selva noted.
"How are you going to make sense of all that information?" he said. "Who's connected to it? How are you going to provide it to the forces that matter? How are you going to sort it? How are you going to do command and control in that environment where theoretically everybody can see every target? That is an epic systems engineering problem."
Selva's remarks came a day after Vice President Mike Pence and the Defense Department outlined next steps for creating the Space Force that President Donald Trump has ordered. They include establishing a Space Development Agency to help rapidly develop and field new capabilities. The commercial space industry is expected to play a major role in the initiative.
The Pentagon also plans to set up a new combatant command called U.S. Space Command, to provide unified command and control, and develop warfighting doctrine, tactics, techniques and procedures for space operations.
Topics: Emerging Technologies, Space