ROBOTICS AND AUTONOMOUS SYSTEMS
Wide Range of Outcomes Possible for New Drone Export Policies
Photo: iStock
The Trump administration is making a push to facilitate exports of unmanned aerial systems, but how much of an impact it will have depends on a variety of factors, analysts said.
In April, the White House announced policy changes aimed at loosening restrictions on the international sale of U.S.-made drones. They include: allowing direct commercial sales to authorized U.S. allies and partners; reducing scrutiny of systems with strike technologies; improving financing options; streamlining processes; and eliminating other bureaucratic red tape.
Government reviews of potential sales would also give greater weight to their impact on the defense industrial base, and the ability of overseas buyers to obtain similar technology from other countries.
"Although the U.S. leads the way in UAS technology, overly restrictive policies enacted by the previous administration have accelerated an undesirable outcome," Peter Navarro, assistant to the president for trade and manufacturing policy, said during a conference call with reporters when the new initiative was unveiled.
"Strategic competitors like China are aggressively marketing to and making sales in international markets that are forecast to be worth more than $50 billion a year within the next decade," he noted.
The administration's new export policies "will level the playing field," he said.
"Expanding international sales opportunities … will keep our defense industrial base in the vanguard of emerging defense technologies while creating thousands of additional jobs with good wages and generating substantial export revenues," he added.
President Donald Trump gave federal agencies 60 days to consult with industry and trade associations and come up with an implementation plan. As of press time, the plan had not been publicly released.
Analysts said the changes will likely lead to an increase in drone exports, but to what extent will hinge on several factors.
"It very much will depend on implementation," said Andrew Hunter, director of the defense-industrial initiatives group at the Center for Strategic and International Studies. "If implemented aggressively I think it could represent a pretty significant shift," although "it's not clear that that's going to happen," he added.
Perhaps the most significant change is allowing unmanned aerial systems to be exported through direct commercial sales instead of foreign military sales, Hunter said.
"One of the hallmarks of the Obama administration policy was in requiring that all UAS exports be foreign military sales," he noted. "The government would maintain tight control over the contract structure, over all of the business arrangements.
"By allowing for the export of UASs as commercial sales, the government still has a say because they still have to provide the export license, but there's a significant loosening of controls because you don't necessarily have the government directly in the contracting chain the way you would with FMS," he added.
However, international drone sales are still limited by the Missile Technology Control Regime, a multinational framework agreement intended to prevent the proliferation of ballistic missiles, cruise missiles and other technologies that could potentially be used for WMD attacks, analysts noted.
The MTCR restrictions currently apply to larger unmanned aerial vehicles with a range of 300 kilometers that are capable of carrying a 500-kilogram payload. They are known as Category 1 platforms.
While it does not ban all international sales of such systems, the control regime does apply a "presumption of denial" principle to proposed arms sales where the MTCR regulations would come into play, noted Phil Finnegan, a UAV market expert and the director of corporate analysis at the Teal Group.
"There's a less restrictive attitude toward exports [under Trump] but it remains to really be seen how much impact that will have," Finnegan said.
"What would really change things is if there's some change in the Missile Technology Control Regime because that's what controls the large systems like [General Atomics'] Predator and Reaper, and there's a real market for those systems," he added.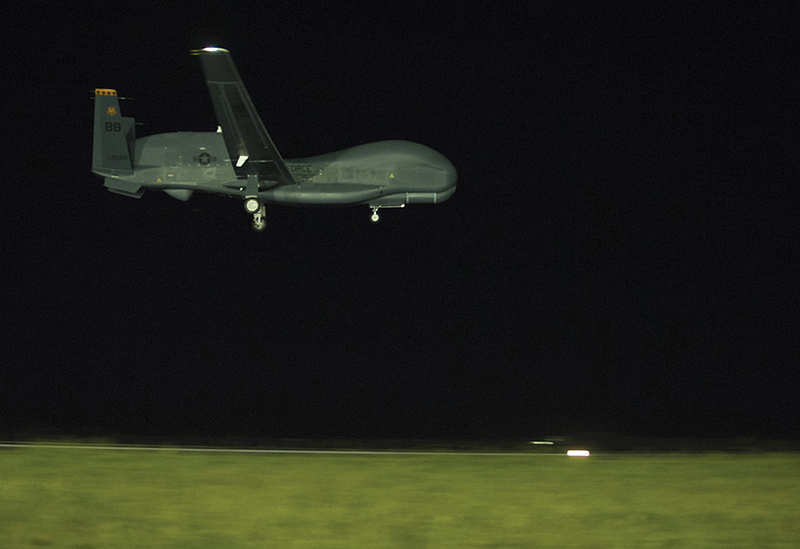 RQ-4 Global Hawk (Air Force)
The most expensive, high-end platforms such as the Reaper and Northrop Grumman's Global Hawk are classified as Category 1, he noted. "It's not clear how much the [announced] change in the export regulations will really help deal with that issue." It may facilitate the export of smaller systems, but not necessary the bigger platforms with large dollar values, Finnegan added.
In his April memorandum, Trump directed federal agencies to recommend next steps for the potential adoption of revised controls for the Missile Technology Control Regime as it applies to Category 1 drones.
"We are looking together with our partners to update the MTCR," said Tina Kaidanow, principal deputy assistant secretary in the State Department's bureau of political-military affairs. "What we are doing is ensuring that … the MTCR itself keeps pace with the changes over time that we think are salient and need to be considered."
Defense experts have argued that applying the Missile Technology Control Regime — which was created in the 1980s before unmanned aerial vehicles were widely adopted — to large drones has placed an unnecessary obstacle in the way of international sales.
"The MTCR was not fundamentally an agreement that was designed to restrict UAV exports," Hunter said. "It was about missiles — ballistic and cruise — and that's not really what we're talking about with UAVs."
Retired Air Force Gen. Hawk Carlisle, president and CEO of the National Defense Industrial Association, has recommended adding a speed capability criterion of 800 kilometers per hour or faster to the classification of Category 1 systems so that larger drones could be exported more easily without undermining the objectives of the Missile Technology Control Regime.
Finnegan expects some opposition to revisions among the 35 nations that are members of the MTCR. A previous attempt to modify it was unsuccessful, he noted.
"It's just a complicated issue to get everyone on board," he said. "At some point, it's inevitable that it will be revised just because the guidelines are really out of date. It's just a question of when and it's also a question of to what extent."
Analysts said the Trump administration could potentially facilitate the export of larger drones without a formal change to the control regime by altering the way it interprets the rules.
Finnegan said there has already been a loosening of the interpretation of MTCR guidelines in the United States, noting that the U.S. government has already agreed to the sale of Category 1 drones to its closest allies including the United Kingdom, Italy, Japan, South Korea and Australia.
"Everything depends on … whether there's a continuing loosening of the interpretations of what should be allowed under MTCR regulations," he said.
Hunter noted that other countries have interpreted the rules differently.
"When I talk to industry they say, 'Oh gosh, the Israelis are exporting this kind of system as a Category 2, and we don't see how that's substantially different from our system. But the State Department has told us our system is Category 1,'" Hunter said.
However, even under liberalized export rules, lawmakers can still stymie equipment sales, analysts noted. Congress has a long history of disapproving arms deals due to concerns about human rights violations, technology proliferation and the potential use of systems in conflicts that members oppose.
"Those kinds of congressional interests will absolutely persist," Hunter said. "Because the framework of our system is that it's all case by case and the new policy maintains that case-by-case approach, that creates an opportunity for Congress to intervene" and stop proposed UAS sales.
Looking at industry, Finnegan said General Atomics could potentially be the biggest winner among drone manufacturers from new export regulations, especially if there were a change to the MTCR that allowed for easier sales of systems that currently fall into Category 1.
When asked to comment, a General Atomics spokesperson said the company is "still in the process of evaluating the recent export policy announcement and its impact."
Experts said other UAS manufacturers that could benefit include Lockheed Martin, Northrop Grumman, Textron and Boeing.
"We appreciate the administration's continued focus on modernizing and streamlining the review and approval of international security cooperation programs with our partners and allies," a Lockheed spokesperson said in an email. "Improving international defense trade also increases exports, creates American jobs and the resources to maintain our technological advantage."
Experts said changes in export regulations could have the biggest impact on drone sales to the Middle East, at least in the near term, because that's where the market is strongest right now.
China has been "very aggressive" about selling the technology to countries in the region, Finnegan said. Beijing has already found customers among key U.S. allies.
Its drones may be lower quality than U.S. platforms, he noted. "They're definitely cheaper but the big advantage is they're available. … When you think of allies like the UAE and Saudi Arabia, they have always wanted to get the latest and best technology. And so the fact that they've been forced to resort to Chinese systems tells you a bit about their frustration and the difficulty of getting those systems" from the United States, he added.
Hunter said: "We've seen that in the absence of access to U.S. systems people will go and … buy from other countries. So the market does seem to be there. At the end of the day, a lot of our partners and allies would usually seem to prefer U.S. equipment. So I think it's reasonable to think that there's opportunity for a pretty big increase" in drone exports.
However, there are limits to how much exports can grow because other nations' have budget constraints, Hunter noted.
Doug Berenson, a defense and aerospace market analyst and managing director at Avascent, said countries in the region don't want to buy all of their platforms from the United States because of geopolitical and domestic industrial base considerations. Some want to curry favor with China by buying its defense equipment, or take advantage of technology transfer agreements that other nations offer. Additionally, other suppliers are selling competitive products, he noted.
"There are a lot of countries out there offering capabilities that are competitive with U.S. capabilities in some of the segments that are where [export] regulations have been liberalized" such as medium-altitude drones, he said.
When it comes to the most advanced types of systems, such as high-altitude long-endurance platforms, U.S. unmanned aerial vehicles are "head and shoulders above the rest of the world," Berenson said. However, "there are still going to be restrictions on those" that limit their exportability, he noted.
Hunter said U.S. companies can expect even greater competition in the coming years, a trend which will make changes in export regulations all the more important. "Some of these changes I think will probably be ones that we'll want to do just to maintain our market share in what's likely to be an increasingly competitive UAV marketspace."
Topics: International, Robotics, Robotics and Autonomous Systems