Inventor Develops 'Neuroscrambler' for Nonlethal Attacks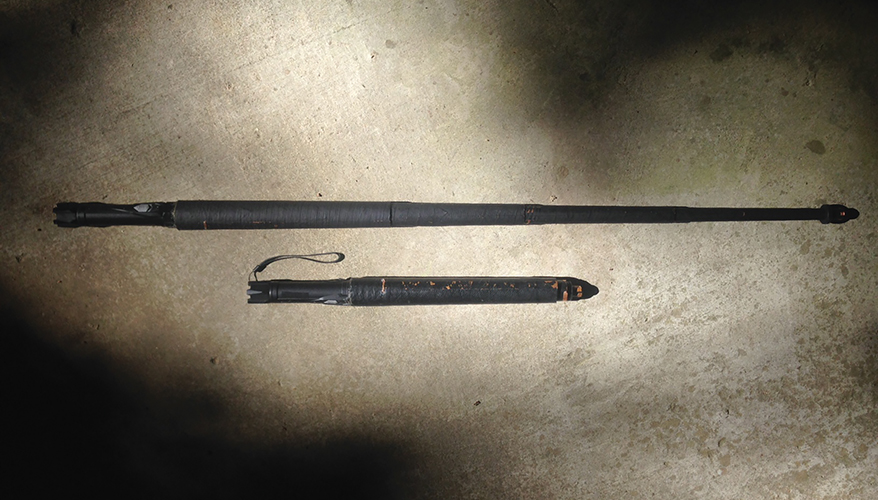 Photo: Fred Pearson
A Tennessee-based technology developer is trying to sell the U.S. military and law enforcement agencies an electro-muscular incapacitation system designed to subdue its targets without killing them.
The third-generation prototype of the StunStick device, which inventor Fred Pearson describes as a nonlethal "neuroscrambler," was built to deliver a powerful electric shock to those on the receiving end.
"It uses state-of-the-art pulse wave technology to basically plug into a person's central nervous system [and] override the signals that go from its brain to muscles," he said during a presentation at the National Defense Industrial Association's Armament Systems Forum in Indianapolis.
The 50,000-volt jolt can turn the targeted individual "into a quivering mass of jelly on the floor, if that's what you want," he added.
The dual-use weapon — which looks somewhat like a billy club when extended — "bridges the gap" between a baton and a Taser, Pearson said. A StunStick operator could use it as a blunt force weapon, or use the electric shock feature to zap an adversary, he noted. "You have to be within a half an inch of it and … [the stun feature] will light you up," he added.
The electric shock can penetrate up to two inches of soft body armor, he said.
Pearson said the StunStick was designed not to have any long-term health effects. Its exponential decay waveform would mitigate the risk of unintended deaths that have sometimes occurred with other "nonlethal" weapons, he said.
The battery life enables at least 300 five-second bursts of electric shock, he said. "I could knock down everyone in this room four, five times, six times before I changed batteries," he told attendees.
Pearson has pitched his product to the military and the Department of Justice at various venues but he has yet to receive any purchase orders.
"I've been looking … for the guy with the checkbook in the Defense Department and I haven't found him yet," he said.
Pearson is looking to team with a major arms manufacturer if he finds a buyer who likes his prototype.
As a lone inventor, "I can't afford … to take a project like this to fruition" without help, he said.
Topics: Emerging Technologies