Viewpoint: DoD's Digital Engineering Strategy Has Far-Reaching Implications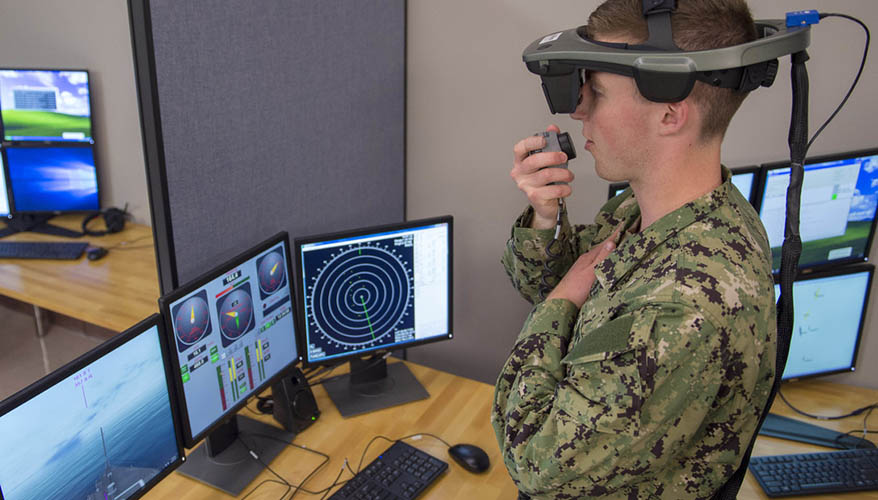 A Navy ROTC Midshipman wears a conning officer virtual environment headset as he navigates a virtual ship during sea trials at Naval Station Newport, R.I.
Photo: Navy
Early in July, the Department of Defense released its "Digital Engineering Strategy" to help the four services understand approaches for using digital engineering for product development and acquisition.
The document, released by Undersecretary of Defense for Research and Engineering Michael Griffin, outlined the department's strategic goals for digital engineering.
According to the strategy, they are:
• Formalize the development, integration and use of models to inform enterprise and program decision-making
• Provide an enduring, authoritative source of truth
• Incorporate technological innovation to improve the engineering practice
• Establish a supporting infrastructure and environment to perform activities, collaborate and communicate across stakeholders
• Transform the culture and workforce to adopt and support digital engineering across the lifecycle
A hallmark of modern, innovative industries is that they think digitally. They recognize that technology galvanizes different ways of thinking, and therefore doing. Digital twin, or digital thread, are terms being used to describe engineering in a digital environment through modeling and simulation.
At General Electric the concept of a digital twin embodies a software representation of a physical asset, such as an engine. This allows customers to better understand, predict and optimize the performance of each unique engine. In 2017 Gartner identified digital twin as one of the top 10 critical technology trends.
The implications of this strategy are far-reaching. The intent is to significantly change acquisition processes. Digital engineering can provide a more agile and responsive development environment, addressing long-standing challenges associated with complexity, uncertainty and rapid change.
One significant challenge is establishing standards and protocols for exchanging digital models and simulations between the government and the defense industry's global supply chain. Digital artifact conventions that take advantage of digital technologies to facilitate the exchanges will facilitate exchanging accurate engineering information.
The National Defense Industrial Association's Systems Engineering Division and its Model Based Systems Engineering committee have partnered with the International Council on Systems Engineering to establish the Digital Engineering Information Exchange Working Group. The purpose of this collaboration is to form the foundation for an agreed-upon approach to exchange digital engineering information across the aerospace and defense sectors' government, industry and academic interfaces.
Digital Engineering is a key focus of the NDIA Systems Engineering Division annual conference in October. Visit the website to learn more (http://www.ndia.org/se18). The DoD Digital Engineering Strategy can be found on the DoD Systems Engineering website (https://www.acq.osd.mil/se/docs/2018-DES.pdf).
Dave Chesebrough is vice president of divisions at the National Defense Industrial Association.

Topics: Acquisition, Defense Department, Acquisition Programs