Industry, Academia Working to 'Humanize' Exoskeletons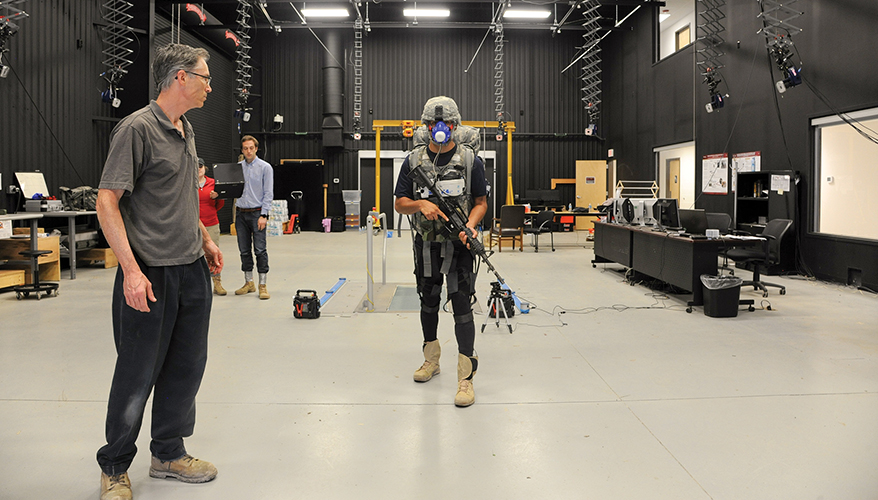 Photo: Army
New research from scientists at the Massachusetts Institute of Technology and Draper, a Cambridge, Massachusetts-based advanced technology company, seeks to understand how to develop more functional exoskeletons.
Despite the wide-ranging potential for a wearable system that offers the user increased strength, agility or endurance, the technology may not be developing as quickly as many hoped because human interaction is not being taken into account, said Kevin Duda, principal engineer and group lead for human systems integration at Draper.
Together with Leia Stirling, an assistant professor and co-director of the MIT Man Vehicle Laboratory, the company has been working to address human system integration challenges to building a functional system, he said. While current prototypes are designed to help the user climb stairs, increase strength and regain function, the automation necessary for the system to work can create added issues for the wearer.
"Imagine you're wearing this exoskeleton and the control theory is slightly off or it's doing something that you don't quite expect. You may sit there for a while and think, 'Why is it doing what it's doing?'"
Duda said. That could increase the user's workload, causing distractions and reducing situational awareness, he added.
"If the system is not 'invisible' to you, it's going to be taking some resources, you're going to be paying attention to it at some level," he noted.
Through its research, Draper is collaborating with the Army science and technology community to make systems more "humanized" and field them as soon as possible, he said. Exoskeletons can help reduce and prevent musculoskeletal injuries for warfighters and other personnel, he noted.
"If there is anything that we can do using an exoskeleton to eliminate or reduce the occurrence of these … injuries, it has both a near- and long-term payoff — getting the soldiers … back to duty quicker, but also making sure that they are healthy and that they remain healthy after they leave the service," he said.
Following this research, Draper could help the Army develop a test bed that more closely mimics real-world applications, Duda said.
"We all know the difference between walking on a treadmill and walking on rough terrain," he noted. "It all comes down at the end of the day [to] what is the operational impact."
Topics: Research and Development, Land Forces