Australia Boosts Maritime System Procurement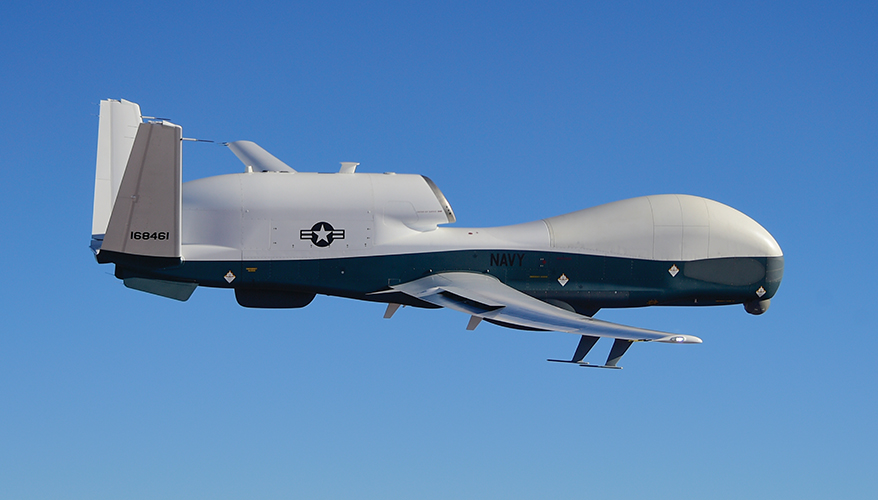 MQ-4C Triton
Photo: Northrop Grumman
Australia is investing heavily in new unmanned aerial vehicles and submarine hunters as competition from China heats up, said one analyst.
Beijing's naval modernization and expansion is of growing concern to Australia and its partners in the region, said Dan Darling, an Asia-Pacific military markets expert at Forecast International, a Newtown, Connecticut-based marketing and consulting firm.
"Seeing the increase in China's naval bandwidth [as well as] the growing congestion of submarines in the region in general — that is setting off alarm bells for defense planners," he said.
In late June, Australia announced its decision to award a contract worth over $25 billion to BAE Systems to deliver nine future frigates to the Royal Australian Navy. The award is part of the country's Project SEA 5000 program to modernize the country's maritime platforms, Darling said.
The future Hunter-class ship — also called the global combat ship-Australia — will replace the aging Anzac-class frigates. It is based on BAE Systems' Type 26 frigate, which is currently being constructed for the British Royal Navy. It will be built by the government-owned ASC Shipbuilding in South Australia, and is expected to create and sustain 5,000 skilled jobs for the country's workforce, according to the company. Italy's Fincantieri and Spain's Navantia SA ship manufacturers also submitted bids for the contract.
The initial design of the ship is expected to be determined by the end of 2018, while production is slated to start in 2020. Initial operating capability is expected for 2023 or 2024, according to the Australian government.
The country has made an effort over the past decade to bolster its own domestic defense industry, in particular for shipbuilding, Darling noted.
"It is one area where they have tried to … avoid these gaps in work orders," he said. "They want to avoid their shipbuilding 'Valleys of Death.'"
Australia also recently announced its plans to procure Northrop Grumman's MQ-4C Triton unmanned aerial vehicle, to be operated by the Royal Australian Air Force.
The system can fly at altitudes of 55,000 feet for 24 hours straight, according to Northrop. That capability, along with an array of high-resolution imagery and near real-time video sensors, can assist Australia in detecting, classifying and tracking seagoing vessels across a vast area, said Doug Shaffer, company vice president of Triton programs.
"As a flexible platform, Triton can serve in missions as varied as maritime domain awareness, target acquisition, fisheries protection, oil field monitoring and humanitarian relief," he said in a press release.
Darling said that the country's drone acquisition fits into a larger effort to modernize its maritime surveillance capabilities. The system will work in tandem with Australia's forthcoming fleet of P-8A
Poseidon multi-mission aircraft as a joint family of systems to replace the AP-3C Orion maritime patrol aircraft that have been in service since the 1960s.
"Having enough capacity to cover a wide territorial region is crucial for Australia," he said.
The future frigate procurement and Triton acquisition will also allow for increased interoperability with allies in the region, Darling noted. The U.S. Navy recently purchased two operational MQ-4C systems and is under contract for an additional six, according to Northrop Grumman.
Additionally, the new frigates will be outfitted with Lockheed Martin's Aegis combat management system, which is already used aboard Japanese, U.S. and South Korean vessels.
Topics: International, Global Defense Market, Robotics, Robotics and Autonomous Systems