New Coast Guard Leader Focusing on Readiness (UPDATED)
Coast Guard icebreaker Healy
Photo: Coast Guard
Sitting in his office overlooking the bend where the Potomac and Anacostia Rivers meet in Washington, D.C., the Coast Guard's newly installed commandant, said as he takes the helm of the nearly 228-year-old service, its brand is at a peak.
"The Coast Guard has been at a good trajectory," Adm. Karl L. Schultz told National Defense during an exclusive interview. "We're kind of steady heading. That's what I'm looking at going forward."
Following in the footsteps of his predecessor, retired Adm. Paul Zukunft, Schultz said he wanted to continue to take the service on an upward trajectory as it works to protect national interests amid growing activity in the Arctic, the Western Hemisphere and around the globe.
"My intention would be to not deviate too much," he said. "Obviously, every change brings some different thinking, different ideas, but at our core it's … steady as you go with trying to pick up speed a little bit."
As part of his guiding principles over the next four years, Schultz — who took over in June — said he is focusing on making the Coast Guard a ready, relevant and responsive service.
Readiness is of critical importance, he noted. The service has for years been focusing on increasing its acqusition funding levels as it embarks on major recapitalization projects such as the polar icebreaker replacement, offshore patrol cutter, national security cutter and waterways commerce cutter.
"But as we sort of raised the bar on our acquisitions … side of our budget, we've been challenged a little bit on the readiness side," he added. "The operating side is probably the pressure point."
The Coast Guard is targeting a 5 percent steady, annual growth for its operations and support funding, Schultz said. While the service is replacing many of its aging assets, it still has 50-year-old cutters in operation, he noted. Those vessels are expensive to maintain and the newer ships coming down the pipeline will be costly as well, he added.
"My budgetary concern would be really pressing into those operating and support parts of the Coast Guard budget," he said. "We've gotta get that bar raised. We've gotta create a narrative around that."
Making a case to Congress for additional operating funds can be difficult because — unlike with the construction of a new vessel — operating costs don't tie into the creation of new jobs for lawmakers' districts, he said.
"It's not the stuff that Congress by default looks to spend dollars against. … But we've got to put a narrative around that," he said. If "you want a ready, relevant, responsive Coast Guard, there's some costs that go with that, and that's my job to articulate that."
However, Schultz noted that the Coast Guard has received widespread support from the Trump administration — and Congress in particular — as it pursues the modernization of its maritime fleet.
One of the service's most high-profile programs is the polar icebreaker replacement. The Coast Guard has a statutory responsibility to maintain polar icebreakers for the nation. It currently has three in its inventory — the Polar Star, a heavy-duty vessel; the Healy, a medium-duty vessel used primarily for research; and the Polar Sea, a mothballed heavy-duty icebreaker.
"We're finally at a point when we're marching with the support of the administration [and] the Congress towards replacing our 40-plus-year-old, single, heavy icebreaker," he said.
The service plans to build up a fleet of six vessels, which will be a mix of heavy- and medium-duty vessels.
Five companies are expected to compete for a contract to build the lead vessel, including: Bollinger Shipyards, Fincantieri Marine Group, General Dynamics and National Steel and Shipbuilding Co., Huntington Ingalls Industries and VT Halter Marine.
The Coast Guard — working with the Navy — intends to down-select to a single vendor by early 2019, he said. The vessel is to be built by the end of 2023, he added. While 2023 is an aggressive timeline, Schultz said he would not walk back on that deadline.
"The first ship is in sight," he said. "We can't get there fast enough, to be frank."
Schultz credited the Navy with bringing in useful shipbuilding expertise and experience that has helped the service drive down technical and cost risks.
While the construction of the ship could face obstacles because a heavy-duty vessel hasn't been built in the United States since the 1970s, Schultz said he was confident that industry would be able to meet the challenge.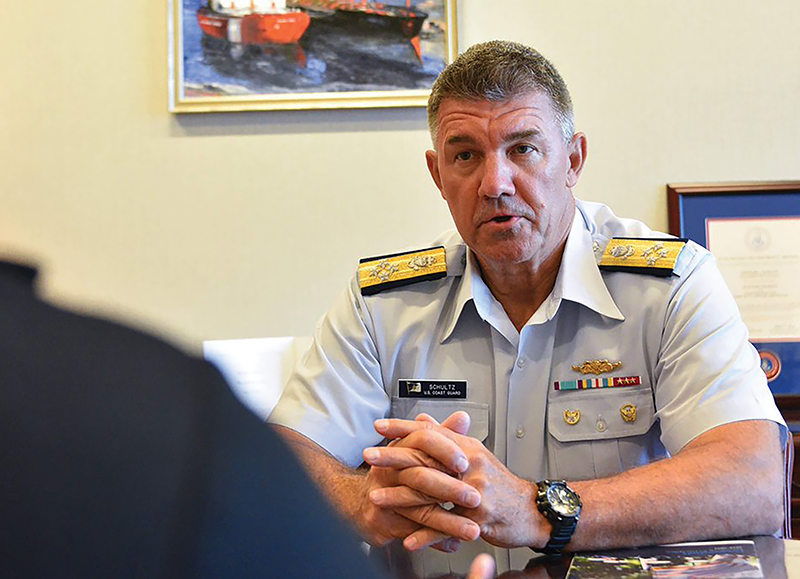 Adm. Karl L. Schultz (Coast Guard)
"We've had a very open dialogue through our acquisition structure and with the Navy, with those [industry] teams," he said. "Those are ways that we've mitigated the risk."
Fielding new icebreakers will be critical as the service seeks to increase its presence in the Arctic. Melting sea ice has opened up the region — which is rich in natural resources such as minerals and fisheries — to increased activity.
"We've got an interest up there and I think our ability to project our national interest, our sovereign rights, is absolutely essential," Schultz said.
In addition, nations such as Russia and China are beefing up their presence, he said.
Moscow is aggressively projecting its sovereignty in the Arctic, he said.
"A large chunk of their economy derives from activities in the Arctic," he said. "The Russians … [have] somewhere between 40 and 50 icebreakers. They're building a nuclear icebreaker right now, with plans to build more nuclear icebreakers."
The Kremlin is also arming its ice-capable vessels, he noted. "We have to be aware of that. Our thinking has to be informed by that," he said.
China, meanwhile, is building its second icebreaker, the Xue Long, and has been operating in the Arctic, he added. China considers itself a "near-Arctic" nation though it is not one of the eight Arctic nations.
"All that points to demand for the Coast Guard to be up there and be up there extensively more than we are today," he said.
While Schultz hopes the region will remain peaceful, "you don't rule anything out when you talk about the future."
It is still too early to say what type of armaments, if any, will be on the new icebreakers, Schultz said. "The conversations we're about right now is delivering that first icebreaker to give us some capacity to be up in the Arctic. We're not ruling out any conversation. But right now, we're earlier in that process."
Other important acquisitions include the offshore patrol cutter. The service plans to build at least 25 OPCs and intends to award a contract for the production of the first vessel this fall along with long-lead time material for the second cutter, Schultz said. "We're off to the races on that," he said.
The OPC represents "the backbone" of the service's recapitalization effort, he added.
The Coast Guard is also underway with the recapitalization of its fleet of national security cutters. The 2018 omnibus budget included funding for a 10th and 11th cutter, which is beyond the program of record for eight hulls, he said.
The waterways commerce cutter is another important future acquisition, Schultz noted. The service currently operates a fleet of river tender and commerce tender vessels that enable trade on the nation's inland waterways. Some of the platforms are 50 years old.
"The heartbeat of America's economy is really the maritime transportation system that enables about $4.6 trillion of commerce annually," he said. Its legacy vessels "allow commodities to move down from the Great Lakes and from the ports."
Congress is excited about the program, Schultz said, noting that in the 2018 omnibus budget lawmakers appropriated about $25 million for the effort.
"They are very keenly interested in accelerating that," he said. The service is currently in the analysis phase and in 2020 will begin the acquisition process.
The program is "going to be a modest replacement for a fleet of 35 vessels, but [it's] absolutely essential to the prosperity of the nation," he added.
As the service works to recapitalize its fleet, it is also investing in new technologies to give Coastguardsmen access to more information. One example includes an effort to field a medium-sized unmanned aerial vehicle aboard every national security cutter, Schultz said.
The service has conducted three proof-of-concept trips on NSCs, he said. They have provided "game-changing" capability to service members and were employed during 16 interdictions.
"UAS gives you some persistent ability to stay on station," he said. There are "huge distances involved in the Eastern Pacific Ocean. It's like patrolling North America with a handful of police cars for speeders."
Crewmembers who have experimented with the unmanned aerial vehicles don't want to sail without them, he added.
The Coast Guard plans to award a contract for the drones sometime this year, he noted. Schultz believed the service would be able to field those at a pace of two platforms per year under a contractor-owned/contractor-operated agreement.
"The Navy's been using a similar model with unmanned aerial surveillance on Navy platforms," he said. "We're confident this is … a proven capability."
As the Coast Guard juggles several major procurement programs and increasing tensions in the Arctic, it is also beefing up its presence in the Western Hemisphere and countering drug cartels, Schultz said.
There is more cocaine being cultivated in Colombia than ever before, he said. The service is coming off a record year of drug interdictions and confiscated 223 metric tons of drugs headed for the United States. Last year it also arrested more than 600 people associated with drug cartels and trafficking and turned them over to the Department of Justice for prosecution.
"We're down there with a greater presence than we've ever had," said Schultz, who most recently served as the service's Atlantic area commander. "I sourced about two-thirds of all the Coast Guard operational assets in that theater, … so we're all in."
Schultz noted that U.S. Attorney General Jeff Sessions wants to see even more Coast Guard presence in the region.
"He sees the Coast Guard as a pivotal player in that," he said. "You will see no diminution in our commitment to that mission."
Correction: A previous version of this article misstated the acronym for the offshore patrol cutter.
Topics: Maritime Security, Shipbuilding