The Potential For Agile Launch: Industry Touting Flexible Vehicle Models to Better Secure Space Assets (UPDATED)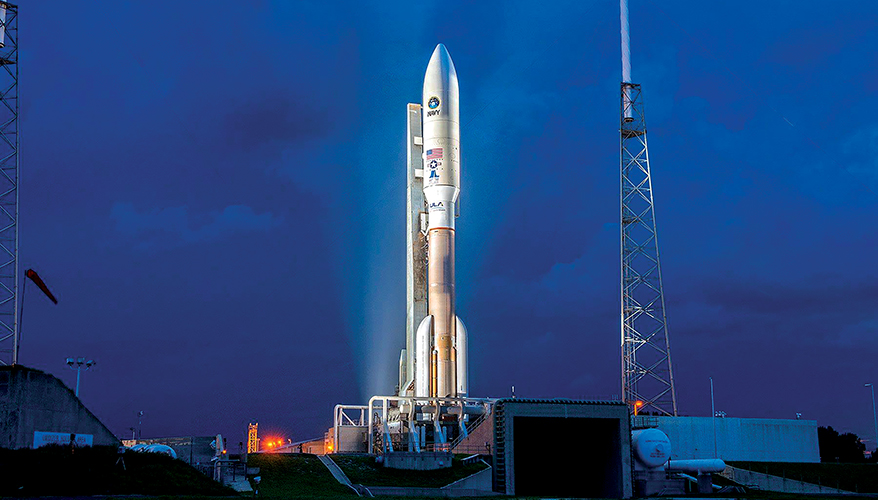 Atlas V rocket
Photo: ULA
An array of new agile launch capabilities being developed by the commercial sector to send satellites into orbit could provide added resiliency to the U.S. space architecture.
Multiple existing and new industry players are developing dedicated small satellite launch vehicles to address growing requirements, according to a recent report by Frost & Sullivan titled, "Small Satellite Launch Services Market, Quarterly Update Q1 2018, Forecast to 2030." The firm predicted a launch demand for over 11,600 small satellites over the next 12 years, with a projected revenue of $119 billion. The existing rideshare launch capacity will not be adequate enough to meet future needs, the report said.
Over the past decade, a wave of new companies — benefiting from the deep pocketbooks of Silicon Valley billionaires — have invested in developing rapid, mobile and affordable launch systems, bringing a new momentum to the commercial market.
Entrepreneurs such as Amazon leader Jeff Bezos; Elon Musk, who co-developed PayPal and launched Tesla; Microsoft co-founder Paul Allen; and Virgin founder Richard Branson have created their own rapid launch companies — Blue Origin, SpaceX, Stratolaunch and Virgin Orbit, respectively. Their resources "have allowed their companies to make significant progress and push through the 'Valley of Death' where it might not have been possible if you had to justify the bottom line to a board of directors," said Randolph Kendall, vice president of launch program operations at the Aerospace Corp., during a panel discussion at the annual Space Symposium in Colorado Springs, Colorado.
The efforts underway to disrupt the commercial launch market are plentiful. Stratolaunch is building the world's largest airplane, also called Stratolaunch, to eventually release rockets into space from a variety of locations. It has a wing span of 385 feet and is built by Scaled Composites, a Northrop Grumman-owned company. It can fly 1,000 nautical miles, loiter for an hour and then launch a vehicle into orbit. First flight is expected around the end of summer, with launches beginning in late 2019 or early 2020, said Steve Nixon, Stratolaunch's vice president for strategic development.
The aircraft will initially carry an Orbital ATK Pegasus expendable rocket, Nixon told National Defense. The three-stage air launch system can deliver small satellites weighing up to 1,000 pounds into low-Earth orbit in about 10 minutes, according to the company. Orbital ATK was recently acquired by Northrop Grumman and is now known as Northrop Grumman Innovation Systems.

Stratolaunch (Stratolaunch)
The aircraft will be able to carry up to three Pegasus vehicles, each carrying multiple satellites, at one time, Nixon said.
Stratolaunch is also considering developing reusable launch systems, though no decisions have been made to pursue such a project, according to the company.
Virgin Orbit is developing and testing an air-launched expendable rocket called LauncherOne that will be released from a Boeing 747 aircraft, and send a small satellite into low-Earth orbit, said Dan Hart, company president and CEO. The company expects an initial launch later this year, and anticipates performing one launch per month in 2019 and then doubling that number in 2020, he said at the Space Symposium panel.
Vector Launch, a space technology company based in Tucson, Arizona, is developing a mobile ground-launched system to send small satellites into low-Earth orbit later this year, said Greg Orndorff, director of government launch sales for the company. The goal is to be able to offer a launch for between $1.5 million to $3.5 million, depending on the payload, he said.
The Defense Advanced Research Projects Agency is working on an experimental space plane with Boeing's Phantom Works business, with the aim of flying a fully reusable unmanned space plane 10 times in 10 days by 2020, at a target cost of $5 million per flight, said Fred Kennedy, director of the agency's tactical technology office.
Before 2020, the team will conduct an initial evaluation by firing the plane's Aerojet Rocketdyne AR-22 liquid hydrogen engine 10 times, representing "an early check" to determine whether the aircraft is ready for assembly and final flight, he noted during the conference panel.
"This is hard. It may not work; in fact, it's likely not to work," he said. "But if we are successful, the … demonstrator will be a pathfinder for launch systems of the future."
United Launch Alliance — a joint venture between Lockheed Martin Space Systems and Boeing Defense, Space and Security which manufactures the Delta IV and Atlas V systems — is developing a next-generation launch vehicle dubbed the Vulcan Centaur, said Tory Bruno, president and CEO. ULA is also planning for a reusable second stage capability called the advanced cryogenic evolved stage, he said in an email.
As the commercial sector hopes to soon offer a variety of agile launch options to the national security community, the Air Force is already working to conduct launches more frequently, said Brig. Gen. Wayne Monteith, 45th Space Wing commander and director of the Eastern Range at Patrick Air Force Base, Florida.
"We are moving at the speed of business, not the inertia of bureaucracy," he said during the Space Symposium panel.

Concept art of Virgin Orbit's LauncherOne, an air-launched rocket (Virgin Orbit)
Two years ago, the service performed two launches in 72 hours out of Cape Canaveral Air Force Station. This past March, the space wing was prepared to launch twice in under 15 hours, he noted.
"We are making data-driven decisions and we are no longer relying on gut feelings or because it's the way we have always done business," he added.
The 45th Space Wing is looking to perform 48 launches per year, or about one per week, Monteith said. The Air Force is investing in technologies that will allow it to more easily and rapidly respond to weather conditions and boost autonomous flight safety, he added.
Nixon said as the commercial launch market has grown exponentially over the past two years, the Pentagon has taken notice.
The launch industry has seen a "radical change in DoD interest" as the threat to defense and intelligence assets in space has become more imminent and technologies such as small satellites and rapid launch have proliferated, he said.
The Defense Department built a space architecture full of large and fragile, yet long-lasting satellites stationed in geosynchronous orbit during a period when the United States wasn't as vulnerable to adversaries in that domain, he noted.
"If there is a threat, … suddenly that architecture doesn't look so good anymore," he said.
As a result, "we have put all our Fabergé eggs in a single basket, and now we have someone out there that wants to be mischievous with those eggs," Nixon added.
The booming commercial space market is impacting the way the Air Force buys its space assets, said Gen. Ellen Pawlikowski, Air Force Materiel Command commander, who previously served as Space and Missile Systems Center commander and program executive officer for space at Los Angeles Air Force Base.
"Every day, you are hearing about somebody else that is getting into launching small satellites," she said at a recent media event in Washington, D.C. "That commercial market means that … the opportunity for a broader industrial base for the space acquisition community to engage in is there."
Bruno, of United Launch Alliance, said the maturing of industry has enabled the U.S. government to compete providers with different specialties.
He noted the importance of competitive allocation of launch missions in the future to enable a long-term and stable industrial base that can support multiple providers. "This is a long-cycle business, and the government reaps benefits when launch providers can plan and reduce cost through long-term agreements," he added.
Pawlikowski said technology has improved to the point that the cost of launch has been driven down, which has made it more appealing.
"When I first came into the space business, we built big satellites because it was expensive to get a launch vehicle," she said. "You wanted to put as much as you could on that satellite because you wanted to get the most out of that launch.
"Now launch is cheaper, and we realize that these big, huge satellites are not easy to defend … and having multiple things on them made them very attractive as targets," she added.
Industry members are advocating that true resilience in space lies in having a number of small satellites operating in low-Earth orbit, Nixon said.
"Right now, an adversary could actually be highly incentivized to take out one of our high-value satellites," he said. "They're far away, attribution is tricky and the payoff for an adversary could be huge."
An attack on a small satellite in low-Earth orbit would have less impact on U.S. capabilities, and would be easier to fix or replace, said Bill Ostrove, a space market analyst at Forecast International, a Newtown, Connecticut-based marketing and consulting firm.
"If you can rapidly deploy a satellite, it's not as much of a problem if a satellite gets jammed or even gets destroyed by an enemy," he said.
The national security space community is also increasingly interested in developing alternative ways of accessing space "even when an adversary doesn't want you to," Nixon said.
Defense and intelligence-related launches are routinely conducted out of either Cape Canaveral or Vandenberg Air Force Base, California, both of which are located on coasts and thus vulnerable to a potential attack, he noted.
"The ability to not be a fixed launch is going to be important in a world where an adversary might contest the launch itself," he said.
Stratolaunch, being an airplane, can relocate and take off from various locations, he noted. But other companies are developing mobile ground-launched systems as well, he added.
DARPA recently announced an inaugural launch challenge, which has the goal of exploring the feasibility of developing an architecture with multiple providers, multiple launch sites, launches on short timelines and at price points that haven't yet been achieved, Kennedy said during the Space Symposium panel.
After a vetting process, participants will be invited to a yet-to-be-determined launch site in late 2019, he said.
"With just a few days warning, we will provide a payload, an intended destination orbit and then we are going to ask our challenge competitors to place that payload into orbit," he added. Those that succeed will receive $2 million and the opportunity to take a second payload to a second site and send it into a new destination orbit just days after the initial demonstration. The overall winner will receive up to $10 million.
Despite the recent enthusiasm from U.S. government officials, acquisition processes have yet to reflect the newfound reality of space as a warfighting domain, Nixon said. In other sectors of the military, it's understood that during wartime it is necessary to buy extra munitions or keep some assets in reserve until needed, he noted.
"That is a concept that is completely alien to space," he said.
Nixon noted that such stockpiling would be cost-prohibitive for large, traditional satellite systems, but is "totally doable and totally necessary" with small satellites.
Industry leaders said that more flexible regulations could help speed up launch opportunities.
Orndorff, from Vector, said: "If I get a customer and they want to launch from a new location and they've got a weird new spacecraft, I want to be able to do that in days. And the regulatory process, right now, would be the long pole" in the tent.
As more small satellite and launch vehicle startups emerge, the industry has pushed to change the regulatory environment and streamline it in order to get more support and permissions, Ostrove said. That could include licenses to launch from multiple locations or ways to make it easier to introduce new variants of a system, he added.

— Additional reporting by Stew Magnuson
CORRECTION: This story has been updated to reflect that Scaled Composites is a Northrop Grumman-owned company.
Topics: Space, Air Force News