Raytheon Close to Inking Deal for New Hypersonic Weapon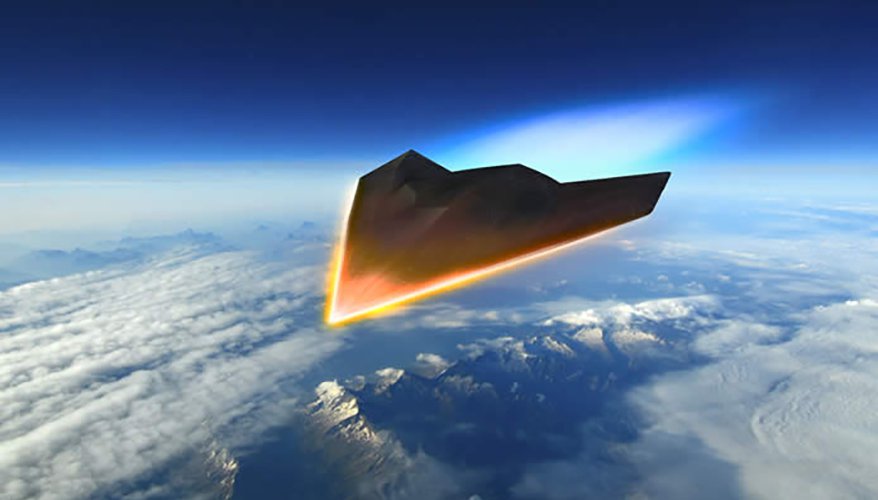 Concept art of a hypersonic weapon
Concept art: Raytheon
FARNBOROUGH, United Kingdom — Raytheon is nearing an agreement with the Defense Department to build a new weapon that can travel at speeds greater than Mach 5, a company executive said July 18.
The contractor was recently selected by the Defense Advanced Research Projects Agency to create the next tactical boost glide system, said Tom Bussing, Raytheon's vice president for advanced missile systems. "We're in negotiations with them now … [and] we hope to be on contract here in the next several months," he said during a meeting with reporters at the Farnborough International Airshow.
Alarmed by Chinese and Russian efforts to acquire their own capabilities, Undersecretary of Defense for Research and Engineering Michael Griffin has made developing these types of weapons his top technical priority. In addition to their high speeds, the platforms can be highly maneuverable and pose a major challenge to traditional missile defense systems, according to experts.
Pentagon spending on the technology is ramping up. In April, the Air Force announced that Lockheed Martin had been awarded a contract with a potential value of nearly $1 billion to develop a new air-launched weapon for the service.
Raytheon could finish developing the new tactical boost glide system within several years, depending on funding and the schedule chosen by the Defense Department, Bussing said.
In 2016, Raytheon was awarded a $175 million contract by DARPA to develop a hypersonic air-breathing weapon. "All I can say is it's moving along very, very well and … [it has] achieved significant milestones," Bussing said.
An air-breathing weapon uses a "scramjet" engine to sustain a high velocity after being launched via solid rocket motors. However, a boost glide system operates differently.
"A multi-stage rocket propels … a glide vehicle up into space or near space, and that glide vehicle then skips off the atmosphere and has tremendous range," Bussing explained. They can reach speeds much greater than Mach 5, he noted. They can also fly faster, farther and at higher altitudes than scramjet-propelled systems, according to Bussing's slide presentation.
Developing hypersonic weapons presents a number of technical challenges, he noted, including complex aerodynamics and thermodynamics.
"It's all about … building things that can survive those conditions," he said. "A good analogy for the thermal systems [is] imagine putting your cell phone in a blast furnace. That's how you have to design the electronics to survive in a vehicle that's moving at very, very high speeds" exceeding Mach 5, he added.
Boost glide vehicles also need materials that can survive operating on the edge of the atmosphere. Raytheon has been working on carbon weaves to address the problem, he noted.
The company has invested about $150 million in hypersonics-related technology using internal research-and-development funding, Bussing said. It recently spent about $500 million on a new building in Tuscon, Arizona, that can support development efforts, and it is also beefing up its workforce.
"We're trying to train the next generation to make sure we have a talent pool to go forward," he added.
Topics: Strategic Weapons, Global Defense Market, International