U.S. Officials Push Defense Sales Amid Fears of Trade War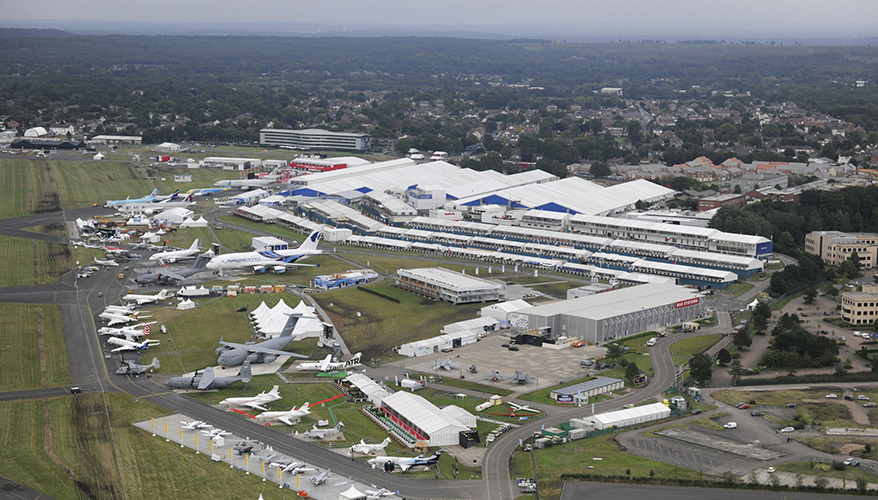 Photo: Farnborough International Airshow
FARNBOROUGH, UNITED KINGDOM — Trump administration officials descended on the Farnborough International Airshow July 16 to promote exports of U.S.-made military equipment, as concerns about a potential trade war fester.
The United States and European countries have been imposing new tariffs on non-defense items against one another in recent months, as tensions grow between President Donald Trump and his foreign counterparts over trade and other issues.
During a teleconference from Farnborough, Tina Kaidanow, acting assistant secretary in the State Department's bureau of political-military affairs, said she has not heard foreign officials voice concerns that the international fracas could undermine the defense trade.
"That has not been expressed to me," she told reporters. "What I think we find on the defense side, certainly, is that … these are enduring relationships, and the decisions that countries make on a lot of this are not really dictated so much by short-term trade considerations one way or the other."
Overseas buys of U.S. military technology are driven more by concerns about security and long-term strategic partnerships, she said.
"It's important to keep it in that lane because these are the kinds of thoughtful decisions we want countries to make. We don't want them to be acting on the concerns of the moment per se," she said.
"The conversations we've had with partners have been very straightforward, even in the Europe space, and … I think for the most part it's been able to transcend some of those other back-and-forth [tariff] issues."
Kaidanow and officials from other U.S. government agencies, including the Defense Department, are traveling around the world to push for international sales of U.S.-manufactured military technology. The efforts are part of the Trump administration's new conventional arms transfer policy intended in part to promote the industrial base.
On July 13, Trump approved an implementation plan for the new initiative, which includes: working with partners and allies to identify critical capability requirements and "energizing" a whole-of-government effort to expedite arms transfers that support national security objectives; improving the United States' ability to compete with adversaries by providing allies and partners with alternatives to foreign defense articles; increasing the competitiveness of U.S.-made systems; and updating and revising the regulatory framework, according to a State Department fact sheet.
It also calls for expanding and enhancing U.S. government advocacy and trade promotion in support of the defense industry, and reducing financial barriers to the procurement of American defense goods and services.
"It is exactly reflected in a place like Farnborough, where we are … supporting U.S. economic security, and we are also achieving a number of national security goals in conjunction with our important partners and allies overseas," Kaidanow said.
"The effort here is to do work together with some of our colleagues from the Defense Department and other agencies from the U.S. government, and we will have a series of meetings here over the next few days that will accomplish, I hope, just that," she added.
U.S officials will also be meeting with defense contractors, she noted. "Not just large companies, but small and medium enterprises as well, because we have an interest in promoting those and our larger industrial counterparts as well," she said.
The Farnborough International Airshow, which is held every two years, is the largest event of its kind. About 300 U.S. companies are exhibiting this year, alongside firms from all over the world.
The Trump administration has been conducting a study about risks in the defense supply chain. During a meeting with reporters at Farnborough, Deputy Assistant Secretary of Defense for
Manufacturing and Industrial Base Policy Eric Chewning was asked if concerns about European tariffs would impact that assessment.
"We have a global defense industrial base … and so working with our allies and partners is part of the solution just like it is working with our allies and partners in interoperability" for warfighting, he said.
Chewning's office is responsible for managing national technology and industrial base relationships. The NTIB definition has been expanded by Congress in recent years to include the United Kingdom and Australia. NTIB meetings are slated at the end of the Farnborough confab to discuss pilot programs, he noted.
"The key is what are the issues that we jointly work on, and how we work together," he said.
Topics: International, Global Defense Market