ROBOTICS AND AUTONOMOUS SYSTEMS
Raytheon to Provide Army with Drones for Killing Other Unmanned Systems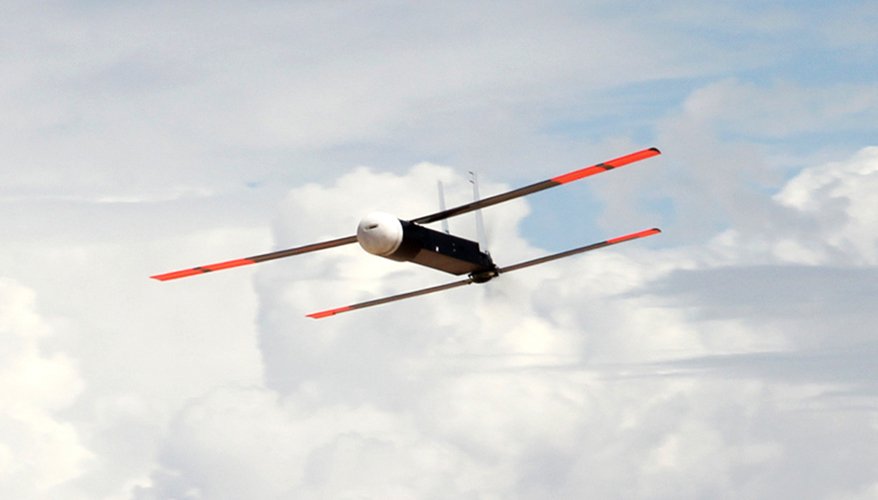 Coyote UAS
Photo: Raytheon
FARNBOROUGH, UNITED KINGDOM — The Army has tapped Raytheon to deliver unmanned aerial vehicles that can destroy enemy drones, the company announced July 17.
Raytheon has already developed a new variant of its Coyote UAV system that can perform the mission, said Tom Bussing, company vice president of advanced missile systems, during a briefing at the Farnborough International Airshow outside London. The platforms are expected to be delivered before the end of the year.
The Army has already used the Coyote for intelligence, surveillance and reconnaissance operations. The systems are tube-launched, and the wings unfold during the early stages of flight.
The new variant, known as block 1B, is equipped with advanced sensors and warheads.
"We've modified these vehicles to have small warheads that are able to take down a quadcopter, for example, or other types of" small drones, Bussing said. "There's also an RF seeker on the front end which … allows the device to track and engage targets."
The system works in conjunction with Raytheon's Ku band radio frequency system, or KRFS radar.
"You still need a radar to track the target but once you locate the target and … give a target cue to the missile it can self-guide," Bussing said.
Pentagon officials are increasingly worried about the proliferation of commercially available drones. Terrorist groups like the Islamic State have modified them to carry cameras and weapons, and used them widely in Iraq and Syria.
"Quadcopters can maneuver up, down, sideways, so there's a lot of variability in how they operate," Bussing said. "The ability to engage those threats is a significant challenge."
Some drones are resistant to small arms fire, he noted. Additionally, defense officials are concerned about the price tag associated with using high-end interceptors like the Patriot surface-to-air missile system to go after low-cost unmanned aerial systems.
Bussing described the Coyote as an "expendable" system that could get the job done. In a recent test for the Army, the Coyotes involved destroyed 11 of 12 targets, he noted. All of the testing for block 1B has already been completed, he said.
Bussing declined to disclose certain details about the contract award, saying he was not at liberty to do so. He said the dollar value was in the "many tens of millions of dollars," but did not reveal how many systems the Army is buying.
The Coyote airframe is exportable, but the unique electronics, software and warheads for the counter-UAS variant currently are not, he said.
Meanwhile, Raytheon is already working on a block 2 variant for counter-drone missions that can fly faster and farther, and take down larger enemy systems, Bussing said.
They could also be equipped with a swarming feature that would allow them to work together, he noted.
"There's some very unique software that are onboard these vehicles that allow them to communicate and to make decisions as to where and how they're going to engage threats," he said. "You may have a swarm of them engaging a swarm of [drones] that are coming in."
The block 2 variant could potentially be fielded as early as next year, he said. "It's well in development."
Topics: Robotics, Robotics and Autonomous Systems