U.S.-China Space Race Driving Increased Spending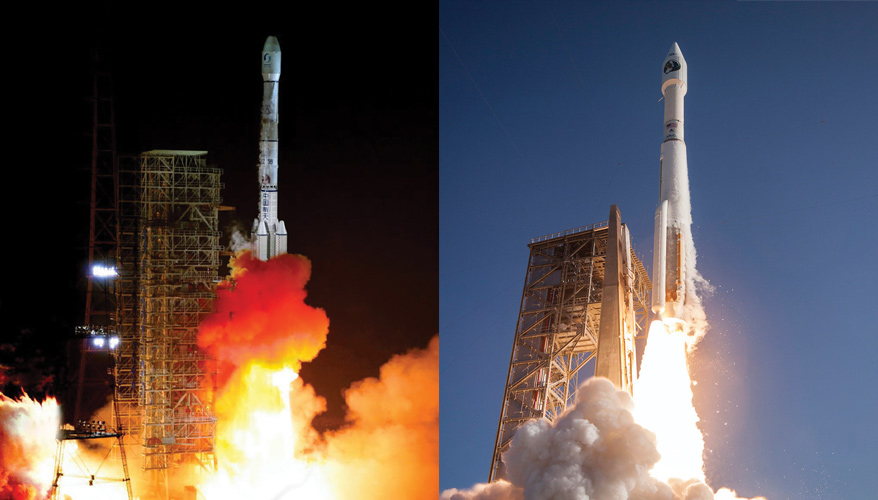 China's Long March 3B rocket, Atlas V rocket
Photo: Wiki commons, Defense Dept.
The United States and China are boosting investments in space capabilities as the Pentagon prepares for an era of great power conflict.
China spent about $11 billion on space technologies and activities in 2017, according to a recent report by the Center for Strategic and International Studies, "Space Threat Assessment 2018." That is second only to the U.S., which spent about $48 billion in this area.
"As part of its mission to become a dominant actor in the domain, China has increased spending … to improve its space capabilities," the report said. Beijing is focusing on many lines of effort, including rapid development and launch of both intelligence, surveillance and reconnaissance satellites and positioning, navigation and timing satellites, it noted.
The Asian nation is also developing counter-space weapons.
"Our adversaries … have moved aggressively to field forces that can challenge our space capabilities," the report said. "From simple — and widely available and affordable — jammers to highly sophisticated anti-satellite weapons, today the U.S. is facing serious threats.
"The loss of critical assets today could prove decisive to our ability to monitor critical events like missile launches or nuclear tests, or to successfully prosecute a military campaign," it added.
Meanwhile, the United States is pumping more money into its space enterprise. Federal contract obligations had a compound annual growth rate of more than 5 percent between fiscal years 2011 and 2017, according to a report by Govini, "Space Platforms and Hypersonics Technologies Taxonomy."
The Air Force, which is responsible for most U.S. military space programs, plans to spend about $44 billion on space systems over the next five years. That is an 18 percent bump relative to the last future years defense program plan, Gen. John "Jay" Raymond, commander of Air Force Space Command, noted at a recent breakfast in Arlington, Virginia. Much of that money will go toward next-generation capabilities and improving resiliency against adversary counter-space weapons, he said.
The service is also raising the spending threshold for a space technology rapid prototyping initiative from $100 million to $500 million, he said. The Air Force plans to lean more heavily on the commercial sector in the coming years.
President Donald Trump June 18 announced the creation of a new space force, which muddied the budget outlook. Todd Harrison, director of the aerospace security project at the Center for Strategic and International Studies, said: "The main thing that the creation of a separate service for space will do is it will block off funding, it will wall off funding for space. It doesn't necessarily mean more funding because this can be done in a budget neutral way where you're just slicing up funding that was already going for space and putting it into the new service.
Topics: Global Defense Market, International, Space