ROBOTICS AND AUTONOMOUS SYSTEMS
General Atomics Reaper Variant Makes First Trans-Atlantic Flight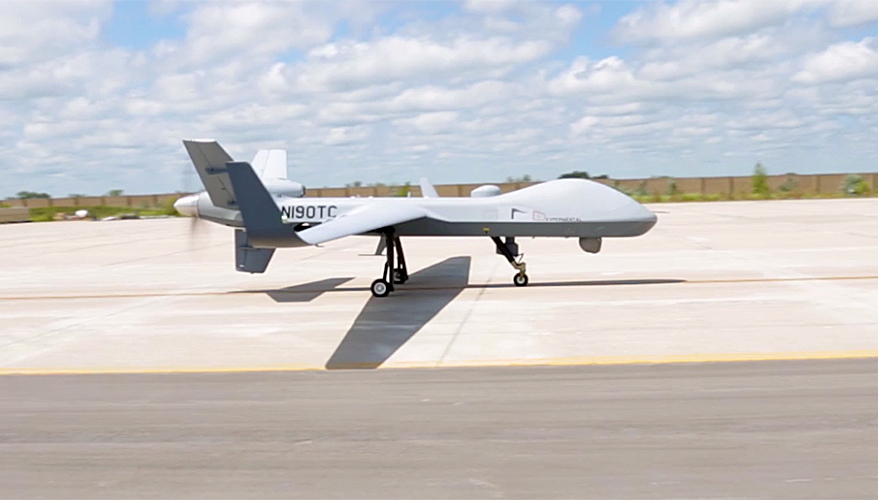 General Atomics Aeronautical Systems Inc.'s MQ-9B SkyGuardian leaves from Grand Forks, North Dakota, June 10 on its way to Gloucestershire, United Kingdom.
Photo: General Atomics
A General Atomics MQ-9B SkyGuardian successfully flew from North Dakota to the United Kingdom, marking the first time a medium-altitude, long endurance remotely piloted vehicle transited over the Atlantic, the company announced July 11.
The General Atomics Aeronautical Systems Inc.'s MQ-9B departed from the company's Flight Test and Training Center in Grand Forks, North Dakota, July 10 and touched down 24 hours and 2 minutes later at Royal Air Force Fairford in Gloucestershire, England, on July 11 at 6:51 pm local time using a single load of fuel. It flew 3,760 nautical miles.
The aircraft will go on display July 13 to 15 at the Royal International Air Tattoo airshow being held at RAF Fairford. The feat was intended to mark the 10 year anniversary of the Royal Air Force's first acquisition of a General Atomics Reaper along with the 100th anniversary of the RAF's founding.
MQ-9B is the latest iteration of the company's Predator B fleet. The baseline MQ-9B aircraft is called SkyGuardian, and the maritime surveillance variant SeaGuardian. MQ-9B is a "certifiable" version of the MQ-9 Predator B product line, meaning it meets the stringent airworthiness type-certification requirements of various military and civil authorities, including the United Kingdom's Military Airworthiness Authority and the U.S. Federal Aviation Administration.
Its development is the result of a five-year, company-funded effort to deliver a remotely piloted aircraft with a collision avoidance system that allows unrestricted operations in all classes of civil airspace, a company press release said. The Royal Air Force is acquiring the SkyGuardian, a company statement said.
Several milestones were achieved with the aircraft in recent months, including the first FAA-approved flight for a company-owned unmanned aerial system through non-segregated civil airspace without a chase aircraft, and an endurance record of more than 48 hours of continuous flight, the statement said.
General Atomics partnered with Inmarsat, a provider of global mobile satellite communications services, for the trans-Atlantic flight. Inmarsat's SwiftBroadband SATCOM was used by the ground control station to communicate and control the aircraft, the statement said.
Topics: Air Power, Robotics, Robotics and Autonomous Systems