DARPA's Experimental Spaceplane Project Hits Major Engine Milestone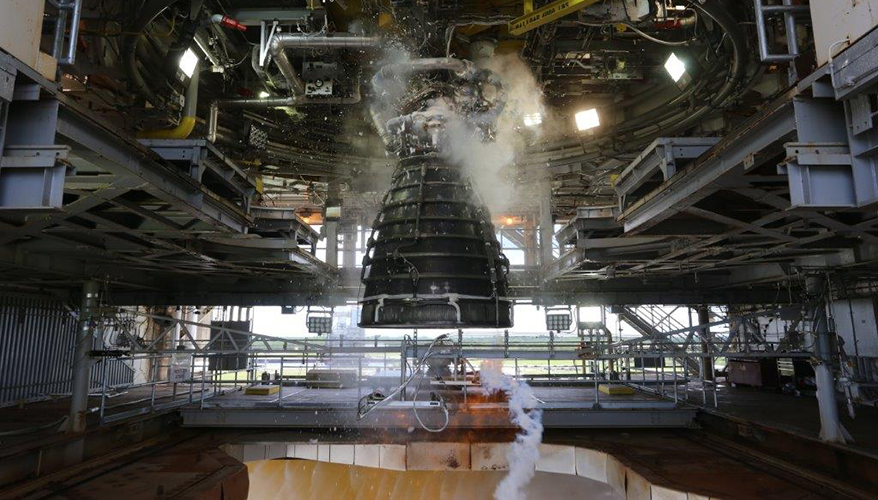 The AR-22 engine during hot-fire testing at NASA's Stennis Space Center on June 27.
Photo: NASA
The Defense Advanced Research Projects Agency, working alongside Boeing and Aerojet Rocketdyne, has demonstrated that it can successfully fire the AR-22 booster rocket engine 10 times over 240 hours. The test outcome marked a major step in the development of DARPA's Phantom Express experimental spaceplane, officials said July 10.
"We needed to show that main propulsion system, the AR-22, … could in fact support rapid turn operations," said Scott Wierzbanowski, DARPA's program manager for the spaceplane. "We were extremely successful. We completely destroyed previously held records of how … you deal with a liquid-hydrogen, liquid-oxygen-type engine."

The agency also proved that the engine could support a reusable launch vehicle that is capable of high-tempo, aircraft-like flight operations, he told reporters during a conference call.

Launching satellites and other spacecraft has historically been a costly and timely endeavor, Wierzbanowski noted. Through its Phantom Express endeavor, DARPA is working with industry to develop a system that can launch vehicles 10 times over 10 days while carrying more than 3,000 pounds of payload at a cost of less than $5 million per flight, he said.

By reducing the cost of space launch, "we believe we are going to be able to come up with new capabilities that … haven't been possible in the past," he said. That includes launch-on-demand capabilities for payloads and prompt global reach, he added.

The 10-day demonstration — which took place between June 26 and July 6 at NASA's Stennis Space Center in Mississippi — was a "significant go, no-go milestone" that was needed to move forward with the program, Wierzbanowski said.

The Phantom Express will be 100-feet long with a wingspan of 62 feet. It will weigh about 240,000 pounds fully-fueled at liftoff and will have the ability to fly at speeds up to Mach 10, said Steve Johnston, director of launch at Boeing Phantom Works.

When the system reaches 200,000 to 300,000 feet, the main engine will shut down and release an upper stage which will then carry a satellite into orbit. The reusable booster would then glide and land horizontally like an airplane, he added.

"We are relying on Aerojet Rocketdyne's AR-22 liquid-oxygen, liquid-hydrogen engine to make this possible," he said. "The series of tests that we just completed last week was a huge milestone in terms of burning down risk and our ability to turn this system around rapidly."

Jeff Haynes, AR-22 program manager at Aerojet Rocketdyne, said the team "scored a perfect 10" during the demonstration and the engine performed flawlessly.

The biggest hiccup during the event was lightning strikes that damaged the test facility and required repairs in order to keep the effort on track, he said.

Much was learned from the demonstration, including that the AR-22 — which was comprised of hardware that had been previously flown — was robust enough to carry out frequent launches, he said. While the goal was to test the engine every 24 hours, the team was able to do it at an average pace of 18.5 hours, he added.

One of the biggest challenges was drying the engine after use, Haynes said.

"When we test fire the engine it generates a large amount of moisture within the internal cavities of the engine detail," he said. "Trying to run the engine again without drying that out would lead to catastrophic events."

Originally, it was thought that it could take 17 hours to dry the engine, but by using innovative techniques and concepts, the team was able to reduce the time to as low as six hours, he said.

"We did take calculated risks by raising the level of moisture that we accepted," he said. "As we go forward we'll have to balance that risk as we see it with the cycle time."

First flight for the Phantom Express is scheduled for 2021, Johnston noted. The location is still being determined.
Topics: Space, Research and Development, Air Power