Middle East Arms Imports Expected to Remain Robust
Bahrain has been approved to purchase Bell's AH-1Z Viper attack helicopter.
Photo: Defense Dept.
This is part 5 of a 5-part series covering the current global weapons market by region: Europe, Middle East, Asia-Pacific, Africa and Latin America leading up to National Defense Magazine's coverage of the Eurosatory defense and security exhibition in Paris, June 11-15, 2018. Today: Middle East.
The Middle East arms market continues to grow as multiple conflicts persist in the region.
Concerns about Iran, militant groups and the ongoing wars in Syria and Yemen have helped prime the pump for additional military expenditures by U.S. allies, analysts noted.
"Most of the region's countries are engaged in armed conflict, either within their territory against non-state actors or in another state's territory," said a report published earlier this year by Forecast International, "2017 Global Defense Spending Snapshot."
Nations are continuing "a decades-long weapons buying spree financed by petro dollars," the report added.
Arms imports in the region increased 103 percent in the 2013 to 2017 timeframe relative to the previous five-year period, according to the Stockholm International Peace Research Institute, which tracks global military spending trends. The Middle East was home to four of the top 10 and eight of the top 20 arms importers during that time period, according to SIPRI data.
Aircraft and missile defense are two of the biggest spending categories, noted Doug Berenson, managing director for aerospace and defense at Avascent.
"Those are certainly the high-end systems that probably account for the most headline value and certainly most of the economic value as well," he said. "That is not the totality of what they are buying, certainly, but those … are the most conspicuous categories driving their spending habits."
Last year, the State Department approved a proposed $2 billion sale of Patriot missile defense systems to the United Arab Emirates, and a proposed $15 billion sale of terminal high-altitude area defense systems and supporting equipment to Saudi Arabia.
In March, the Defense Department announced that Boeing had been awarded a $1.2 billion contract for 28 F/A-18 Super Hornets for the government of Kuwait. Last fall, Bahrain signed on to buy 16 upgraded F-16 Fighting Falcons from Lockheed Martin at an estimated cost of $2.3 billion.
Saudi Arabia and Qatar are planning to buy dozens of Eurofighter Typhoon aircraft, and the United Arab Emirates is looking at options to bolster its fighter fleet.
The upcoming Saudi and UAE fighter purchases are "very important deals that are some of the biggest outstanding fighter requirements in the world," said Richard Aboulafia, vice president of analysis at the Teal Group.
Israel, the United States' closest ally in the region, is a major buyer of Lockheed Martin's F-35 joint strike fighter. A decision by the Trump administration to allow Arab allies to purchase the fifth-generation aircraft would have major implications, Aboulafia said.
"That's the big wildcard," he said. Aboulafia anticipates that approval will be granted in the next year or two.
"You would get two [new buyers] out of the box. Saudi would walk away from Eurofighter tranche two and go with F-35, and the UAE would simply go straight to" the joint strike fighter instead of buying a fourth-generation system, he added.
Fighter jets aren't the only type of aircraft that countries in the region are buying. There's also significant demand for transports, helicopters and intelligence, surveillance and reconnaissance platforms, Aboulafia said.
"You're starting to see the Saudis recapitalize their C-130 fleet in fits and starts," he noted. "The military helicopter market in the region is fantastic. That's another thing to watch."
In March, Qatar signed on to purchase 28 NH90 multirole helicopters and other systems from the NHIndustries' European consortium for $3.2 billion. In April, the State Department approved the proposed sale of Bell's AH-1Z Viper attack helicopters to Bahrain at an estimated cost of $911 million.
Black Hawks and Apaches have also been "big winners" when it comes to helicopter buys, Aboulafia said.
Nations in the Middle East are interested in a wide variety of surveillance aircraft. That includes high-end systems like Boeing's airborne early warning and control system, or AWACS, all the way down to King Air turboprops with onboard signals intelligence capabilities, he noted.
In February, the State Department approved the proposed sale of King Air 350ER ISR aircraft to Kuwait, with an estimated value of $259 million. The manufacturer Beechcraft is owned by Textron Aviation.
There's also a significant market for both trainers and light attack aircraft, Aboulafia noted.
"It's diversified to a remarkable degree way past the traditional heavy emphasis on attack jets," he said. "That just reflects the changing nature of warfare. It's more than just preparing for the next big conflict."
Counterinsurgency, border security, embargo enforcement and other types of operations short of conventional war add to capability requirements, he noted.
Demand is also growing for unmanned aerial vehicles, said Anthony Cordesman, the Arleigh A. Burke chair in strategy at the Center for Strategic and International Studies.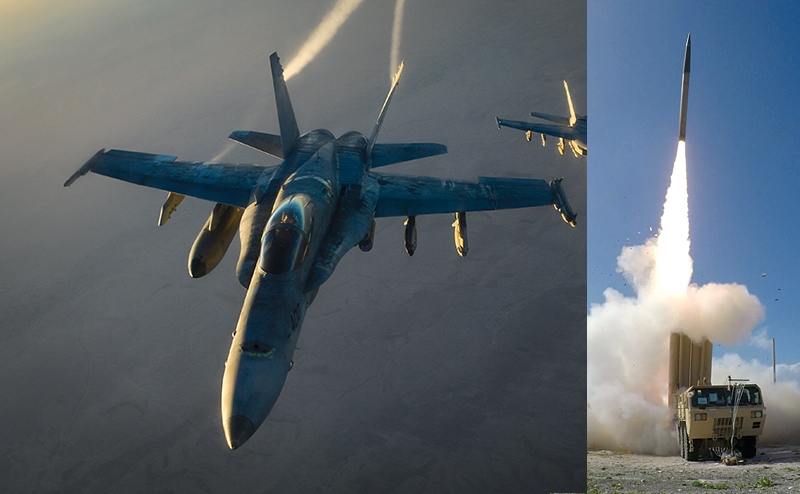 Left: Boeing was awarded a $1.2 billion contract for 28 F/A-18 Super Hornets for the government of Kuwait.
Right: The State Department has approved a proposed sale of THAAD systems to Saudi Arabia. (Defense Dept. photos)
"Almost everybody is becoming involved in the use of drones in some form," he said. "They may not be as advanced as the U.S. [platforms] or have the same loiter and other capabilities, but it certainly is a key factor."
While advanced aircraft tend to receive the most attention, a variety of other capabilities have also been on the shopping lists of countries in the region such as artillery, tanks, armored personnel carriers, surface-to-air missiles and cruise missiles, Cordesman said.
Additionally, nations are now putting more emphasis on communications, intelligence and precision strike capabilities, he noted.
In January, the State Department approved the sale to Oman of F-16 operational flight profile software upgrades, technology to identify friends and foes and secure communications equipment, with an estimated value of $62 million.
Precision-guided munitions are also being sought.
"It's a major area of expenditure there," Berenson said. "The campaign in Yemen has really driven requirements and operational experience on the part of at least Saudi Arabia and the UAE, and so you definitely see significant procurements."
Saudi Arabia, the United Arab Emirates and other nations have intervened militarily in Yemen's civil war. Saudi Arabia and the UAE are each supporting different factions.
The State Department recently approved the proposed sale of advanced precision kill weapon systems guidance sections to Qatar with an estimated value of $300 million, and TOW 2B guided anti-tank missiles to Saudi Arabia at an estimated cost of $670 million.
Service contracts in the region can also be lucrative for international companies, Cordesman noted. In January, the State Department approved a proposed sale of missile support services for the PAC-3 and other systems to Saudi Arabia, with an estimated value of $500 million.
Analysts expect that sales of military equipment to the area will stay robust in the coming years.
"Given the range of security threats facing the region and the immense volume of trade flows, the Middle East will remain one of the preeminent military markets in the world moving forward," the Forecast International report said.
The complicated security environment will prompt militaries to continually improve their inventories through the acquisition of new systems and the modernization of existing equipment, it added.
Berenson expects countries in the region to increasingly try to boost their own defense industrial bases. However, other analysts said those efforts might bear limited fruit.
"Most of the top spenders in the region — especially in the Gulf — will seek joint ventures or technology transfers but will not be able to fulfill all of their requirements locally, meaning that arms imports will remain an important feature of the Middle East military market," the Forecast International report said.
Governments there must plan for a variety of potential missions such as air defense, military transportation, sea lane protection, countering asymmetric adversaries and conventional warfare against a heavily armed peer, the report said.
"Despite an interest in developing local industries, the region as a whole has insufficient industry to meet all of its defense needs, particularly given the range of systems that regional militaries need," it added.
President Donald Trump recently unveiled new export policies intended to facilitate overseas arms sales. But analysts don't expect them to lead to a major spike in Middle Eastern buys of U.S.-manufactured equipment.
"I don't think it will have much impact on the volume," Cordesman said. The main purpose of the changes is to ease human rights concerns and reduce waiting times for U.S. government approval of proposed sales, he said. Industry and other observers shouldn't expect "radical new purchases" stemming from the initiative, he added.
For decades, the United States has been a leading supplier of military equipment to the Middle East. It provided 52 percent of the arms transfers to the region from 2013 to 2017, according to SIPRI, including 61 percent to Saudi Arabia, 59 percent to the UAE, 56 percent to Iraq, 59 percent to Turkey, 60 percent to Israel and 67 percent to Qatar.
However, U.S. industry can expect to see stiffer competition from foreign companies in the coming years, analysts said.
"The major players in the region are quite mindful of the importance of diversifying their weapon sources just because they don't want to be cut off in the event of a conflict that the U.S. doesn't approve of," Aboulafia said. European producers who sell high-end equipment would be in the best position to pick up business from governments worried about being too dependent on the United States for their arms supplies, he noted.
Berenson said Chinese and Russian entities are also a growing source of competition.
"For a long time the Gulf states at least were heavily oriented toward U.S. and to some degree European suppliers," he said. "That's still true but they are increasingly acquiring from a lot of other countries."
Chinese entities have been selling armed unmanned aerial systems to Saudi Arabia and other nations, he noted.
Countries use weapons buys to curry favor with major powers for political reasons, not just to acquire new military capabilities, he said.
"Sourcing a very costly weapons procurement deal is an inherently political undertaking, and countries in this region spread around their requirements because they want to maintain political and military relationships with … countries in the world who they perceive as having influence," Berenson said.
"Increasingly China certainly is seen as a country with whom other countries want to have a productive relationship, and sourcing defense contracts from Chinese sources is a way of solidifying those kinds of relationships," he added.
China has long been a supplier of lower-cost weapons, Cordesman noted. But in the future its new high-end systems could be increasingly sought by Middle East governments.
"A lot of China's most competitive systems are just beginning to enter production and distribution in China," he said. "We're probably about three or four years away from the point where China's weapons are broadly competitive with those of Europe and the United States in many ways."
More stories from our International Arms Market Roundup


Part 1: Crime Threat Driving Latin American Defense Spending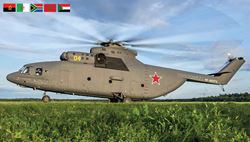 Part 2: Despite Slumping Defense Sales, Opportunities Abound in Africa


Part 3: Industrial Concerns Shaping Asia-Pacific Arms Market


Part 4: Russia, Trump Driving European Arms Purchases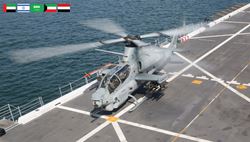 Part 5: Middle East Arms Imports Expected to Remain Robust
Topics: Global Defense Market, International, Missile Defense, Air Power