Russia, Trump Driving European Arms Purchases
The United Kingdom intends to submit the Eurofighter Typhoon jet for the Belgian air combat capability program.
Photo: Defense Dept.
This is part 4 of a 5-part series covering the current global weapons market by region: Europe, Middle East, Asia-Pacific, Africa and Latin America leading up to National Defense Magazine's coverage of the Eurosatory defense and security exhibition in Paris, June 11-15, 2018. Today: Europe.
After years of downsizing their forces, European nations are investing in defense to better protect their airspace and coastlines as Russia flexes its military muscles to the east and U.S. President Donald Trump demands greater contributions to collective defense from the west.
Cutbacks and lack of investment in critical areas "have left the greater European defense apparatus just short of everything," said Dan Darling, senior military markets analyst for Europe and Asia-Pacific at Forecast International, a Newtown, Connecticut-based marketing and consulting firm.
But recent foreign military sales agreements and future equipment competitions reveal that countries across the continent are moving to reverse that trend, he noted.
"There has been a reinvigorated push to build up European capabilities, and at least have some form of unity in terms of how they put a face forward to the rest of the world," he said.
International military operations in Libya in 2011 exposed capability gaps and the limited capacity of NATO allies, Darling said. "The U.S. basically had to patch every capability shortcoming, from aerial refueling to" intelligence, surveillance and reconnaissance, he added.
Though spending has ramped up in the years since, "you can't recover all those capabilities overnight," he noted. "Many European countries are focused on recapturing a hard-power edge that has been just eroded from the inside out."
Mark Cancian, a senior adviser at the Washington, D.C.-based Center for Strategic and International Studies, called it "a promising time" for foreign military sales in Europe as nations move to rebuild their military stocks to counter a resurgent Moscow.
"Russia has continued to be very anti-NATO, very anti-Western, and that has created a sense of threat that had been absent for 20 years," he said.
The United States needs its Eastern European allies to be able to control their airspace and their coastlines to allow for smooth reinforcements in the event of a conflict, Cancian said. "If they aren't in control … then we can't get our forces there at all," he noted.
Poland is putting money behind its commitment to modernize its air defenses, Darling noted.
The State Department recently approved the potential sale of several major missile defense systems to Warsaw, including Raytheon's Patriot system for $4.75 billion, and Northrop Grumman's integrated air and missile defense battle command system, or IBCS. Poland has also recently procured offensive weapons, including Lockheed Martin's AGM-158B joint air-to-surface standoff missile extended range, and high mobility artillery rocket system, or HIMARS.
Romania is also addressing overdue equipment needs. Since late 2017, it has committed to purchasing one HIMARS for $1.25 billion and seven Patriot units for $3.9 billion.
"By our metrics, their defense budget grew over 30 percent year on year in 2017," Darling said. Considering the country doesn't have the resources of France or Germany, its increase in investment is notable, he added. It is also looking to buy more F-16 fighter jets and helicopters, and boost its naval forces in future years, he said.
Countries that more acutely feel the pressure emanating from Russia — such as the Baltics and Scandinavia — are beefing up their weapons arsenals and modernizing their air defenses, Darling said. This year, the State Department approved foreign military sales to Finland for Boeing's Harpoon surface-launched missiles for use on its ships and coastal batteries; Raytheon's evolved SeaSparrow missiles and ESSM inert operational missiles; and Lockheed Martin's Mk 41 Baseline VII strike-length vertical launching system for a total of $805 million.
Sweden is also rebuilding its force, which was downsized after the Cold War, Darling added. The State Department approved a possible foreign military sale of four Patriot units to the Scandinavian country for $3.2 billion this past February.
"Now with Russia acting more aggressively in the Baltic Sea and elsewhere, the Swedes are realizing, 'We're not part of NATO. We're not part of an alliance. … We need to go back and build the hard-edge power that we once had,'" he said. The country stripped its coastal defense "almost completely" while downsizing, and greatly needs shore-to-ship fire power and anti-tank fire power, he added.
Some European countries are also facing pressure from the United States to rebuild their military capabilities.
Since the 2016 presidential campaign, Trump has frequently criticized NATO members for not contributing enough to collective defense. The alliance committed to investing 2 percent of their country's GDP on defense within the next decade during the 2014 Wales Summit. As of June 2017, the United States and five European countries met that mark, including Greece, Estonia, the United Kingdom, Romania and Poland.
"The Trump administration has made it very clear that they expect allies to ante up in terms of meeting their defense spending investment obligations," Darling said.
He noted that despite Trump's often incendiary remarks on the subject, "pretty much every administration dating back to Eisenhower has pushed Europeans to spend more," and that former Defense Secretary Robert Gates was particularly vocal on the topic of burden-sharing while serving in the Obama administration.

Top: European sales of the F-35 joint strike fighter are expected to continue. Below: Poland has recently procured the HIMARS. (Lockheed Martin, Defense Dept.)
Cancian noted that countries with large economies, such as Germany, were still spending a considerable amount of money on defense despite not yet meeting the 2 percent mark.
Many nations across the continent are looking to improve their fixed- and rotary-wing fleets in the coming decades. The State Department recently approved the sale of 17 CH-47F Chinook helicopters for $1.3 billion to improve Spain's heavy lift capability.
The German air force will soon release a request for information for proposals to replace its aging fleet of Chinooks, in what is likely "the largest helicopter program looming in Europe," Darling said. Lockheed Martin plans to pitch Sikorsky's CH-53K King Stallion, while Boeing has offered its H-47 Chinook.
Both companies are partnering with a variety of German firms to assist with delivery, maintenance, training and additional expertise for the estimated $5 billion contract. The RFI is expected by late 2018, according to a Lockheed Martin spokesperson.
Foreign military sales of Lockheed's F-35 joint strike fighter are expected to continue. The Netherlands should receive eight aircraft in 2019, while the current program of record includes up to 37 aircraft, according to the company. F-35s will arrive in Denmark in 2022, and the first Norwegian aircraft arrived in-country last November.
The Spanish air force and navy are reportedly eyeing the F-35A and F-35B variants to replace their aging F/A-18 multirole fighter and Harrier vertical takeoff-and-landing aircraft, Darling noted.
But the joint strike fighter could face some competition from local aircraft manufacturers in the future.
Belgium is looking to replace its aging fleet of 54 F-16 Fighting Falcons by 2023, and the State Department in January approved the potential sale of 34 joint strike fighters for up to $6.5 billion.
However, the United Kingdom in February announced its intent to submit the Eurofighter Typhoon jet for the Belgian air combat capability program. The British are leading the Typhoon bid through lead contractor BAE Systems on behalf of the other Eurofighter nations: Italy, Germany and Spain.
In 2017, German Prime Minister Angela Merkel and French President Emmanuel Macron announced a joint effort to develop a sixth-generation combat aircraft that would ultimately replace their fleets of Typhoon and Dassault Rafale jets by 2040.
Dassault Aviation and Airbus Defence will work together on the program, dubbed the future combat air system, or FCAS, the companies announced at the ILA Berlin Air Show in April.
It will encompass "a system of systems" to include the next-generation fighter aircraft, medium-altitude long-endurance unmanned aerial vehicles and future cruise missiles and swarming drones, according to a recent press release by Dassault. "The overall system will be interoperable and connected in a larger perimeter with mission aircraft, satellites, NATO systems and land and naval combat systems," the company said.
The new fighter is expected to be available to France and Germany, then to neighboring countries. But it's not likely to come soon enough to potentially sway nations who are now considering procuring the F-35, Darling noted.
However, Eurofighter recently announced its plans to pitch an advanced version of the Typhoon in a joint proposal with Airbus Defence and Space to Germany as the government looks to replace its fleet of Tornado multirole combat aircraft by 2025. Berlin had reportedly been considering procuring the F-35, so the Typhoon announcement could alter the playing field, Darling said.
Eurofighter CEO Volker Paltzo recently stated in a press release: "Eurofighter will remain the dominant fighter aircraft in Europe for the next 30 to 40 years." The company provides "the best route to develop the technologies that will be incorporated onto a future European combat air system, and will be the natural partner to such an asset in the decades to follow its entry into service," he added.
These comments reflect the environment of industrial protectionism that is still prevalent across the Atlantic and "is really what drives the European defense market more than anything," Darling said. "It's the only thing that's kept [the defense industry] alive as they have been slashing their personnel and hardware inventories for the past 25, 30 years."
European countries with larger defense spending accounts may be willing to buy American for transport aircraft, as Germany did recently when it requested an FMS sale of Lockheed's C-130J and KC-130J aircraft for $1.4 billion. However, they may be more inclined to support local industry for fighter jets, he noted.
"They are the most splashy, they're the most expensive," he said.
The German government has "pretty much made it known that they would lean toward a European solution for fighter jets," he added. "In that one instance [for FCAS] the French and the Germans want to go national, but it wouldn't preclude Germany from at least considering the F-35 … as a Tornado replacement."
European partners are considering interoperability as they procure new equipment, Cancian said.
"If we can't work together, it makes it much more difficult for the United States then to participate fully in the defense of NATO allies, particularly in Eastern Europe," he said. Interoperability has become more of a priority as countries have performed more joint and combined exercises and operations together in recent years, he added.
Several Eastern European countries are now working to wean themselves off of legacy Soviet-made hardware, Darling said. Nations such as Hungary and Bulgaria are interested in procuring more standard NATO equipment, "but in the interim, they have to maintain that Russian legacy hardware."
In April, the State Department approved a potential sale to Slovakia of 14 F-16 Block 70/72 V configuration fighter jets with associated equipment for $2.91 billion. That would provide the country with a fourth-generation fighter capability that is interoperable with U.S. and NATO assets, and replace its current fleet of Mikoyan MiG-29 jets.
Unmanned systems are gaining momentum in Europe, Darling said. Germany was approved in April to procure four Northrop Grumman MQ-4C Triton unmanned aerial systems for $2.5 billion. Countries are eyeing platforms for intelligence, surveillance and reconnaissance missions and target acquisition, along with over-the-horizon mini drones and underwater systems for countries like Italy and Spain, he added.
More stories from our International Arms Market Roundup


Part 1: Crime Threat Driving Latin American Defense Spending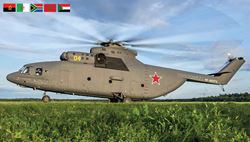 Part 2: Despite Slumping Defense Sales, Opportunities Abound in Africa


Part 3: Industrial Concerns Shaping Asia-Pacific Arms Market


Part 4: Russia, Trump Driving European Arms Purchases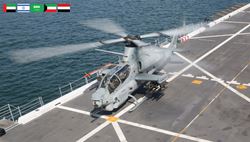 Part 5: Middle East Arms Imports Expected to Remain Robust
Topics: Global Defense Market, International, Air Power, Missile Defense