Crime Threat Driving Latin American Defense Spending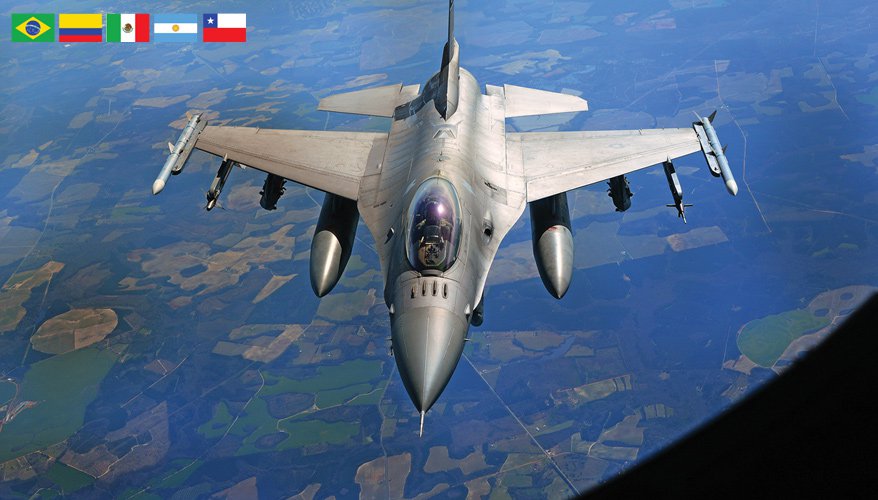 Argentina may purchase secondhand F-16s.
Photo: Defense Dept.
This is part 1 of a 5-part series covering the current global weapons market by region: Europe, Middle East, Asia-Pacific, Africa and Latin America leading up to National Defense Magazine's coverage of the Eurosatory defense and security exhibition in Paris, June 11-15, 2018. Today: Latin America
Latin American defense spending has been rocked by declining budgets due to economic turmoil, but efforts to counter threats from transnational criminal organizations are helping to buoy sales.
"In Latin America the main threat is coming from these international criminal organizations — drug traffickers, gangs and … insurgents in some countries," said Bill Ostrove, an analyst at Forecast International, a Newtown, Connecticut-based market consulting firm. "Their defense picture is a little bit different than some areas of the world that are more concerned about power projection."
Heavy, expensive weapon systems such as fighter jets, tanks and destroyers are not needed by Latin American militaries, said a Forecast International report titled, "2017 Global Defense Spending Snapshot."
"Equipment that excels in counterinsurgency and rapid reaction environments will be purchased," it said. "Such equipment includes small arms, helicopters, patrol boats, armored vehicles, trucks and communications equipment."
Data collected by the firm shows that defense spending in the region reached a low of about $55 billion in 2016, and then started to recover in 2017 to about $61 billion, Ostrove said.
"We're expecting that sort of steady upswing to continue over the next two years," he said. The organization expects spending to reach $64 billion in 2018 and $76 billion by 2022, he added.
Latin America was hit hard by economic downturns over the past several years, Ostrove noted. The continent relies heavily on natural resource exports to bolster its economies. Copper is a lucrative export for Chile, as is oil for Venezuela and Mexico, he noted.
"As economic activity slowed down in the rest of the world, there was lower demand for those goods and so their economies were hurt," he said. "That created an environment where … governments had less money to spend on all projects, including defense."
The biggest spender in the region by far is Brazil, he said. The country makes up a little less than half of all defense spending in the region. Colombia is the second largest and focuses on equipment that can help the government fight insurgents, he said.
Last year, the Revolutionary Armed Forces of Colombia, or FARC, the country's largest rebel group, signed a peace treaty with the government. However, the country is "still fighting elements of FARC that have refused to give up and there are other groups, such as ELN [the National Liberation Army], that they continue fighting," Ostrove said. "That's really driving defense spending there."
Other big spenders include Mexico, Argentina, Chile and Cuba, he added.
In April, the State Department announced that it had approved a possible foreign military sale to Mexico of eight MH-60R multi-mission helicopters for an estimated cost of $1.2 billion.
"Mexico has been a strong partner in combating organized crime and drug trafficking organizations," the State Department said in a statement.
The sale will bolster Mexico's maritime capabilities and enable the country to perform anti-surface and anti-submarine warfare missions, as well as supply distribution, search and rescue and communications relay. The sale includes a variety of missiles, rockets, torpedoes and machines guns.
"Mexico will use the enhanced capability as a deterrent to regional threats and to strengthen its homeland defense," the statement said.
The announcement followed an earlier possible foreign military sale to the country for six RGM-84L Harpoon Block II surface-launched missiles, 23 Block II Rolling Airframe Missile tactical missiles and six MK 54 Mod 0 lightweight torpedoes for an estimated cost of $98.4 million.
The weapons systems will be used on the Mexican navy's Sigma 10514-class ship, the State Department said in a January news release.
"The proposed sale of these systems and support will increase the Mexican navy's maritime partnership potential and align its capabilities with existing regional navies," it said.
Other large acquisitions in the region include the sale of 36 Gripen fighter aircraft to Brazil from Sweden and five submarines from France, according to a report by the Stockholm International Peace Research Institute titled, "Trends in International Arms Transfers, 2017."
Ostrove noted that Argentina is also looking to modernize its fighter fleet with new aircraft.

Mexico is planning to purchase eight MH-60R multimission helicopters. (Defense Dept.)
"They retired all of their supersonic fighters a few years ago … [and] they've been looking at a whole range of options to revitalize their fleet from second-hand fighters to trainer-type aircraft kind of like a T-50 or something," he said. However, the government has yet to make a decision and it is unclear if the country can even afford them, he added.
With low levels of interstate conflict, it is unlikely that Argentina would need such advanced aircraft. But the country is involved in global activities such as hosting G20 meetings, and participating countries are required to defend the location's airspace, Ostrove added. "Argentina is having a hard time fulfilling that obligation without these tools," he said.
The country has been considering purchasing Saab's Gripen, he noted. That is particularly advantageous because some parts of that aircraft are manufactured in Brazil, he said.
"They'd be able to tap into that and actually get some components being built in their own countries, which obviously would help them with employment," he said.
Argentina is also looking at potentially purchasing secondhand Lockheed Martin-built F-16 Fighting Falcons as a way to save money, Ostrove said.
It is possible Argentina could buy used F-16s from a country other than the United States, like when Chile bought their secondhand F-16s from the Netherlands, he said. "But obviously there are opportunities … for American contractors … [to do] upgrade work," he added.
Russia is the largest seller of military equipment to the continent. The SIPRI report noted that between 2013 and 2017, arms imports from Russia accounted for 27 percent of all deliveries to South America, followed by the United States with 15 percent and France with nearly 10 percent.
John Schaus, a fellow at the Center for Strategic and International Studies' international security program, said Latin American nations are interested in buying U.S. equipment because they are highly competitive in terms of quality, support and lifecycle cost.
However, "the challenge for U.S. offerings in the region is that sometimes the upfront cost is higher relative to other countries' offerings, so even with better training and sustainment options that lower the lifecycle cost, it is a difficult … [justification] for countries whose process focuses solely on the upfront cost," he said.
Brad Curran, an aerospace and defense analyst at Frost & Sullivan, said Latin American countries tend to favor French and Israeli equipment.
"The French and the Israelis, as far as foreign companies [go], are there in force," he said.
Both countries have made technology transfer a key part of their deals with Latin America, he added.
"If they can get good gear from the French and the Israelis for much less, … get the technology transfer … and get the stuff built within their own countries, or at least partially built in their own countries, they're going to do that," Curran said.
Ostrove noted that many nations that lean more on the left side of the political spectrum, such as Venezuela, Ecuador and Cuba, tend to align themselves closely with Russia.
China has a small presence in the region and offers countries low-price equipment, he said.
One way U.S. companies can entice Latin American countries is by building offices there, he said.
"When a government invests in equipment, they want to see some of that money coming back into their country," he said. "A lot of the times, if they are buying something, they want to have local assembly for at least part of it, or they want to have some sort of technological transfer involved."
This is something that is becoming increasingly more important as nations build up their own indigenous defense industrial bases, he added.
Brazil has the largest one in the region, he noted. "Brazil is actually able to manufacture most of what they purchase," he said.
Latin American countries do favor some U.S. equipment such as Black Hawk helicopters, Humvees and C-130s, Ostrove noted.
Governments in the region are beginning to invest more in intelligence, surveillance and reconnaissance assets, he said. Some countries are experimenting with small unmanned aerial vehicles, and there have been acquisitions of smaller ISR equipment such as night-vision goggles. Additionally, some nations, such as Argentina, have been updating their radar systems.
However, for the time being, there is not much emphasis on larger, more expensive ISR systems, he said.
One important aspect of Latin American defense spending is that much of it goes toward personnel costs and not toward procurement, Ostrove said.
"Salaries make up a really large portion of their overall defense spending — it can be anywhere between 60 and 80 percent depending on the country," he said. "A lot of their focus is on having well-paid, well-trained soldiers rather than necessarily having the most advanced equipment."
Nations in the region have emphasized training opportunities among themselves and with allies such as the United States in order to combat international criminal organizations, he said.
More stories from our International Arms Market Roundup


Part 1: Crime Threat Driving Latin American Defense Spending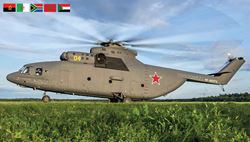 Part 2: Despite Slumping Defense Sales, Opportunities Abound in Africa


Part 3: Industrial Concerns Shaping Asia-Pacific Arms Market


Part 4: Russia, Trump Driving European Arms Purchases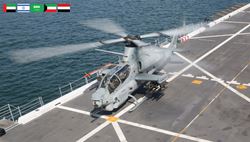 Part 5: Middle East Arms Imports Expected to Remain Robust
Topics: Global Defense Market, International, Air Power