Industry Team Takes First Place in ThunderDrone Competition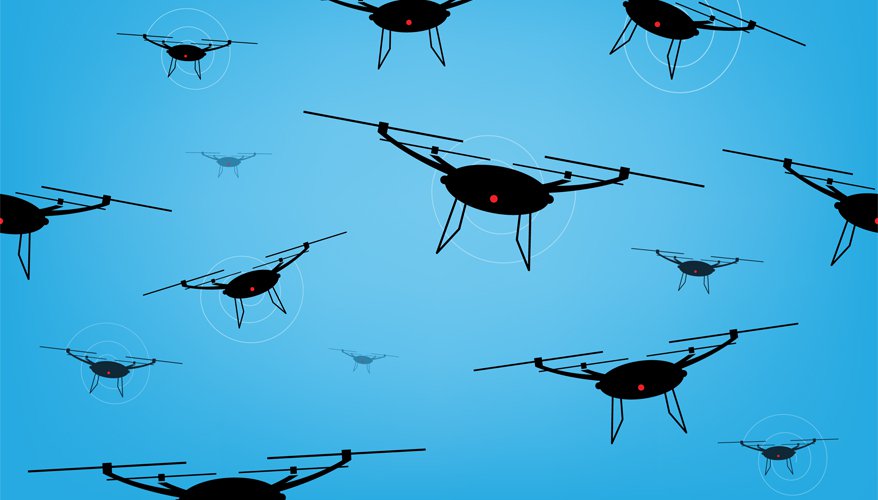 Photo: Getty
A team of four companies recently achieved victory in a contest organized by Special Operations Command to explore ways to counter enemy unmanned aerial systems.
Adversaries such as ISIS have been employing the technology extensively on the battlefield, raising alarm bells among Pentagon officials. For the past six months, SOCOM and other government partners have been leading an initiative looking at off-the-shelf solutions for thwarting enemy drones.
The effort, known as ThunderDrone, was sponsored by the Defense Department's Strategic Capabilities Office, the Air Force and Special Operations Command's SOFWERX office. It concluded in mid-June, with the winning system stemming from an industry partnership that formed over the course of the project.
"Game of Drones," the third and final rapid prototyping event for the ThunderDrone effort, took place June 18-20 at Nellis Air Force Base, Nevada. A variety of companies presented their counter-UAS products in an outdoor demonstration for the chance to win prize money and expose their technologies to a wide range of military operators and other government users.
The winning team consisted of: Dedrone, a San Francisco-based airspace security company; Columbus, Ohio-based Battelle; Echodyne Corp., a Bellevue, Washington-based radar system company; and Squarehead Technologies, an Oslo, Norway-based security and surveillance company that focuses on acoustic sensing.
Their integrated system involved Dedrone's "DroneTracker" software, which gathers intelligence from the company's radio frequency sensors, an Echodyne-developed MESA radar and Squarehead's Discovair acoustic sensor, said Phil Pitsky, federal government business development lead at Dedrone. Once the DroneTracker positively identifies a drone, Battelle's DroneDefender, a "non-kinetic" defense system, is automatically triggered to defeat and eliminate the threat.
Government evaluators made it clear early on that industry partnerships were encouraged, Pitsky said. Organizations such as the Joint Improvised-Threat Defeat Organization noted after the first rapid prototyping event in Tampa, Florida, that "no one particular vendor that they had seen to date really brought together the full kill-chain solution," he said.
Team Dedrone formed after that first round, and the group was solidified before the second rapid prototyping event began in April. The integrated system was presented at Fort Bragg, North Carolina. That technology was then down-selected to participate in the Game of Drones.
SOCOM officials previously said about 30 companies participated in the final outdoor demonstration at Nellis Air Force Base. That was pared down from over 100 companies and more than 400 individuals who attended the initial event in Tampa.
The testing portion of Game of Drones was completed by Monday June 18, and Team Dedrone was informed that they were one of the top three competitors less than 24 hours later, Pitsky said. The winners were announced June 22.
The industry partnership allowed each company's technologies to overlap and enhance all of their capabilities to develop a unique system, said Bill Graves, vice president of products at Echodyne.
"A lot of the technology that we put together exists in different forms, in very expensive, very complex forms," he said. "What we really put together was something that was compact, affordable [and] could withstand difficult environments, and we did this in a very quick fashion."
Company executives expressed satisfaction with how SOFWERX, the Strategic Capabilities Office and the Air Force jointly ran the ThunderDrone effort.
SOFWERX "provided us that common goal to work towards, to really put the companies' best efforts forward, to start working on the integration with a realistic goal in mind," Pitsky said. "They really spurred the innovation launch to integrate and rapidly move products forward in a cohesive fashion."
Dan Stamm, counter-UAS program manager at Battelle, said prior participation in government-sponsored tests and demonstrations had left him "mildly pessimistic" when the ThunderDrone announcement was made.
"There have been competitions in the past that were conducted in the counter-UAS space, some we participated in, and some we rightfully declined to participate in because they were conducted poorly, they were in a disorganized fashion, or they were conducted without a clear set of metrics or success criteria that made it predictable as to what a competitor should be doing in order to win," he said.
But as the ThunderDrone process transitioned from the first rapid prototyping event to the second, "I was very pleasantly surprised. … All of that seemed to be very different with SOFWERX running the show," he added.
Stamm noted that the nature of SOFWERX to function as an intermediary between businesses and Special Operations Command allowed the office to "alleviate some of that burdensome structure and rigor to iterate something that can move faster and can create more open communication between all of the necessary parties involved."
Alex Morrow, technical director for Battelle's counter-UAS programs, said the effort's organizers were conscious of the time and cost that companies must pay to attend these types of events.
"SOFWERX really kind of honed what they were doing so that they didn't waste our time as much," he said. By the third rapid prototyping event, "our downtime was extremely minimized, and we were able to get our test done, get what we needed done and then get off the range and go do other work," he added.
Government testing cycles can last for long periods of time, and companies don't always get the chance to receive the data used to evaluate their products' performance or understand how that information will be used in the future, Pitsky said.
"Within a six-month period to really go through a large amount of companies and be down-selected a couple of times and be told where you stand amongst your peers is, to me, what's very refreshing and rewarding" about the ThunderDrone initiative, he added.
SOCOM officials have not yet responded to a request for comment. Acquisition officials have previously told National Defense that winning the top prize for the ThunderDrone effort does not necessarily mean the command will procure the product.
Still, the Dedrone team has already received interest in its integrated system from the Defense Department and international organizations, Morrow said.
The companies plan to continue to work together in the future, Pitsky said.
"We had plenty of engagement with operators and end users and other folks. … [The system] has wide applicability to not just federal and DoD space but to other markets as well," he added.
It remains to be seen whether U.S. military organizations will launch new rapid prototyping events similar to ThunderDrone, but the broader testing community could benefit from lessons learned throughout the process, Pitsky noted.
"There are probably some best practices that could have wide applicability to other government testing cycles and events as they move forward — bringing in the operator community, doing these rapid sprints of integration instead of a long duration of development cycles," he said.