NDIA PERSPECTIVE DEFENSE DEPARTMENT
Industry Conferences More Valuable Than Ever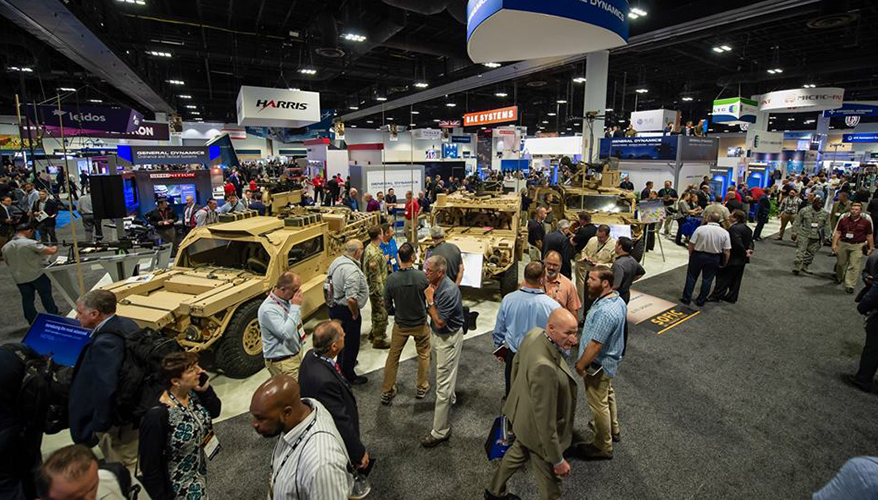 2018 Special Operations Forces Industry Conference
Photo: NDIA
As the National Defense Industrial Association's president and CEO, I'm sometimes asked about the purpose and value of our conferences, meetings and events. Everything NDIA does is focused on warfighter support so we design our events to act as a catalyst for government, industry and academia collaboration to solve our nation's toughest defense challenges.
Webster's defines a catalyst as "an agent that provokes or speeds significant change or action." Close to 150 times each year, NDIA events act as a catalyst for industry-government-academia interaction, providing legal and ethical forums for government and industry to effectively collaborate to solve America's toughest security challenges. From large conventions to smaller, more focused meetings and conferences, NDIA events convene experts in a cost-effective manner that spurs outcomes supporting the strength, resiliency and capacity of the entire defense industrial base and its workforce.
The Defense Department acknowledged the value and benefits of industry association events in the deputy secretary of defense's "Engaging with Industry" March memo.
"Our National Defense Strategy directs our intentional engagement with industry to harness and protect the National Security Innovation Base as well as modernize key capabilities," it stated.
Army leadership, embracing this strategy, created the new Futures Command to reimagine and reinvigorate Army acquisition. To rapidly access emerging, innovative technologies, the new command will need to leverage meetings and conferences to quickly survey a wide landscape of industry products and capabilities to determine the best options for tackling the Army's highest acquisition priorities. NDIA creates optimal conditions for successful problem solving in an ethical environment, overcoming many of the constraints and restraints inherent in the department's current acquisition processes.
In their article, "Failures of Imagination: The Military's Biggest Acquisition Challenge," Jarrett Lane and Michelle Johnson highlight the government's unhelpful tactic of "internally engineering solutions." By specifying a solution instead of telling industry the desired outcome, the Defense Department ends up with capabilities that are "unimaginative, poorly conceived, or simply obsolete." Lane and Johnson recommend DoD focus less on internally engineering solutions and more on understanding problems, minimizing unnecessary bureaucratic requirements, and opening the doors for competition from industry to suggest new solutions.
NDIA's largest meetings and conferences provide opportunities to assemble a diverse array of defense companies and government representatives in a single location to encourage idea generation, innovation, networking and business development. Military and government leaders can share current and potential challenges with industry experts and drive the discussion about solutions.
"NDIA events help create a more level playing field and act as a catalyst for competition leading to innovation."
These experts can discuss potential solutions and can also display and demonstrate potential solutions alongside their partners and competitors in exhibit halls. Further, NDIA offers options for large and small businesses to compete, as well as pursue partnerships and teaming opportunities. By creating forums for interaction, the association offers small businesses access to government representatives and the opportunity to understand emerging requirements at the same time as the largest defense companies.
NDIA events help create a more level playing field and act as a catalyst for competition leading to innovation. As the Defense Department looks to streamline acquisition and deliver innovative capabilities and processes to warfighters at the speed of technological change, leveraging conventions and trade shows offers a smart strategy for success.
Of course, government attendees need to do homework to maximize these opportunities. Program managers, contracting professionals and acquisition experts need to think about and understand their existing and emerging desired outcomes and goals. Some conferences, such as the Interservice/Industry Training, Simulation and Education Conference and the Special Operations Forces Industry Conference, include presentations on warfighter challenges, which help industry tailor services and material solutions, as well as panels and scholarly paper presentations to discuss cutting edge advances in equipment, information technology and processes.
With a solid understanding of warfighter requirements, government representatives can build a strategy to take advantage of all opportunities. An effective strategy must include attending meetings, conferences and events to effectively explain and define those requirements to a broad range of potential partners, and experience companies' existing capabilities and emerging technologies that will allow government to procure and deliver the best possible support to warfighters while delivering value to taxpayers.
Eliminating prescriptive requirements and allowing industry to use their diversity and imagination to help solve complex challenges allows the Defense Department to leverage American imagination and innovation, including small business innovation. With the predictability of a two-year budget deal and agreement on the need for change, stakeholders across the defense enterprise should maximize their participation in industry events to take advantage of current, but potentially temporary, opportunities for collaboration and breakthroughs. Through its meeting, conference and event portfolio, NDIA catalyzes government-industry interactions, increasing the rate of interactions and driving solutions, creating wins for all stakeholders.
Retired Air Force Gen. Hawk Carlisle is president and CEO of NDIA.
Topics: Defense Department, Defense Innovation, Industrial Base