Pentagon Set to Boost Spending on High-Tech Armaments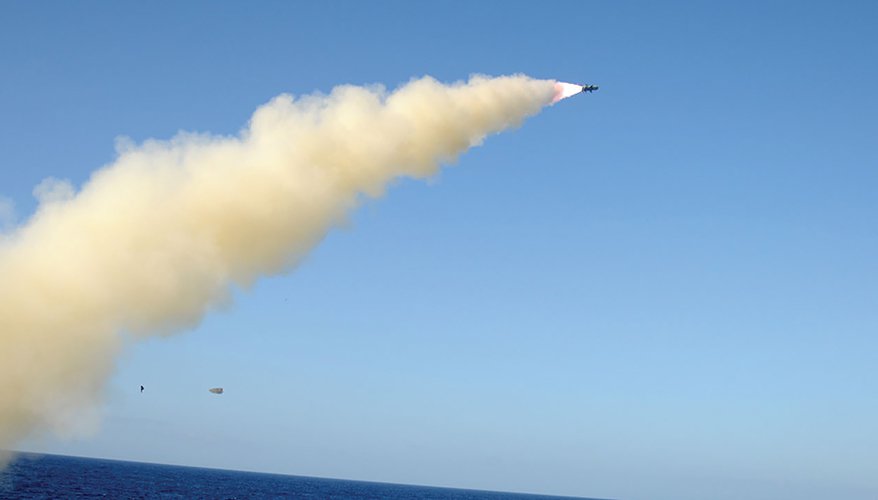 Harpoon anti-ship missile
Photo: Navy
The U.S. military is looking to enhance the lethality of its weapons as it prepares for high-end warfare against advanced adversaries. A wide range of modernization needs includes everything from small arms all the way up to long-range precision missiles.
The fiscal year 2018 omnibus spending bill passed by Congress included $16.2 billion for munitions, about $1.9 billion above the president's budget request. In fiscal year 2019, the Defense Department plans to spend more than $20 billion on the technology.
The Pentagon's push to enhance its armament systems has support from lawmakers. The Senate Armed Services Committee's version of the 2019 National Defense Authorization Act calls for increasing procurement of advanced munitions.
The bill "continues the work of the department to maximize as many munitions production lines as possible — particularly those specific to the high-end fight," according to the committee's summary of the legislation. That includes the long-range anti-ship missile, joint air-to-surface standoff missile extended range, Harpoon anti-ship missile and MK-48 torpedo.
The U.S. military must replenish its weapons stockpiles that have been expended in places like Iraq, Syria and Afghanistan, while bolstering its arsenal for another potential conflict against peer competitors like China and Russia, noted Retired Lt. Gen. David Halverson, chairman and CEO of Cypress International.
"We're spending a lot on munitions because if you may have to go to war … you're going to use a lot," he said at the National Defense Industrial Association's Armament Systems Forum in Indianapolis. "How you get more lethality and more range and capacity to allow our systems to have overmatch over other systems — that's really important and that's where the money is going."
Anthony Sebasto, executive director of the enterprise and systems engineering center at the Army's Armament Research, Development and Engineering Center, said opportunities abound for industry as the Pentagon moves to beef up its armaments.
"For everybody in this room that's involved in the lethality business, whether you're guns, whether you're missiles, whether you're directed energy … I think it's fair to say all of you are the right people at the right time to come together" to provide new capabilities, he said at the forum.
Sebasto's slide presentation identified some of the top modernization needs: higher pressure/lower wear weapons technologies across all platforms; extended range projectile technologies; novel warhead materials; power sources for indirect fire precision munitions; artificial intelligence-enabled weapon fire control; advanced small caliber ammunition; drone defeat munitions; lightweight, high-strength materials for guns and mounts; and novel recoil mitigation approaches to facilitate lethality enhancement on lighter manned and unmanned platforms.
On the short-range end of the weapons spectrum, the Army is pursuing the next-generation squad automatic rifle, also known as the NGSAR, to replace the legacy M249 squad automatic weapon. Current plans call for it to be fielded in fiscal year 2022.
Contracts for engineering and manufacturing development are expected to be awarded in late fiscal year 2019. The new weapon is expected to reach Milestone C and enter production in fiscal year 2022, Lt. Col. Loyd Beal III, product manager for crew served weapons in program executive office soldier, told National Defense.
Sergio Aponte, product officer for the next-gen squad automatic rifle, said officials want to see technology advances in a number of areas to create a more lethal weapon system.
"We're looking at new ammunition," he said. "That's number one." Officials are evaluating different materials for those rounds, he noted.
New barrel production processes and materials, recoil mitigation, suppression and signature reduction capabilities are also sought, Aponte said.
"Those materials, processes and new innovations that we're looking for from you are really critical in order to meet this timeline that we're talking about," he told members of industry.
The Army also plans to acquire a next-generation squad carbine. That is expected to be fielded 18 to 24 months after the NGSAR, Beal said.
"The automatic rifle [program details] will get set, and then you will see the carbine come up fast and furious in terms of the requirement, in terms of our approach, in terms of the acquisition strategy and those types of things," he said.
Meanwhile, Special Operations Command is planning to release solicitations next year for a new lightweight machine gun and assault machine gun that are expected to give warfighters expanded capability, said Lt. Col. Mark Owens, program manager for ammunition and weapons at program executive office SOF warrior.
"We're not looking for the same barrel technology in this body of weapons that we have seen in the last 50 years of machine guns," he said during a panel discussion at NDIA's annual Special Operations Forces Industry Conference. "We're looking for a barrel that has higher endurance, higher operational ability, greater availability for sustained fires."
Requests for proposals for the weapons are slated for the second quarter of fiscal year 2019 with contract awards planned for the fourth quarter of fiscal year 2019.
For ground combat vehicles, the Army aims to enhance the lethality of cannons and other weapons that could be installed on the platforms.
"The era of the dumb bullets is over," said Col. Hector Gonzalez, project manager for maneuver ammunition systems within program executive office ammunition.
"We are … looking for multipurpose, programmable, multimode, fully integrated ammunition solutions" that are in sync with the weapon, fire control unit, programing unit and platform, he said. "I challenge industry to think about it that way as well as we receive your proposals for future developmental efforts."

M249 squad automatic weapon (Defense Dept.)
Tom Coradeschi, director of engineering at PM-MAS, said user requirements have already been developed for advanced capabilities.
"What we're starting to see when you look at these schedule charts here, is those requirements transitioning into program dollars to actually go off and execute," he said.
"There's a whole bunch of programs there that are going to start EMD, no kidding, next year," he added. "My message to all of you all in industry is seek that opportunity. We are looking for new ideas, we are looking for new capabilities."
The U.S. military also wants "smarter" bombs.
The Air Force aims to replace single, large, fixed-output munitions with smaller, more advanced weapons, said David Lambert, chief scientist at the Air Force Research Laboratory's munitions directorate.
Higher efficiency warheads could enable aircraft to carry more weapons without adding weight or sacrificing firepower, he noted.
Additionally, "selectable effects warheads" with adjustable yields and fragmentation patterns could enable a pilot or crew member to tailor the destructive power of bombs just before they are dropped. That would enable U.S. forces to minimize collateral damage, Lambert said.
"Forces want to be able to go downtown and pick your target without taking out the neighborhood," he said.
Warfighters may someday have post-launch control of munitions in case they need to be redirected to avoid friendly fire accidents or other undesired outcomes, he added.
Lt. Col. Jeff LaFleur, materiel leader for integrated strike programs at Special Operations Command, said: If "I finally get the perfect shot and a worst-case scenario happens and a kid runs out … I want to be able to move the weapon and dud it."
James Smith, SOCOM's acquisition executive, also wants a missile that can loiter until a target of opportunity appears.
The command's program executive office for fixed wing now has 22 programs related to precision-guided munitions. Last year it had only six, LaFleur noted.
"We are looking at several different areas to improve our capabilities,"
LaFleur told industry. "Bring us your ideas. We're very interested in placing … a lot of small bets to broaden this portfolio and get capability fast to our warfighters."
Longer-range systems are also on the U.S. military's wish list.
The Army is interested in several types of "deep strike" weapons that could travel up to 500 kilometers and improve long-range precision fires capabilities, the service's No. 1 modernization priority. Those include extended-range cannon artillery, land-based anti-ship missiles and hypersonic weapons, said Michael Holthe, director for lethality in the office of the deputy assistant secretary of the Army for research and technology.
"We traditionally have not invested in there for a while simply because … it was outside of our operational range," he said. "However, looking at the current scenarios and the challenges that we have, the chief and the secretary have really asked us to start looking at … what could we do to … extend that reach."
Hypersonic weapons can travel at a speed of Mach 5 or faster. The technology is the top priority of Undersecretary of Defense for Research and Engineering Michael Griffin.
"We've got $1 billion a year as a country going into that," Lambert said.
In April, Lockheed Martin was awarded an Air Force contract worth up to $928 million for a hypersonic conventional strike weapon prototype. The work includes the design, development, engineering and systems integration for all the elements of an air-launched, standoff missile.
In addition to new offensive weapons, the Defense Department is seeking armaments that could protect its assets from enemy air and missile attacks.
"We made a conscious decision as an Army years ago to really divest from [short-range air defense] capability," Holthe said. "We are making a concerted effort to rebuild that capability, but not just buying back old systems. We're trying to get capability that's available now and we can get out and provide a baseline protection, but then also invest in what is that next level" of technology for air defense for maneuver forces, he added.
John Fiore, technical director at the Naval Surface Warfare Center Dahlgren Division, said the Navy is pursuing a layered defense for its ships that includes electromagnetic railguns, lasers and standard missiles.
Officials are concerned that the fleet will have to contend with salvos of incoming warheads.
"In the scenarios that we're seeing [involving] our near-peer or our peer threats, we will be overwhelmed with missiles, in which case we have got to figure out how we're going to strategically go after this threat," he said.
The Defense Department announced in January that Lockheed Martin had been awarded a $150 million contract to develop, manufacture and deliver two high-energy laser and integrated optical-dazzler with surveillance systems, or HELIOS, for testing on board a DDG 51 flight IIA destroyer in fiscal year 2020.
"We're looking to focus those [directed energy weapons] on taking out the less complex threats so that our expensive missiles are available to go after more complex threats" to Navy ships, Fiore said. Lasers and railguns are meant to supplement, not replace, standard missiles, he noted.
Holthe said: "If anybody tells you that the future is nothing but lasers on the battlefield … they are not very well informed. There is a place for directed energy and there is a place for missiles and there is a place for guns."

— Additional reporting by Vivienne Machi and Yasmin Tadjdeh
Topics: Armaments, Munitions Technology, Strategic Weapons