Geurts: Navy Must Leverage AI for Shipbuilding, Repairs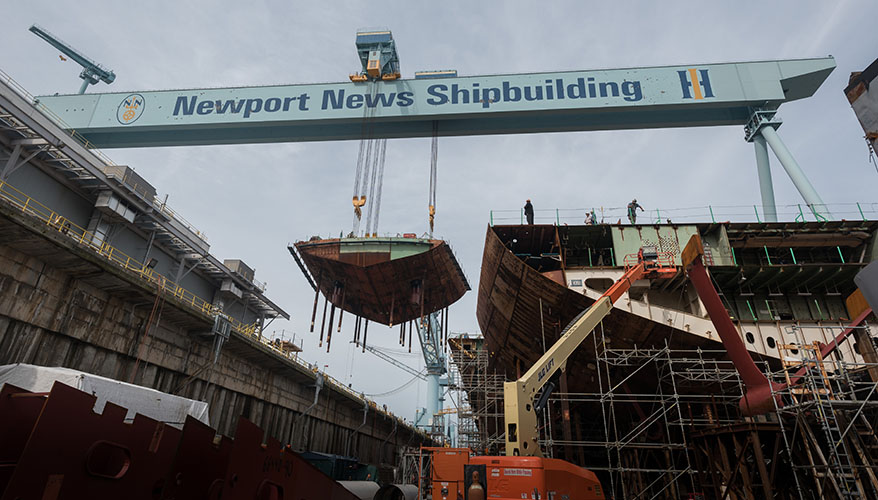 A crane moves the lower stern into place on the nuclear-powered aircraft carrier USS John F. Kennedy in 2017.
Credit: Navy
In order to get to an eventual 355-ship fleet, the Navy must more aggressively apply artificial intelligence and new design techniques to accelerate the time it takes to build and repair vessels, said a top service official June 26.
"We are at an inflection point," said James F. Geurts, assistant secretary of the Navy for research, development and acquisition. The 2018 national defense strategy put an increased focus on the maritime domain and the Navy must "quickly get capability out there," he said.
To that effect, there is a need to "shorten the design cycle and then use advanced technology intelligently to really speed up both the construction [of ships] and, most importantly, the training of the [shipbuilding] workforce," he said during remarks at the Defense One Tech Summit in Washington, D.C.
There are a number of technologies that can fundamentally shift the cost curve of shipbuilding, including artificial intelligence, he said.
"For those in the audience who have AI tools, machine learning tools, new unmanned tools, I would just ask you to think more broadly than just [intelligence, surveillance and reconnaissance requirements] and some of the kind of problems you traditionally" work on, he said.
Utilizing these capabilities in concert with advanced modeling and simulation tools to create digital ships at the onset of a program is one way to better train shipyard workers, Geurts said. On average, 50 percent of the United States' shipbuilding labor force has less than five years of experience, he noted.
"I can wait 25 years until they have 30 years of experience or I can find ways to accelerate that training," he said.
Additionally, better leveraging these types of technologies is not capital-intensive and allows for the Navy to build ships more quickly and at less cost, he said.
"There's a large opportunity space for folks to help … who have not traditionally been able to get into that market, which tends to be sweat, muscle and a lot of paper," he said.
Aircraft carriers typically take 30 million to 40 million man-hours of labor to construct, Geurts said. But the Navy is already using new technological approaches that have allowed it to reduce man-hours by 19 percent on the construction of the USS John F. Kennedy, the second Ford-class aircraft carrier, he added.
The same technology can be applied to ship repairs, he said.
"Right now, we're averaging on the surface fleet … 100 major ship repairs a year," he said. "If we go to 355 ships, we're going to have even more to repair."
The service must take advantage of these high-tech approaches to meet its force level goals, Geurts noted.
"If we can't solve and drive fundamental cost out of these ships over the long term, both in construction and repair, we're not going to be able to achieve the national defense strategy," he said.
Geurts — who formerly led acquisition for U.S. Special Operations Command — said that when it comes to putting technology into the hands of sailors and Marines, the Navy needs to foster closer relationships between end users, buyers and suppliers.
"A lot of my time at SOCOM [was spent on] shrinking that distance down. The trick I think now is how do we breed that same culture on something as large as the Department of the Navy," he said.
Acquisition speed is a competitive advantage, but that doesn't mean that everything should be rushed through the pipeline, he noted.
"Some things you want to take your time with," he said. "When we're building a submarine, we want to be very thoughtful on the structure [because] it's going to be around for 30, 40, 50 years."
However, the combat systems on a ship could change on a much more rapid cycle, he said. "How you build the structure may not be how you build a combat system, and it's certainly not how you want to build the algorithm that's riding on a combat system," he added.
Topics: Submarines, Surface Ships, Shipbuilding, Simulation Modeling Wargaming and Training, Emerging Technologies