Boeing Looks to Put KC-46 Tanker Woes Behind It (UPDATED)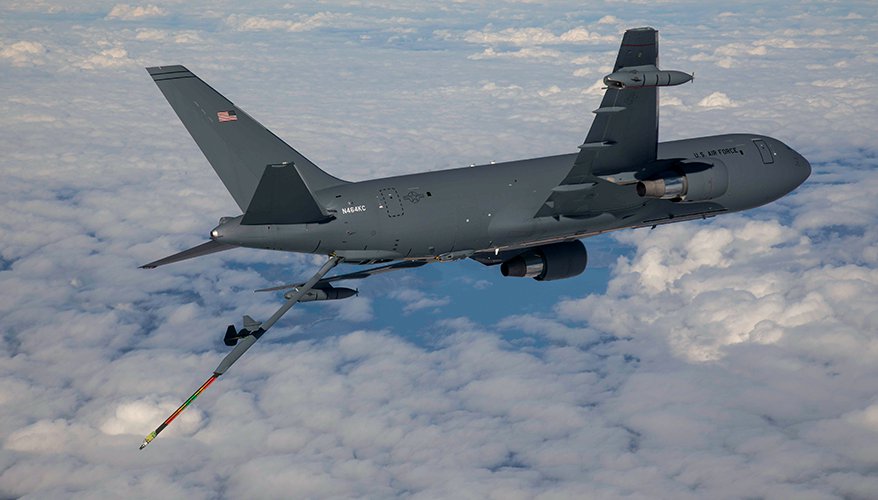 KC-46A
Photo: Air Force
The Boeing Co. is predicting it will turn a corner this year on the long-delayed KC-46 Pegasus aerial refueling tanker program after a pair of high-profile schedule slippages.
The effort — one of the Air Force's top three modernization priorities — is worth an estimated $44 billion. A total of 179 aircraft are expected to be fielded to replace a third of the service's legacy KC-135 aerial refueling fleet. Boeing won the fixed-price incentive contract in February 2011 after successfully protesting a previous award to Airbus.
Earlier this year, the company faced criticism from government officials and watchdogs who said Boeing was unlikely to meet its fall deadline to deliver the first 18 fully-capable aircraft. The program already missed its original delivery date of August 2017.
Testifying before the House Armed Services Committee in March, Secretary of the Air Force Heather Wilson said Boeing had been "overly optimistic in all of their schedule reports."
She noted that Undersecretary of the Air Force Matthew P. Donovan had met with executives at the company's Seattle facility "for a deep dive with Boeing and we have asked them to put their A-Team on this to get the problems fixed and get the aircraft to the Air Force," she said.
In June, the Air Force announced that it had reached a schedule agreement with Boeing.
"As a result of months of collaboration, the Air Force and Boeing KC-46A teams have reached an agreed joint program schedule to get to the first 18 aircraft deliveries. This includes the expectation the first KC-46A aircraft acceptance and delivery will occur in October 2018, with the remaining 17 aircraft delivered by April 2019," Donovan said in a statement.
While the program is nearly complete, significant work remains, he said. "The Air Force is looking forward to KC-46A first delivery and will continue to work with Boeing on opportunities to expedite the program."
The Government Accountability Office warned in March that the program was likely to face major delays unless risks were mitigated.
Delivery of the first 18 fully-capable aircraft — along with booms and centerline drogue systems — would likely be delayed from October 2018 to May 2019, GAO said in the report titled, "KC-46 Tanker Modernization: Program Cost Is Stable, but Schedule May Be Further Delayed."
The government watchdog also pointed out a critical deficiency related to the performance of the tanker's aerial refueling boom.
"Analysis of boom aerial refueling testing to date showed a significant number of instances where the boom nozzle contacted the receiver aircraft outside the refueling receptacle," the report said. "In many of those instances, the aerial refueling operators were unaware that those contacts had occurred. Boom nozzle contact outside the receptacle can damage antennae or other nearby structures," it added.
The GAO noted that Boeing is working to resolve this and other issues by: updating test aircraft to the correct configuration to complete remaining tests; completing flight tests at a pace that is almost double its monthly average; updating test plans to reflect a more realistic schedule for certifying aircraft to be refueled by a KC-46; retrofitting production aircraft to their final configuration for delivery; and fixing a critical deficiency to keep the boom from contacting receiver aircraft outside the refueling receptacle.
With Boeing working to fix these issues, analysts have said that the program has finally turned the corner.
Richard Aboulafia, vice president of analysis at the Teal Group, a Fairfax, Virginia-based defense and aerospace market analysis firm, said the company has built most of the first batch of systems and is implementing necessary fixes.
"From what I've heard, the situation is improving," he said.
Todd Harrison, director of defense budget analysis and the director of the aerospace security project at the Center for Strategic and International Studies, a Washington, D.C.-based think tank, also took a positive view.
"The program is actually stabilizing," he said. "I anticipate that it will be turning the corner pretty soon. You know, we've seen delays. But I think they've worked through a lot of the technical issues that they've had and they're getting close to getting into a good pace for deliveries."
Mike Hafer, KC-46 global sales and marketing manager at Boeing, said delivering tankers to the Air Force is the company's top priority. All 34 of the program's low-rate initial production aircraft are in the build phase.
"The production system is healthy and we're continuing to build aircraft on pace for getting the KC-46's game-changing capability to the USAF as soon as possible," he said.
Hafer acknowledged the program is challenging but noted that Boeing has not discovered any new technical risks and its team continues to resolve issues as they arise.
The program — which requires certification from both the military and the Federal Aviation Administration — completed all of the required supplemental type certificate flight testing needed in April, he said. The company is currently completing paper work in order to receive the STC award.
"We're just really thrilled to get the last of our flight testing done for the supplemental type certificate, and really now it's down to the FAA dotting the Is, crossing the Ts, getting all that paperwork filed, reviewed and processed so that they can award us that certificate," he said. "That was a major milestone … and of course no job is complete until the paperwork is complete."
Boeing is also working through receiver certification testing with the F-16, KC-135 and C-17 aircraft, he said. Prior to first delivery, Boeing will need to complete a military type certification, receiver certification that ensures it can complete refueling operations with other aircraft and obtain the STC award, he added.
"Progress has been very positive," he said. "We've seen an increase in the test point rate to date and have now completed more than 2,800 successful contacts with receiver aircraft and have flown 3,100-plus test hours during refueling flights with F-16, F/A-18, AV-8B, C-17, KC-10 and KC-46 aircraft."
Hafer noted that the company has had to complete a large amount of testing for the program.
"We have to go to three different types of certifications … and a lot of those have redundant test points to go through," he said. "We were really hoping to test once, capture that data and then have that count for the next type certification. We've been able to do some of that, but not for everything."
That has contributed to the program's schedule delays, he said.
"The one thing that we've done or that we've misjudged was the amount of time to do three full certifications," he said. "We underestimated that. … Nobody has ever fully FAA-certified a full military airplane before, and so we're breaking new ground and we underestimated the time it would take to do it."
Harrison said the certification process was redundant. "In hindsight, the Air Force, Boeing and FAA should have come to an agreement much sooner to try to consolidate some of the certifications that they are doing," he said.
Another issue that contributed to delays, Harrison said, is that when Boeing set out on the tanker program, it was overly optimistic about meeting all of the Air Force's requirements.
"They may have incorrectly thought it would not be that different from what they had already designed and built for … [other] countries," he said. "They eventually came to the realization that, oh no, they're going to have to do a lot more non-recurring engineering than they anticipated and that's going to take longer and cost more."
But despite the issues that Boeing has run into, Harrison said he views the program overall as a success.
"From the Air Force's perspective, it didn't go over budget. Not one penny. All of the overruns were eaten by Boeing," he said. The program was structured as a firm-fixed price contract, meaning that the requirements and price were set in stone at the start.
When it comes to Pentagon acquisitions, officials must make tradeoffs between cost, performance and schedule, he said.
"You always have to sacrifice on one of those three," he said. "In this one, it's coming in at cost because Boeing is eating all of the cost overruns. It's coming in at performance because the Air Force has not backed down on its requirements, which is a positive thing.
"The one thing that they did relax on was schedule," he added. "In the tanker replacement program, you can afford to give a couple of years on schedule, because we already have a fleet that is operating."
Hafer said out of the three elements, schedule delay was the lesser evil. Cost and performance are locked in, so "when something has to give, unfortunately, in this program, that's schedule. That's just kind of the reality of the system," he said.
Harrison said it surprises him that the Air Force doesn't look at the program as more of a success story. "They are just too focused on the delay," he said. "I wouldn't be as upset about it."
Hafer said the company is working closely with the military to ease concerns and has brought many stakeholders — from Air Force officials to House and Senate staffers — to its Seattle facility to see the aircraft.
"A lot of them … [said], 'We thought this situation was far worse than what it actually was,'" he said. "A lot of people come out here concerned and … depart relieved."
Harrison said the KC-46 effort is remarkable because it has weathered years of budget turmoil wrought by the Budget Control Act, sequestration and continuing resolutions. Throughout all of that, the program has largely stayed on track and the Air Force has kept the program under contract without modifications, he said.
"One of the reasons the Air Force was able to keep it on track and hasn't tinkered with the program is because of this fixed-price contract that they're in," he said. "That created an incentive for the Air Force to not mess with it, because if the Air Force goes in and tries to change requirements they're going to have to reopen that contract and renegotiate and then Boeing will have an opportunity to recoup some of the cost overruns."
Despite Boeing turning a corner, however, Aboulafia said the delays associated with the program may hurt the company as it pursues other high-profile Pentagon opportunities, such as the T-X next-generation jet trainer and the MQ-25 Stingray unmanned aerial tanker.
"It's unlikely … [that this] will stop the Air Force from counting this against them with T-X, but it won't be a deal-killer," he said.
However, Harrison said that may not be the case.
"Each solicitation should be judged on its own merits based on what the company has bid and what their offering is," he said. Therefore, "I don't see how it should impact these other things, but we're all human and so it could indirectly have some influence on how people perceive Boeing and their confidence in Boeing to deliver on time."
Correction: A previous version of this story contained a typo which inaccurately identified the type of aircraft that the KC-46 is intended to replace. This story has been updated to reflect that the KC-46 is intended to replace part of the Air Force's legacy KC-135 aerial refueling fleet.
Topics: Air Force News, Air Power, Defense Department