Key Lawmaker Expects Congress to Begin Creating New Space Force (UPDATED)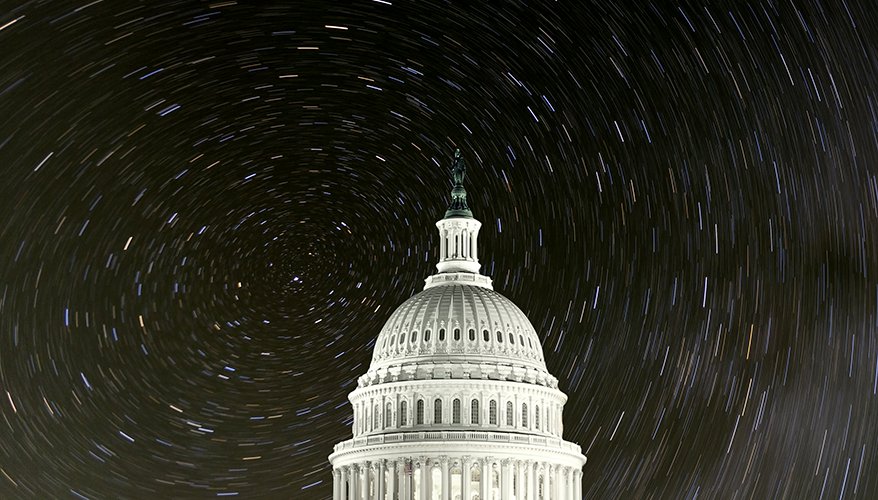 Art: iStock
A leader of a powerful congressional committee expects legislators to begin developing a framework in the coming months for the new Space Force that President Donald Trump wants to establish.

On June 18, the commander-in-chief directed the Defense Department to start setting up a Space Force that would be "separate but equal" to the Air Force and the other services.

Rep. Mike Rogers, R-Ala., a member of the House Armed Services Committee, voiced support for the initiative June 21 during a breakfast on Capitol Hill hosted by the Mitchell Institute for Aerospace Studies.

Rogers is chairman of the HASC subcommittee on strategic forces, which has oversight of the Pentagon's space efforts. He and other House members had previously proposed creating a Space Corps that would be a separate organization within the Department of the Air Force, which manages the vast majority of the military's space programs.

Trump's proposal would go even further by completely breaking off the space enterprise from the Air Force's portfolio.

"The president decided just to go straight there and I'm fine with that," Rogers said.

Rogers noted that last year's National Defense Authorization Act directed Pentagon leadership to deliver two reports to Congress on the implications of setting up a Space Corps. The first, due in August, will include an organizational assessment and address whether a new organization is needed. The second, due in December, is supposed to address what it would look like, how it would be implemented and how much it would cost, he said.

The reports will likely play a major role in shaping how the creation of a new Space Force plays out, he said.

"I'm pretty sure [the August report is] going to say we think we need to go past a Space Corps and have a Space Force, because the commander-in-chief has just said that's what he wants," Rogers said.

"Then I expect we will proceed in the Congress at starting to prepare the statutory work for the next NDAA to implement this," he added. "When the December report comes in … we will take that as additional information to employ as we fashion the next year's NDAA, which I believe will then enact the statutory framework to set up the segregated service."

Rogers has been a vocal critic of the Air Force's management of its space enterprise, arguing that it is not agile enough to keep pace with the growing threat posed by China and Russia, which are investing heavily in their own space and counter-space capabilities.

Air Force leaders have strongly opposed the idea of creating a Space Corps, much less a completely separate Space Force.

Service officials who say space acquisition is not broken are "in denial," Rogers said. "Thankfully the man that really matters in all of this — President Trump — seems to be on board [with shaking up the system], so I'm pretty confident this is going to work itself out."

Analysts have noted that Trump can't unilaterally create a Space Force, but must have support from Congress. The HASC and the Senate Armed Services Committee would need to sign off on the reorganization and provide a legislative framework for it.

Todd Harrison, director of the aerospace security project at the Center for Strategic and International Studies, said Trump's directive could silence opposition from the Air Force and increase the odds that lawmakers would give the green light for creating a separate space branch for the military.

The cost associated with reorganizing the Defense Department to establish a Space Force is unclear at this point, but Rogers said he doesn't anticipate a hefty price tag. Preexisting organizations and infrastructure would be folded into the new branch, he noted.

"I don't see it being significantly more expensive than what we're doing now," he said. "It's going to add [some] expense because now you're going to have a separate secretary and complete service structure, but other than that we're just taking the existing personnel — both military and civilian — that are working on space and segregating them, but also segregating their money and their mission and developing a culture that's going to be focused on space dominance."

Trump's Space Force announcement, which took much of Washington officialdom by surprise, did not spell out how broad the reorganization would be. While the bulk of military space projects currently fall under the purview of the Air Force, the Army and Navy also have space-related assets, as does the intelligence community.

In a June 18 statement, chief Pentagon spokesperson Dana White said the department would need to take time to consider potential changes.

"We understand the president's guidance," she said. "Our Policy Board will begin working on this issue, which has implications for intelligence operations for the Air Force, Army, Marines and Navy. Working with Congress, this will be a deliberate process with a great deal of input from multiple stakeholders."
Lt. Gen. Arnold Bunch, military deputy to the assistant secretary of the Air Force for acquisitions, technology and logistics, was asked if he was concerned that the creation of a Space Force might be disruptive to the acquisition community.
"I'm not going to speculate on anything," he said during a meeting with reporters at the Pentagon June 21. "We'll go through the process and we'll work with everybody until we decide how we're going to go forward."
Bunch said the service's space acquisition improvement initiatives, such as the creation of a new Space Rapid Capabilities Office, will continue to move forward for the time being.
"We are executing exactly the way that we've been executing to try to speed up acquisition in space," he said. "We had already made commitments that we were going to try to speed things up. We're going to continue to do those things. Nothing in that aspect has changed [since Trump's announcement], and we will let the deliberative process play out. We'll be a contributor to it, but we're going to keep running the way we're going until we get told otherwise."
Rogers predicted that the Air Force, Army and Navy space enterprises would be folded into the new Space Force, but the intelligence community — including the National Reconnaissance Office and the National Geospatial-Intelligence Agency — and the Missile Defense Agency would not see their enterprises moved into the new organization.

"We'll see," he said. "I didn't know the president was going to say what he said on Monday [when he made the Space Force announcement], so he may have much bigger designs than mine."
Update: This story has been updated to include comments from Lt. Gen. Arnold Bunch.
Topics: Air Force News, Space