ROBOTICS AND AUTONOMOUS SYSTEMS
Contract Imminent for Unmanned Carrier-Based Tanker Program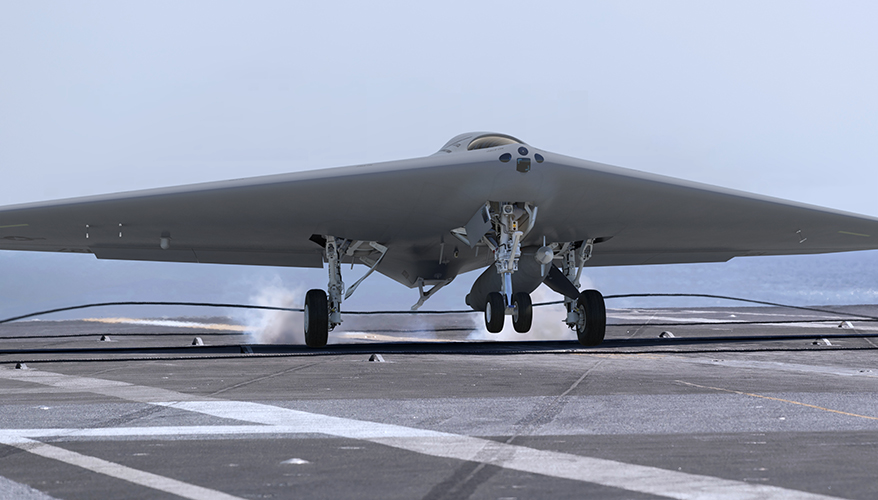 Photo: Lockheed Martin
A program that could revolutionize maritime warfare is about to enter its next phase as the Navy moves to launch unmanned tankers off of aircraft carriers within the next decade.
Once fielded, the MQ-25 Stingray will provide the service with a "robust, organic refueling capability to make better use of Navy combat strike fighters and extend the range of the carrier air wing with an increased fuel offload capability," Capt. Chad Reed, unmanned carrier aviation program manager told National Defense in an email.
Naval Air Systems Command is expected to award a fixed-price engineering, manufacturing and development contract to one of three competitors for the program — Boeing, General Atomics Aeronautical Systems or Lockheed Martin — by the end of this summer, less than a year after proposals were submitted.
The Navy plans to buy 76 aircraft, including four EMD systems to be procured across the service's five-year budget plan. Initial operating capability is currently expected in the mid-2020s.
The Stingray program comes on the heels of an earlier initiative to develop the unmanned carrier-launched airborne surveillance and strike, or UCLASS aircraft. That project was restructured in 2016 as stakeholders failed to agree on mission requirements. The Navy then settled on the current unmanned carrier aviation concept and dubbed the program MQ-25.
Boeing is offering a clean-sheet design that leverages the research and development that went into the UCLASS program, said Donald "BD" Gaddis, MQ-25 director at the company.
The prototype is ready to fly, company officials said at a recent media event at Boeing's facilities in St. Louis. It is designed to carry a 330-gallon fuel tank and a Cobham air refueling pod. Boeing has selected Rolls Royce's AE 3007 engine for the airplane, which is already installed on the Air Force's RQ-4 Global Hawk and the Navy's MQ-4C Triton unmanned aerial systems, Gaddis said.
Boeing invested its own money into the "T-1" flying prototype to reduce risk up front, he noted. "Normally you're talking about risk reduction for your [low-rate initial production] planes," he said. "We have pushed that whole value equation way, way to the left."
The company began building the airplane in 2012 for its UCLASS proposal, and revealed it in 2014 as part of the preliminary design review stage of the program. Once the requirements morphed, "this prototype was right in the wheelhouse," Gaddis said.
General Atomics opted to go with a clean-sheet design for the MQ-25 that is similar to the company's Avenger developmental unmanned aerial system, said Rob Walker, senior director of marketing for the company.
"MQ-25 requirements are significantly different than UCLASS and we believe that a clean-sheet design makes the most sense," he said in an email. The company capitalized on past lessons learned from its experience as a leading global manufacturer for large unmanned aerial vehicles, including the MQ-1 Predator and the MQ-9 Reaper, Walker noted.
The system will include Pratt & Whitney's PW815 engine. UTC Aerospace Systems will design and build the landing gear, while United Kingdom-based GKN Aerospace's Fokker Technologies will provide the arresting hook, according to General Atomics. L3 Technologies will supply the communications systems, while BAE Systems will provide software capabilities including mission planning and cybersecurity. Rockwell Collins will deliver advanced navigation technologies and a new generation of the TruNet ARC-210 airborne radio, and Boeing Autonomous Systems will provide "aviation and autonomous experience."
Lockheed Martin designed a clean-sheet "flying wing" aircraft for the competition.
The company initially tried to derive a platform based on its UCLASS configuration, said Rob Weiss, former vice president and general manager of the company's Skunk Works advanced development programs division. Weiss stepped down as the head of Skunk Works in March in anticipation of his retirement at the end of 2018. Jeff Babione, former executive vice president and general manager for the F-35 program, was named as his successor.
"Frankly, we were not satisfied with what we got," Weiss told reporters at a recent conference in National Harbor, Maryland. After several design attempts with wing-body-tail configurations, the team turned back to the flying wing model from the UCLASS days, this time with "a completely clean-sheet approach," he added.
Lockheed Martin has assembled a supplier team to include Triumph Aerostructures, which will lead the design and manufacturing of the internal structure, and United Technologies Aerospace Systems, which provided the landing gear for the F-35 and will do the same for the MQ-25. The company's Stingray submission includes General Electric's F404 engine.
Weiss noted that Navy requirements call for the unmanned tanker aircraft to use Raytheon's joint precision approach and landing system, which is currently only installed on Lockheed's joint strike fighter.
Each design offering reflects a different interpretation of the MQ-25 mission concept, but all should meet the Navy's requirements for the program, said Bryan Clark, a senior fellow at the Center for Strategic and Budgetary Assessments in Washington, D.C.
General Atomics' submission is likely to have enhanced payload capacity, he noted. Lockheed Martin's offering, on the other hand, could be more easily adapted for stealthy missions, should the Navy decide over time to transition a number of the aircraft into a strike role.
"There is a trade space that the Navy will have to think about. … The question will be, do you favor just carrying more fuel overall, or do you favor being able to deliver fuel at efficient speeds, or do you favor the potential for being able to do other missions maybe more effectively because you're stealthier by design?" he said.
The Navy is pushing to award a contract more quickly than is typical, said Gaddis, a retired Navy flag officer who served as the program executive officer for tactical airplanes.
"Normally it takes NAVAIR about 18 months to do a source selection like this," he said. "They're going to do it in six months."

Clockwise: General Atomics concept art, Boeing prototype, Lockheed Martin concept art

The program has received strong support from senior Navy officials, including Secretary Richard Spencer, Chief of Naval Operations Adm. John Richardson and Assistant Secretary for Research, Development and Acquisition James Geurts, Clark said.
"They want to get this aircraft out there — one, to address the urgent tanking issue, but just as importantly to get an unmanned aircraft with longer range and endurance and payload capacity out to the fleet so that they can start developing concepts that exploit those capabilities," he said.
The fiscal year 2018 budget included $199 million for the MQ-25 program, with a portion of the amount allocated for activities associated with the development, integration and test of the air control system and carrier segments of the platform. The fiscal year 2019 presidential budget request included nearly $684 million in research, development, testing and evaluation funds, according to Navy budget documents.
The service has identified $3.5 billion in RDT&E funds for the Stingray program through fiscal year 2023, which will almost complete deliveries of the EMD aircraft, Clark said.
But it remains to be seen how the following 72 aircraft will be funded, he noted.
"The Navy is leaving that open right now in their budget documents. … They want to look at what the trade space is when they get to that point," he said. Big-ticket items such as the next-generation Columbia-class nuclear submarine will squeeze the shipbuilding accounts, while the personnel budget will be stressed as the service fills its ranks.
"There's no easy way to go for the money to buy MQ-25s once we complete the initial delivery of the demonstration vehicles," Clark said.
The Navy could potentially find funds within the air wing, he noted. But the service may want to first evaluate the F-35's performance and see the status of a potential sixth-generation replacement for the F/A-18 Super Hornet.
"They've got to figure out, with a finite amount of money for the air wing, which mix of airplanes makes the most sense," he added.
The MQ-25 could change many of the carrier air wing's operating concepts, but it needs to be fielded first, he added.
Once the Navy selects and fields a new aircraft, it will be "a marker moment in naval aviation history," said Peter W. Singer, a senior fellow and strategist at New America, a Washington, D.C.-based think tank, and co-author of the science-based novel Ghost Fleet. The book imagines the United States and China engaged in a high-tech war in the not-too-distant future, and has been widely referenced in Pentagon circles when discussing unmanned and autonomous systems.
"We are talking about a historic moment in putting unmanned systems on aircraft carriers in an operational role," he said.
While the Navy has made it clear that the Stingray is meant for a tanker mission, it's possible the aircraft will assume other roles — such as intelligence, surveillance and reconnaissance, or even strike missions — as the service gains experience with the system, Clark said.
"The Navy's objective here is to get something done quickly and field it out to the fleet, and they see narrowing the scope down to the tanking mission as a way to make that happen more quickly," he said. "I could see the MQ-25 vehicle becoming a truck for lots of different payloads once it gets fielded."
Service officials and industry leaders have refrained from addressing the prospect of an armed MQ-25 down the road, but it is certainly technologically feasible, Singer noted.
"It might be armed one day the same way that other tanker planes have been armed for self-defense," he said. Other pilots are dependent upon the tanker's survival and ability to refuel their aircraft, he added.
The Predator began as an ISR aircraft but later took on a strike role, Clark noted.
If "you field an ISR aircraft, then it's only natural that you're going to want to be able to shoot the things that you find with your surveillance capabilities," he added.
But adding such a requirement to the current proposal would entail more development time, a more complicated acquisition and testing process, and would likely slow down the timeline for the aircraft to reach IOC for the tanking mission, he noted.
Once the MQ-25 is fielded, it could be appealing for other countries to procure as a land-based tanker, Clark noted.
Manned tanker aircraft have a long logistics tail to include personnel, supply chain and maintenance, "whereas if you buy the MQ-25, it's unmanned. You might be able to work out arrangements where your aircraft are all maintained by U.S. suppliers and they fly back to U.S. depots for maintenance," he said. That could lower the overhead cost for a country looking to have its own tanking capability for its tactical aircraft, he added.
Meanwhile, the MQ-25 faces many of the same challenges to achieving initial operating capability on time as most any other Defense Department acquisition program, Singer said.
"You have this irony that it's a historic, new system, but the challenges of deploying it are mostly the same challenges" that hinder other aircraft procurement, he said.
The Navy urgently needs to reduce the wear and tear being put on F/A-18 Super Hornets to support tanking missions today, Clark noted. If the Stingray program were to be delayed for any reason, it would impact the F/A-18 fleet.
"It will exacerbate the delays that the forces incurred with the F-35," he said, noting that the joint strike fighter is already several years behind delivery schedule. "Its delay has caused F/A-18s to have to be used longer than they were originally intended or anticipated to be used."
Topics: Air Force News, Robotics, Robotics and Autonomous Systems, Air Power, Defense Department