Analyst: Burgeoning Weight of Military Ground Vehicles 'Unsustainable'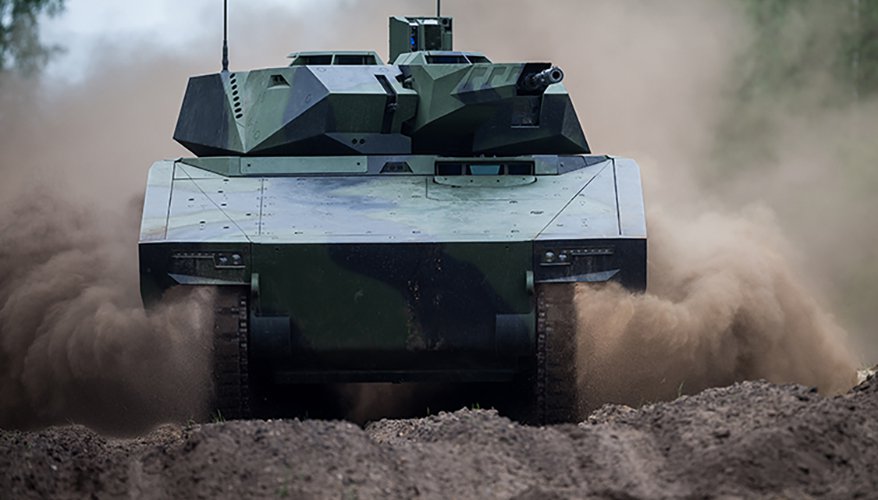 Lynx KF41 combat vehicle
Photo: Rheinmetall
PARIS — Ground combat vehicles around the world are being overburdened with protective gear, sensors and other capabilities, to the detriment of mobility and transportability, said one analyst June 14.

The current trend of vehicle weight increases across the gamut of military combat trucks and tanks is unsustainable, and industry and government leaders need to take heed, said Oscar Widlund, senior analyst for land warfare programs at IHS Jane's at the Eurosatory air and land defense conference outside Paris.

"Weight has increased significantly over the past few years" as a result of continued operations in the Middle East, he said. "Survivability is being eroded as a consequence of the constant pursuit of physical protections, where vehicles are being fitted with more and more armor."

Platform designers and users are focusing too much on passive and reactive armor, internal protection and fire suppression technologies, while ignoring other capabilities that could keep the vehicles' contents safe while reducing the overall weight, he noted.

Non-armor-based solutions like active protection systems and signature management technologies can fill some of these survivability needs, he noted.

Other factors such as power generation requirements, cost and extended service life are driving the global market for military ground vehicles, Widlund said.

Troops are adding more devices to trucks and incorporating features such as air conditioning for operations in warmer climates. As a result, power generation has become a critical component for new vehicles, he noted.

As procurement budgets continue to shrink around the globe, users are prioritizing lower cost over better capability, and production numbers have been slashed, he added. But ground vehicles being developed and fielded today are also expected to remain in service much longer than their predecessors, he noted.

"Extensive room for growth will be required to allow these vehicles to be used for decades to come," he said.

Many nations are indicating a desire to pivot to lighter, more mobile trucks that can be rapidly deployed for future contingency operations, and are capable of being used for a wide scope of missions within a short period of time, Widlund said.

Rheinmetall Defence revealed its next-generation Lynx KF41 combat vehicle at Eurosatory, pitching an agile and adaptable system that can be configured for a variety of roles, including command and control, infantry fighting and armored reconnaissance, according to the company.

The platform features more than 39,000 pounds of reconfigurable payload space as well as open and modular electric, electronic and mechanical architectures, said Ben Hudson, global head of Rheinmetall's vehicle systems division during the platform's unveiling June 12.

Mike Ivy, vice president of international programs and global product support for Oshkosh Defense, said the company is seeing an increased demand for protective systems and greater mobility from customers worldwide.

Fitting with that trend, Oshkosh designed its joint light tactical vehicle to be scalable and capable of supporting a variety of protective kits or weapons systems, he told National Defense.

"In this warfighting environment that our customers face now, protection is always a big deal, [and] mobility is important to most of our customers," he said. The JLTV is currently in low-rate initial production under a U.S. Army contract to replace some of the service's aging Humvees. The U.S. military plans to eventually buy about 55,000 joint light tactical vehicles.
The United Kingdom has announced an intent to procure the truck via a foreign military sale, though the timing of the sale is dependent on a Milestone C decision by the Army, which is slated for the first quarter of 2019, Ivy said.

"We think that as soon as we get to a Milestone C decision, we expect to see orders for the truck," he added.

Global militaries are increasingly looking at procuring families of vehicles that can perform multiple roles and bring savings in operations, maintenance and training costs, Widlund said.

But despite countries expressing an intent to move to more modular, flexible and adaptable vehicles, many Western militaries are displaying a preference for medium- and heavyweight vehicles, he noted.

Platforms designers must also consider the proliferation of unmanned aerial vehicles and the increasing threat they pose to troops in trucks, he said. The Islamic State has used drones to spread propaganda and support military operations. Counter-UAV systems are likely to become more common on military ground vehicles in the coming years, he said.

Global military ground vehicles sales are expected to remain fairly steady over the next 10 years, Widlund said. Analysts forecast the market to be worth about $539 billion, with nearly 453,000 vehicles to be produced during that timeframe.

Armored fighting vehicles take up about half of that market share, and nearly 108,000 vehicles are expected for production, he said. Infantry fighting vehicles and armored personnel carriers remain major sellers, with investment in tanks remaining slightly less popular but nonetheless steady.

Surveillance and reconnaissance trucks and anti-tank vehicles will continue to hold a smaller, but still important spot in the market, with countries expected to spend $15 billion and $9 billion, respectively, on those types of platforms over the next 10 years, Widlund said.

The market for self-propelled artillery platforms is expected to grow more quickly than other ground vehicle segments, he noted. Analysts anticipate a market value of about $49 billion through 2027, with 11,300 units expected within that timeframe. That market value is expected to grow 3.5 percent throughout the period.

Sales of air-and-missile defense vehicles are forecast to grow by 2022 but then decline for the rest of the decade, with an overall compound annual growth rate of -2.7 percent, he added. The anticipated market value is about $40 billion, with 3,400 units expected for production.
The market for logistic support vehicles should remain relatively flat, valued at $80 billion with over 307,000 vehicles currently slated for production, Widlund said.

The United States remains the top buyer of military ground vehicles, and is expected to spend over $101 billion on about 106,000 units through 2027. China is the second largest buyer, and is expected to spend over $75 billion and develop 44,100 trucks in that timeframe. India, Western Europe, Saudi Arabia, Russia and South Korea all remain invested in ground vehicles, Widlund said.
Topics: Tactical Wheeled Vehicles, Land Forces