New Training System Brings Sense of Touch to Virtual Reality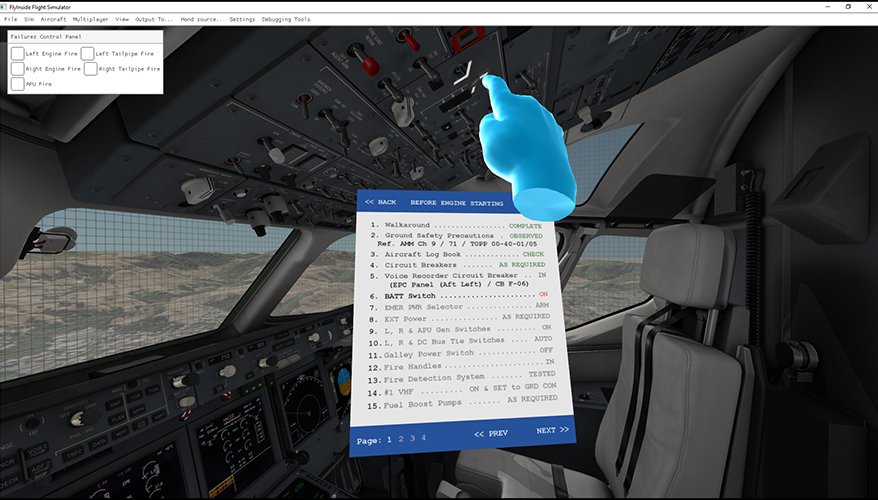 Go Touch VR and FlyInside Inc. have partnered to offer a virtual reality flight training simulator with integrated haptic technology.
Credit: Go Touch VR
PARIS — A partnership between a U.S.-based virtual reality flight simulator firm and a French innovation design company has resulted in a system that allows users to "touch" the flips, switches and knobs that are pushed during a training session.
Lille, France-based startup Go Touch VR and New York-based firm FlyInside Inc. collaborated on a system that uses haptic — or tactile — feedback to help pilots train more quickly. The system was available for demonstrations at the biennial Eurosatory air and land defense conference outside Paris.
The enhanced simulation will allow defense and security aviation personnel — as well as civil aviators — to more quickly gain and retain critical training knowledge, said Laurent Dutronc, FlyInside co-founder. The company provided the flight simulator, the software, the scenario and 3D modeling for the training session, while Go VR Touch contributed its haptic sensor components, he said at the show.
The technology, dubbed VRtouch, uses a device similar to those that read blood pressure that is placed on a user's index finger to follow its movements and replicate the sense of touch when used within virtual environments. This allows the user to improve control during the session, provides a more realistic training simulation, and is flexible and scalable to suit a variety of scenarios, Dutronc said.
"The advantage is that you interact within the cockpit or within any kind of vehicle … [and have] the feel of touching something," he said.
The addition of having something "click" and trigger a tactile sensation when the user's hand is on the correct part in the training simulation helps to reinforce the movements and gestures needed to go through a pilot's checklist, such as pushing, flipping or switching, Dutronc said.
The system can be adapted for pilot training on all types of helicopters and fixed-wing aircraft, as well as ground vehicles, according to Go Touch VR.
The inclusion of haptic technology into virtual reality systems had been on several of FlyInside customers' wishlists, Dutronc noted. "Once they are flying and they want to switch something, they want it to have the realism," he said. "They want to flip it and not have to look and everything. It has to be instinctive."
Go Touch VR was established in March 2017, said Lea Fossati, commercial sales representative for the company. Since then, it has received interest in its haptic technology for use in training systems for the automotive industry, medical schools and other professional sectors, she said.
FlyInside has provided a number of virtual reality training systems to U.S. military customers, to include the Army, Air Force and Special Operations Command, Dutronc said. SOCOM users have been testing the haptic-enabled system since its recent development, he added. "Whatever brings more realism is more interesting for the military," he said. "This brings the touch that really makes you feel that you are in a real situation.
Topics: Modeling and Simulation, International