Army Troops Train for Urban Conflict in Europe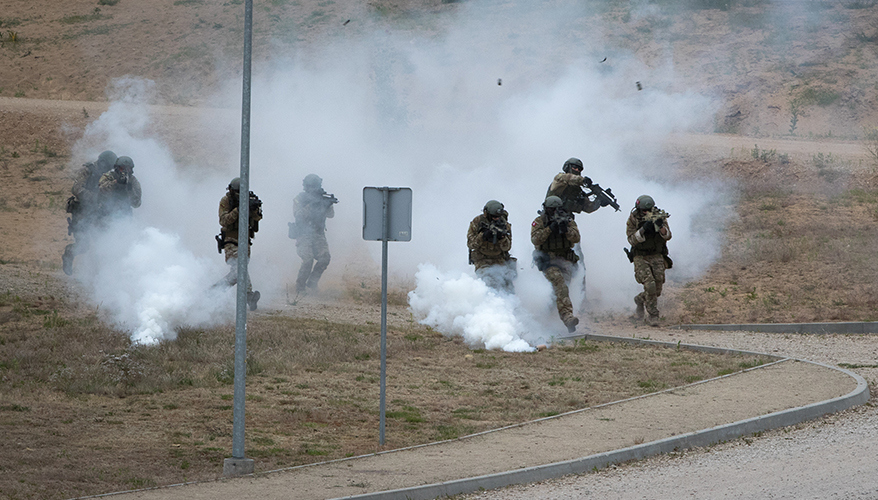 Soldiers belonging to NATO's enhanced forward presence battle groups conduct an assault exercise during Saber Strike 18.
Photo: Army
PARIS — The Army must train and prepare for urban combat in Europe as the possibility of state-on-state warfare reemerges, a top commander said June 14.

The service is "working assiduously" on generating unit and headquarters readiness to fight large-scale conventional combat operations and maintain a strategic advantage on the ground, Lt. Gen. Christopher Cavoli said at the Eurosatory air and land defense conference outside Paris. Cavoli assumed the role of U.S. Army Europe commander in January.
Army troops are also training for a possible conflict in urban environments, he noted.

"It's always preferable to avoid urban fights, and to the extent that we believe we're going to be dragged into one, it changes quite a bit about your organization and it changes quite a bit about the weapon systems you use and the way you use" them, he told reporters.

U.S. Army Europe will train in its own facilities, and also conduct exercises in larger centers, such as the French military's centre d'entrainement aux actions en zone urbaine — or CENZUB — a purpose-built training center in northern France for honing urban warfare skills, Cavoli said. U.S. and allied troops also benefit from continued joint exercises, such as the Exercise Saber Strike 18 taking place June 3-15 across Poland, Lithuania, Latvia and Estonia.
The 2018 National Defense Strategy released in February directed U.S. military leaders to pivot from concentrating on the counterinsurgency fights of the last two decades and to prepare for great power competition with Russia and China.

Moscow continues to act aggressively toward its European neighbors. As the prospect of confronting enemy troops in Europe appears more likely, U.S. Army Europe must examine how to best configure itself to be prepared for rapid deployment should a crisis arise, Cavoli said.

"The question is, can I get my forces, my land power into place quickly enough to achieve the speed that makes us strategically relevant?" he said. "What do we need in place beforehand, [and] how do we set the theater we are going to use?"

Troops in Europe need to ensure that there are sufficient intelligence and signals assets on hand so that commanders have the information they need in order to make decisions. They must also have a robust logistics capability and plan for getting equipment quickly into the field, he noted.

"For air forces, this is easy. For space forces, it is nearly constant. For naval forces, it is easy. For land forces, it is largely a question of deployability or pre-position," he said. "Both of these are extraordinarily expensive propositions."

Heavy equipment transport trucks and rail cars to deliver equipment to the battlefield are in short supply across the NATO alliance, and many areas in Europe have insufficient rail systems, he said.

The United States and its allies must also prepare for the need to destroy "as much of the enemy's force as possible with the minimum economy of force," Cavoli said.

For the last 15 years, troops have honed their skills for counterinsurgency and other low-intensity missions, "but massive destruction was not one of the things we optimized them for," he said. This will require a change of mindset, which in turn affects how the Army selects its weapons and munitions, and how those capabilities are organized into units, he added.

Any future land conflict in Europe will require large forces that can operate across all domains, Cavoli said. "It is no longer possible to arrive with a ground force without support from the air and the sea, and it is no longer possible to operate without a strong exercise of maneuver through space and cyber operations," he added.


Topics: Global Defense Market, Army News, International, Land Forces