ROBOTICS AND AUTONOMOUS SYSTEMS
French Army to Receive Larger, More Powerful Drone in 2019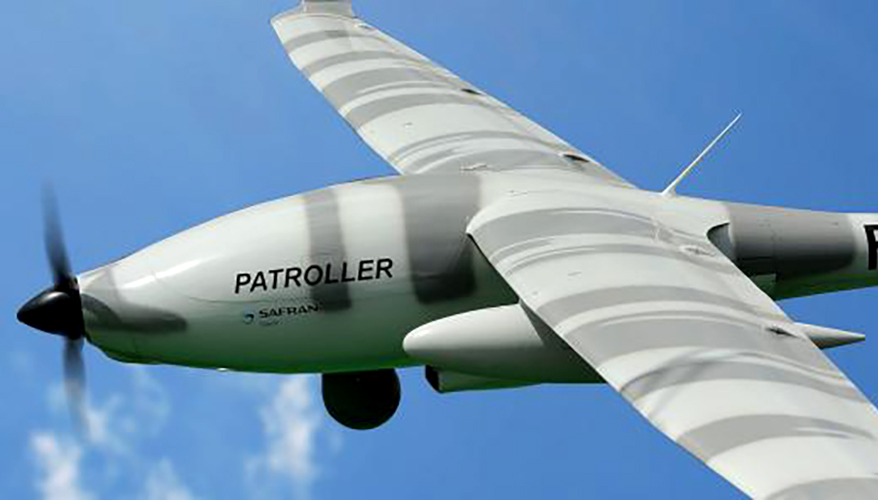 Safran's Patroller UAV
Art: Safran
PARIS — The arrival of Safran's Patroller tactical unmanned aerial system next year will provide the French army with significantly upgraded capabilities and increased performance with a lower logistics footprint for reconnaissance operations and other missions, industry and military officials said June 12.

In 2016, the French government signed a contract with the defense and electronics firm to procure the next-generation remotely piloted aircraft to replace its current fleet of Sperwer drones.

Those aircraft, also developed by Safran, have been used by the army since 2004 for intelligence, surveillance and reconnaissance missions and target acquisition, and have been deployed in Kosovo, Afghanistan, Lebanon and the Central African Republic, said Commandant Guillaume Nicloux of the French army weapons systems office handling unmanned aerial vehicles, during a panel discussion at the Eurosatory air and land defense conference outside of Paris. A French commandant is the equivalent rank as a U.S. major.

But those systems are now showing their age, Nicloux said. The service has experienced recurring technical problems and software obsolescence issues, as well as limited ground control station and ground data terminal carrier availability.

The Sperwer "has been a very profitable system, but it's time to change for a newer and more modern" capability, he said.

The use of UAVs at the tactical level has grown since Sperwer was delivered, Nicloux noted. "The need for a reactive capacity able to support ground forces during a long time with a wide range of sensors" is greater than it was 15 years ago, he said. ­

The Patroller was procured in April 2016 by the Directorate General of Armaments, the French government's defense procurement and technology agency, also known as DGA. The contract includes two ground systems and 14 drones — 10 operational units and four training systems — along with in-service support.

Deliveries are expected to begin in the first quarter of 2019, said Patrick Durieux, vice president of unmanned aerial vehicles and airborne surveillance systems at Safran. The army is aiming for the program to reach initial operating capability by early 2020, Nicloux said.

Durieux said the Patroller's size, weight and payload capacities are four to five times larger than the previous system. It has a wing space of 18 meters, compared to just over four meters for the Sperwer. It possesses more than twice the range and three times the flight endurance of its predecessor, he added.

The new drone was co-developed by Safran and Ecarys, a division of German aircraft manufacturer Stemme AG, which contributed its ES15 light airframe, Durieux said.

The airframe is affordable and optimized for operations from small airfields with limited resources and personnel, he said. It allows the Patroller to operate silently and deploy from rough runways, he added. The Sperwer system is catapult-launched and retrieved via parachute.

As a result, the aircraft's logistic footprint will be significantly reduced, he noted. Removing the catapult frees up space for additional payloads, and the army no longer needs to send troops to follow the parachute or trucks to recover the UAV.

"Operations can be carried out with much smaller teams," he added.

The Patroller can carry over 550 pounds of payloads, a significant increase from the Sperwer's 175-pound capacity, Durieux said. That allows the system to be more modular and capable of carrying different sensor packages, he noted.

Safran also upgraded its mission systems for the new UAV, he said.

"We moved from a single payload configuration to a multiple sensors configuration, allowing to perform wider real detection with additional sensors such as radar or [communications intelligence]," he said.

The company installed its latest generation Euroflir 410 turret, which includes 10 sensors — eight more than in the Sperwer system — and six video channels "to cover the complete observation spectrum," Durieux said. It also contains four laser systems: a range finder, pointer, designator for weapon guidance and illuminators, he added.

The Patroller will also be the first unmanned aerial system to be formally certified according to the internationally recognized and NATO-endorsed Stanag 4671 standard. Safran will be the certificate holder and responsible for continued airworthiness, Durieux said.

The company designed the system to carry a wide range of additional sensors under the wing as needed by the army, such as an electronic warfare package or maritime radar, he said. It will also be capable of carrying weapons, as the French army has expressed a desire for armed drones in the future. Safran is looking at a variety of systems that could be compatible with the aircraft, such as laser-guided rockets or missile systems.

"Of course, the intent is not to make a bomber. It's just to have an ISR capability which [also] has the capacity to engage time-sensitive targets," he said.

The weapons package could also be desirable for potential export partners, he noted.
Topics: Global Defense Market, International, Robotics, Robotics and Autonomous Systems