ROBOTICS AND AUTONOMOUS SYSTEMS
Army to Host New 'Bot-Tober Fest' Robotics Contest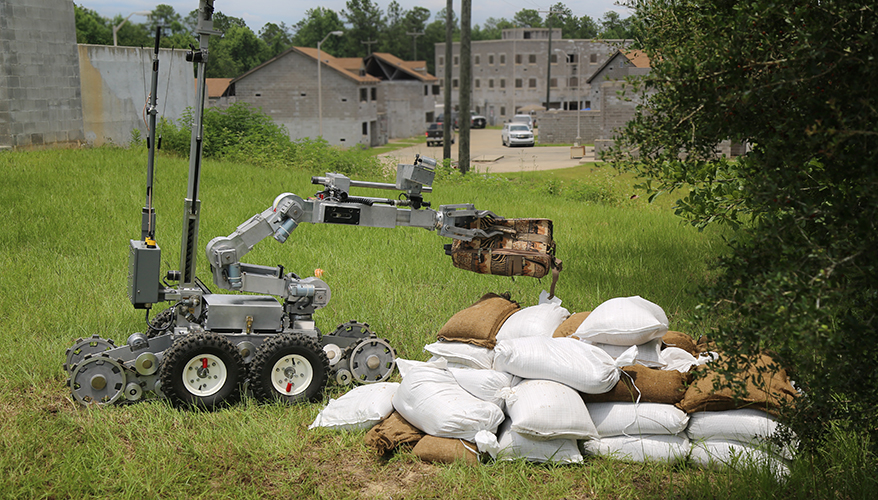 Photo: Army
PARIS — The Army will be hosting a new event for nontraditional partners to discover novel applications for ground robots and autonomous systems, said a senior official June 13.

"Bot-Tober Fest" — slated to kick off in October — could help spur interest and enthusiasm for ground robotics outside of the traditional defense industry, said Don Sando, deputy to the commanding general at the Army's Maneuver Center of Excellence at Fort Benning, Georgia.

It will include competitions such as platform races and a cross-domain contest in which the Army seeks to discover systems that can operate in a range of environments, he said at the Eurosatory land and air defense conference outside Paris.
"We're going to put out a challenge and [say], 'Hey, we need a robotic system that can do a ground reconnaissance, a surface reconnaissance and a subsurface reconnaissance of a bridge system or a dam system,'" he said at a media briefing. "Build me a robot that can drive up to the shore, swim along the water line, submerge, come back out on the land" and perhaps even fly, he added.

"I can do all those things today. Can I do all those things together in something that's a bread box size?" he asked.

The Bot-Tober Fest — which will be held Oct. 20 in Columbus, Georgia — is open to any individual, from high-school student to U.S. military officers to international partners, who might have a system or technology that can fill key capability gaps, Sando noted.

"How can I leverage that talent?" he said. "I have plenty of tribal village elders on the team … but I need some of those smart robotic warrior kids."

The Army Maneuver Center of Excellence is supporting the event, which will be sponsored by the Columbus Chamber of Commerce, said Ted Maciuba, deputy director for robotics and autonomous systems at the capabilities development and integration directorate. Cash prizes will be offered for non-government entrants, he noted.

Bot-Tober Fest is but one way the center is working to develop and field innovative solutions in the robotics and autonomous systems area to fill key capability gaps, Sando said.

The service last month completed a joint warfighting assessment exercise in Germany, where it performed a robotic breach of a complex obstacle together with several NATO allies, he said during a presentation at the Eurosatory conference.

"Those of us who have fought on the ground understand that breaching a complex obstacle is pretty hard, so we chose that as a small unit tactical task to focus our efforts on robotics and autonomous systems," he said. "How do you seize it, how do you secure, how do you obscure it, how do you reduce the obstacle, all with robotic systems?"

The teams used unmanned aerial vehicles and ground platforms for practice missions including surveillance, chemical, biological, radiological and nuclear detection, and maneuvering through smoke and other obscuring elements, he added.

That exercise "exceeded my expectations," Sando told reporters.

"It is arguably the hardest thing that we do because it just involves … so many things going on at the same time. It's just a difficult problem, that's why we chose it," he said.

Sando also recently announced plans to open a robotic center of innovation at Fort Benning to help connect Army Training and Doctrine Command's maneuver robotics and autonomous systems office with like-minded groups within the Pentagon and outside the department.

"We have committed our … institutional energy to focus on robotics," he said at Eurosatory. "We need to put a focused effort to advance it, because quite frankly, we felt that in the ground domain in a tactical perspective we were behind the power curve on autonomous systems."
Topics: Army News, Robotics, Robotics and Autonomous Systems, Research and Development