Israeli Vehicle Makers Preparing New Series of Military Trucks
Carmor's new Mantis special purpose vehicle debuted at Eurosatory 2018.
Photo: Carmor
PARIS — Israeli companies are readying several new trucks built to provide increased survivability and comfort to militaries around the globe.

Carmor Integrated Vehicle Solutions, an Israeli developer of special-purpose trucks, unveiled the first of its upcoming Mantis family of tactical armored vehicles June 11 at the biennial Eurosatory air and land defense conference outside Paris.

The new vehicles were designed to provide enhanced survivability and mobility in a light frame, said Noam Hen, a consultant at Carmor.

The company wanted to develop a vehicle that weighed less than 10 tons, was compact and comfortable to drive, he said. Its design imitates the way pilots sit in a cockpit to allow the user to have almost 180 degrees of visibility, along with rearview screens, he noted.

"The driver [has] a very important impact on the success of a mission," particularly in off-road or night time situations, he noted.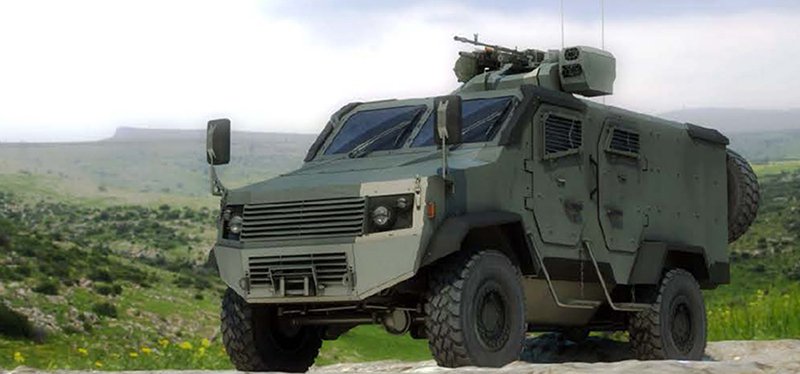 Gaia's Amir 4x4 mine-resistant all-purpose truck (Photo: Gaia)

The Mantis vehicles are equipped with multilayered protection including blast protection, along with dynamic thermal and visible camouflage options, Hen added. They require just a bit of customization to suit customer needs, but would offer a streamlined supply chain and maintenance requirements, he said.

The new trucks also include a provision for integrated night vision and surveillance systems and can be fitted with foldable weapon station systems, missile launchers and other payloads, he added.
The company currently has four customizable versions for three, five or eight passengers, with an option of a scalable flatbed in the rear. The Mantis family could include a non-armored or semi-armored buggy-like variant as well, he noted. The company displayed the smaller "pickup" Mantis option on the conference floor.

"The point is really to be different than what is available in the market," he added.

Carmor is planning to finalize all of the driving tests for the Mantis series­ within the next two months, and expects to be ready for production by the end of 2018, Hen said. The company is in discussions with potential global customers to purchase the Mantis, but he declined to elaborate.
Eitan Zait, Carmor CEO, said in a press release: "The combination of utilization of the internal space of the vehicle, the cockpit configuration for the driver, and the rear compartment, deliver a variety of solutions to meet a full range of mission needs in the field."
Another Israeli vehicle developer is also working to meet the global demand for more survivable, mobile and comfortable military trucks.
Gaia Automotive Industries is pitching its recently developed Amir 4x4 all-terrain, mine-resistant ambush protected platform to coalition forces. It features a central tire inflation system, blast protected seats and independent suspensions as an option for added comfort, said Shlomi Shraga, company director and CEO.

Carmor's new Mantis special purpose vehicle on the floor at Eurosatory 2018. (Photo: Vivienne Machi)
The company is currently negotiating several contracts with clients around the globe, he said.
Gaia is also developing an Amir 6x6 prototype that can host various payloads including anti-aircraft turrets, mortar carriers, anti-tank missile launchers and observation systems. Both versions can be designed to the level of ballistic protection needed for the user, he noted.
The company is interested in offering its new products to potential customers in Asia such as India, as well as in Africa, he added.
Both Carmor and Gaia can establish a production line at the customer site and provide services including technical documentation, complete knock-down kits, templates and on-the-job training.
"Everyone will have [his or her] own touch on the vehicle. That's what we can offer today to the users and to the business partners," Hen said.
Topics: Global Defense Market, International, Land Forces