TACTICAL WHEELED VEHICLES
AM General Unveils New Tactical Vehicle at Eurosatory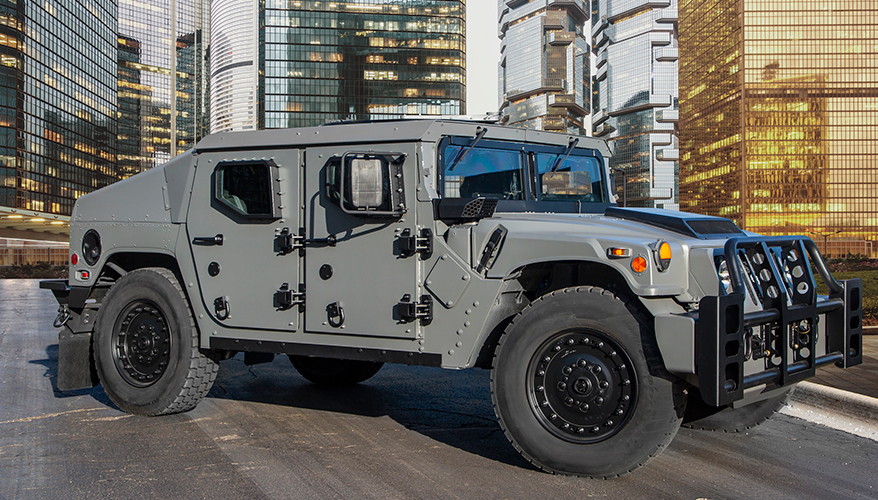 AM General's NXT 360 light tactical vehicle
AM General has introduced a next-generation light tactical vehicle that builds upon its M1100 series of Humvees.
The NXT 360 officially debuted on the opening day of Eurosatory, an international air and land defense and security conference taking place June 11-15 outside Paris. The company said the truck will have increased survivability, off-road mobility and payload capacity.
The vehicle includes increased kinetic energy threat protection and blast protection for the wheels, said Regis Luther, company vice president for engineering. AM General also added blast seats and blast mats and boosted the transparent armor to a B7 ballistic protection level.
The NXT 360 has been designed for improved off-road mobility, with higher ground clearance and wheel travel, as well as larger tires for increased traction and reduced ground pressure, Luther said.
"The combination of these is a significant ride improvement at or above the level of any currently fielded military vehicle," he added.
It has a high payload capacity and enhanced stopping capability including an anti-lock brake system and electronic stability control technologies developed by AM General, he noted. It is powered by a P400 turbocharged engine, with 250 horsepower, multi-fuel capability and 6-speed transmission, he said. Those improvements have helped to increase the vehicle's fuel economy and raise the top speed, offering a smoother gear transition and reducing the interior noise level, he noted.
The company also redesigned the truck body, making changes to the hood and adding a brush guard.
The NXT 360's design and improved capabilities were based on feedback from AM General's international customers, said Nguyen Trinh, director of international business integration for the company.
"We have been actively going out over the last 18 to 24 months … and have really sat down to understand how they are employing and utilizing their current Humvee fleet," he said.
AM General is pursuing a global demand for enhanced light tactical wheeled vehicles, Trinh said. He noted that nations in the Middle East and Latin America "continue to be a large focus" for the company.
Interested buyers can either purchase an NXT 360 as seen at the Eurosatory show, or can opt for an upgrade kit that adds the improved capabilities to the current 1100 series Humvee, Trinh noted.
"As quickly as the interest turns from walking around the truck to a purchase order, we'll deliver based on material lead time and standard production lead times," he said.
Follow National Defense Magazine on our website or on Twitter @NationalDefense June 11-15 for continued coverage of the Eurosatory conference.
Topics: Global Defense Market, Land Forces, International