ROBOTICS AND AUTONOMOUS SYSTEMS
Army to Pursue 'With Urgency' Autonomous Systems Strategy
Puma unmanned aerial system
Photo: Army
Following the release of a document that outlines the Army's vision for autonomous systems, the service is now looking at ways to make that vision a reality.
The service last year released the "Robotics and Autonomous Systems Strategy," a document that stated its intention to pursue these capabilities "with urgency." The strategy outlines the Army's five capability objectives, which include: increasing situational awareness; lightening soldiers' physical and cognitive workloads; sustaining the force with increased distribution, throughput and efficiency; facilitating movement and maneuver; and protecting the force.
Maj. Mike Dvorak, robotics branch chief at the Army Capabilities Integration Center, said the service is now working on an execution strategy that will "lay [out] the specific details of how we're going to get the capabilities." The document is being produced by the Maneuver Center of Excellence and ARCIC, he said at the National Defense Industrial Association's Ground Robotics Capabilities Conference in Springfield, Virginia.
"We've always needed something a little bit more granular than what we've had with the RAS strategy," he said. "It doesn't tell you the specifics of … specific capabilities crossed against the reality of technology and resources and what we're going to get and when. It was pretty broad."
The blueprint, which will either be referred to as a "roadmap" or "execution strategy," will outline the Army's plans through 2035. It is scheduled to be completed in June, he said.
The service is examining ways to operationalize robotics and autonomous systems in multiple domains in an annual war game called Unified Quest that uses systems at different technology readiness levels, Dvorak said. Unified Quest consists of about 20 events, he said, and provides an opportunity for Army Chief of Staff Gen. Mark Milley to provide feedback on the outcomes. The roadmap will "connect the dots" and leverage technical information from events such as these, he noted.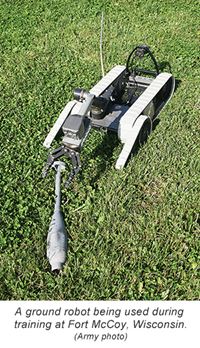 Jose Gonzalez, deputy assistant secretary of defense for tactical warfare systems, said the Defense Department is also working on an overarching unmanned systems roadmap, which will be the first that the department has released since 2013. The document focuses on the need to develop interoperability among systems, secure networks and develop human-machine collaboration, Gonzalez said.
"The seamless integration … between man and machine with this gradual reduction in the degree of human control is the vision," he noted. "It involves trust. It involves the human trusting the machine and the machine not actually adding work, [but] rather reducing both physical as well as cognitive workload."
The Army is also examining how much future robotics and autonomous systems will cost, which ones will take priority, the technical readiness of desired systems, and program information, Dvorak said. It is likely that the push to develop a robotic combat vehicle will encompass one program, whereas efforts for small unmanned aerial systems will require establishing multiple programs, he added.
However, the Army needs to expand the horizon of its strategy to 2052 to match the timeline of the service's Strategic Portfolio and Analysis Review, he said, referring to a process that senior leaders use to make resource decisions.
Previously, the Army did not have any "baseline documents" for robotics and autonomous systems, Dvorak noted. Nine years ago, the service tried to push those forward, but "the timing wasn't right," he said. "The timing is right now." There is now an initial capabilities document pending approval.
"That's going to be kind of the baseline for a lot of the upcoming developmental and production documents," he said.
Maj. John George, the Army's director of force development, said the service also plans to direct funding to meet the priorities outlined in the robotics and autonomous systems strategy.
"Funds are going to accelerate development through demonstrations, experimentations and prototyping," he said. The Army will use a "buy, try and acquire and decide approach."
Its robotics portfolio has already seen an increase in recent years, he noted. From fiscal year 2017 to fiscal year 2019, research, development test evaluation and procurement funding went from $120 million to about $320 million in the most recent budget request, he said. Concurrently, science and technology investments in this category grew from $77 million to $105 million, he noted.
"The resources that we're going to put in place are going to speed delivery of cutting-edge technologies to the war­fighter by implementing our open architecture, the modularity strategy with common chassis for man-transportable robotic systems increment 2, common robotic system-individual and common robotic system-heavy," he said.
Kevin Mills, associate director for ground vehicle robotics in the Army's Tank Automotive Research, Development and Engineering Center, said senior leaders over the last six months moved about $1 billion in the fiscal years 2020 to 2024 program objective memorandum to focus on manned-unmanned capability gaps. Money was also reallocated in fiscal years 2018 and 2019 for these priorities, "which, in my career, has been unheard of," he said.
However, growth in robotics funding is likely to level off, Lt. Col. Stuart Hatfield, the robotics branch chief for Army G-8, said, noting that "every year is a new [program objective memorandum].
"You think … the [previous] POM would be the same as the '19 to '23 POM, but it isn't because we didn't have [cross-functional teams] and we didn't have other priorities," Hatfield said.
"I would love to get the constant [rise in funding] and keep that curve, but it's going to hit a level where it's going to sustain, ... and then what we have to manage is programs coming into and going out of production so that other programs can step up and go into and go out of production," he added.
The Army's effort to develop a robotic combat vehicle may see an increase in funding, but "we can't expect that level of increase indefinitely," he noted.
However, the prices of robots such as the common robotic system-individual and the man transportable robotic system increment 2 have gone down as well, he added. This is partly due to the large amount of competition in industry, he noted.
Hatfield suggested reverting back to having a joint robotic program office "because of the commonalities of need." Explosive ordnance disposal is one area of overlap between the Army and the Navy, he noted.
George said the service has been working with industry to develop interoperability standards for its robotics capabilities.
"We're going to define the standards," he said. "If you want to bring me a set of [items] to go on my platforms, they've got to be able to integrate with the architecture that I'm already designing as a standard to put on my vehicles." The Army is also developing a common controller for robots deployed at the battalion level and below, he added.
The service must also find a balance between acquiring new systems fast and determining how those capabilities will fit into sustainment plans, he noted. The Army needs to determine where it can accept sustainment risks "and the downstream effects with sustainment and the soldier's ability to fix and repair forward," he said.
Future operating environments may require soldiers to work in smaller and more dispersed units, he noted, meaning that they must be able to operate by themselves for longer periods of time.
"As we look at bringing in new capabilities and systems, we're certainly measuring and accounting for, and accounting the cost of, what the downstream effect is for our ability to sustain and repair," he said.
Pursuing new capabilities requires technologically achievable requirements, senior leaders championing delivery of capability, and stable and predictable funding.
Matt Dooley, principal consultant for robotics and autonomous systems at John H. Northrop and Associates, Inc., noted the importance of establishing requirements and clear terminology. "The question of what autonomy is still largely depends on who we ask," he said.
"We don't have the luxury of sitting back and looking at it and scratching our chin and going, 'Eh, this is interesting,'" he added. "We have to be able to define what is it we expect these platforms to do in order to ensure it [works] with behavioral expectations, requirements documents [and] policy guidance."
It is also important to note that "artificial intelligence is not autonomy," he said. "How do we define the differences if we haven't properly identified autonomy first?"
The Army must be able to agree on concrete definitions prior to writing requirements documents, Dooley said.
"Otherwise there's chaos and confusion about what we're asking for, and more importantly, how we can define success when we actually deliver the system," he said.
Swarming — the act of employing a large number of coordinated robots simultaneously — is an area where these requirements and definitions are not clear, he noted. For instance, the term "collaboration" can refer to multiple types of interaction.
"Sometimes I tell the machines and the swarms to go do something; other times, the machines become aware of something and instruct me to go somewhere," he said. Collaboration can also refer to machine-machine collaboration in which an unmanned aerial system can instruct a swarm of other platforms to perform tasks in a given mission, he noted.
Topics: Robotics, Robotics and Autonomous Systems, Army News, Munitions Technology, Defense Department